Cheers and hearty applause showered the field Thursday after the Kettle Run Cougars claimed the Class 4 Region B tournament championship with a convincing 18-6 victory over Fauquier's boys lacrosse team.
But it arguably wasn't the biggest ovation of the night.
Cougars fans lavished that on Peter Smith after his superb sequence late in the third quarter on Liberty High's neutral field in Bealeton. The junior goalie made a close-quarters save with about 60 seconds remaining, but then he made a rare mistake.
Smith tried to make a pass up the middle of the field to perhaps spark a quick transition to offense, but a Fauquier attackman intercepted the ball immediately, leaving Smith to face a one-on-one threat. The Fauquier player deployed a few rapid pump fakes before firing a point-blank shot at the Kettle Run goalie.
Yet Smith reacted quickly enough to deflect the ball away. Another Fauquier player retrieved the rebound and flung it back toward the goal, but that shot sailed inches wide and the Cougars regained possession. So Smith escaped, the crowd erupted and the Cougars went on to win their second consecutive region title after having never previously claimed the trophy in their history.
"He's by far the best goalie I've ever played" around, said fellow junior Jimmy Dooly, who led all players with seven goals Thursday. "He's a monster."
Smith finished with 11 saves.
"Most improved player from last year to this year," Dooly said. "He went into the weight room, put on 50 pounds of muscle."
Smith is certainly a big reason that teams have averaged an anemic 3.8 goals per game this season against the Cougars (14-2), who will next play Dominion in the Class 4 state quarterfinals with Fauquier (11-4) pitted against Riverside. But plenty of Kettle Run defensemen and midfielders have also contributed to that staggering statistic.
"They're fast, they get to the ball, they stay in [close to offensive] players," Falcons coach J.B. Tippett said. "They have good stick skills and they are able to just dominate to the ball. Then they can quickly transition out" to offense.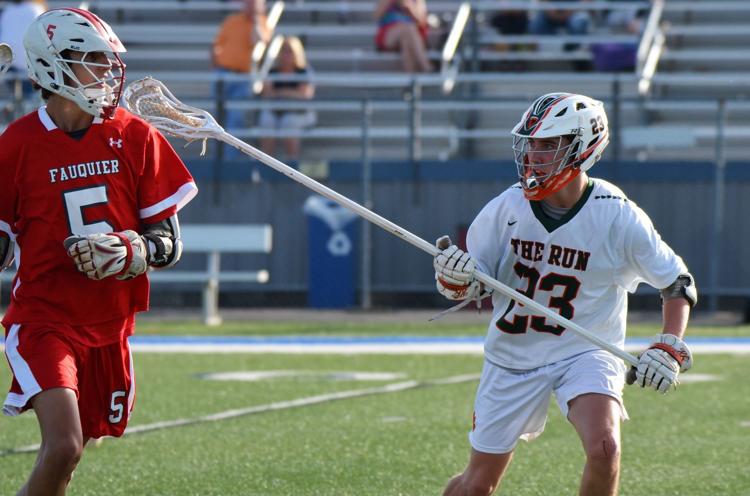 Senior Sean Kennedy's five forced turnovers led that Kettle Run defense alongside Nate Shaffer and Nick Lehman. Long-stick midfielder Connor Gladstone added two forced turnovers with midfielders Ashton Short, Ian Sekelsky and Jack Kroll filling in the defensive holes.
"These guys can play at a high level," Kettle Run coach Blake Smith said. "They want to grind it out and play that physical team defense."
Kennedy agreed.
"It's just from playing together for the past three years, on top of middle school and elementary school," he said. "It's all of us just feeding off of each other. That's really what's been getting us going."
Against Kettle Run's pressure, the Falcons committed 25 turnovers, including one on each of their first five possessions in the opening quarter. So the Cougars began the game by out-shooting Fauquier 7-1 for an insurmountable 6-0 lead.
"Against a team like this, you don't want to give them any [extra] opportunities," Tippett said. "Giving those up definitely hurt us."
Kettle Run finished the game having out-shot the Falcons 42-26 with 45 ground balls to Fauquier's 26. So the Cougars dominated in the title game after also defeating the Falcons in the 2018 region final, 17-9.
"It feels really good," Dooly said. "All these graduating seniors are like my best friends, so it's really nice to win it again with them."
The Cougars, who have a 12-game winning streak, will lose eight seniors to graduation this spring.
"We went out on a bang," Kennedy said.
Those seniors have helped give Kettle Run a 122-49 record in the program's 11-year history with seven region berths. In fact, the Cougars entered last season with a 0-5 record in region tournament play, but they now stand at 6-5.
During previous seasons, the Cougars earned region appearances by winning a district or conference championship, but the VHSL eliminated that format following the 2017 season, so they did not need to qualify for the 2018 and 2019 region playoffs. Regardless, Kettle Run is enjoying unprecedented region success.
"It means a lot man," Smith said. "At times in the past we've had a team where some guys didn't want to be here. Now guys want to be a part of what we're trying to do."
So the Cougars have a 12-game winning streak this season and have dominated all nine of their games against region opponents. They have out-scored Class 4B teams 177-18 with Fauquier's six goals Thursday as the most any region team has scored against them.
"It feels good running the table," Dooly said, "but playing in these [region] games doesn't really help us prepare for [state]. Sometimes it kind of [worries] you and you kind of want some more competition."
Dominion, for example, looms in the state quarterfinals, and Kettle Run has only a 14-16 all-time record against Loudoun County teams compared to a 108-33 record against all other opponents. Last season, the Cougars lost their first state game in history to Dominion, 22-8, so they are the clear underdog entering the rematch.
"We've just got to win that one game. If we win that, that makes our season," Smith said. "Getting to that state championship, that's just a bonus.
"We want to get over that hump," he said. "I think we're ready to play in these big games."
The Cougars likely need to eliminate some of the mistakes they made Thursday. They amassed seven penalties and 22 turnovers against Fauquier, but those had little effect on the final score with Dooly producing three assists along with his seven goals.
"He's just a fantastic player," Tippett said. "Slippery, fast, moves his feet. He just never stops moving, and when you get that dynamic it just makes it difficult. He's just a world class athlete."
In only three seasons with Kettle Run, Dooly has amassed 187 goals and 98 assists. So he's approaching the program-record set by Richie Klares, who graduated in 2012 with more than 200 goals.
"Normally I don't really focus on the goal scoring," Dooly said. "It just comes when you have a team behind you that can get you the ball."
Joey Shull had three assists Thursday with two each from Kroll and Tyler McAnany. Adding two goals each were Ian Sekelsky, Braedan Allen and Kroll, while Ashton Short had one goal and one assist. Ethan Jakum and Nathan Kim combined to win 15 of 27 faceoffs.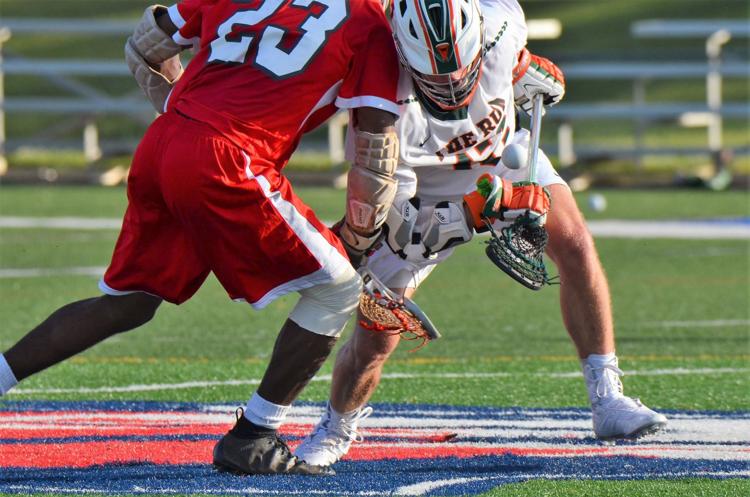 For Fauquier, Chris Chesley and Shane O'Hara had two goals apiece with two assists from Jack Gilliam.
"Gilliam has really been the heart and soul of the team," Tippett said. "That guy just gives his heart out every game."
He will lead the Falcons into state for only the third time in program history on the heels of their 2018 state semifinal loss to Riverside, 14-8.
"I feel great about the season," said Tippett, a first-year Fauquier head coach. "This was a very young team, and to be able to come and repeat what we did last year I think is a fantastic thing."
The Falcons entered this season with only three returning starters, but they still finished as the region regular season and tournament runner-up.
"I'm not surprised," Tippett said. "I think some folks really kind of slept on us a little bit."