The Highland Hawks won 72 of 82 games Tuesday en route to a 9-0 team victory over Seton's girls tennis team at home in Warrenton.
They won seven matches by 8-0 scores to boost their season record to 2-0 overall and in the Delaney Athletic Conference. Those shutout victories came from No. 2 singles player Paris Wegdam, No. 3 Lauren Medica, No. 4 Alexa Graham, No. 5 Skylar Place, No. 6 Susannah Gerhardt, the No. 2 doubles team of Wegdam and Place, and the No. 3 team of Graham and Gerhardt.
Kiki Wegdam added a pair of wins, 8-4 in the No. 2 doubles match with Medica and 8-6 in the No. 1 singles match.
Highland volleyball 3, Seton 0
With 15 kills from junior outside hitter Rylee Mayer, the Highland Hawks defeated Seton's volleyball team 3-0 Tuesday at home in Warrenton.
In their first match at home after a six-game road stretch, the Hawks won 25-23, 25-20, 25-18 to boost their record to 5-3 despite a slow start in the first set.
"May have contributed to some distraction and several unforced errors," Highland coach Gary Hicklin said of the home-gym atmosphere. "After a quick timeout and refocus, we rebounded."
Sophomore middle hitter Sydney Mitchell finished with six kills and four aces, while junior libero Lyndi Thornhill led the defense.
She "continued to sweep the court and made several saves," Hicklin said.
Liberty field hockey 6, George Mason 0
Daphne Daymude scored four goals Tuesday to keep the Liberty Eagles undefeated this field hockey season by beating George Mason 6-0 on the road in Falls Church.
Goalie Keely Crane gave the Eagles their fourth shutout of the season for a 7-0 record and a 1-0 mark in Class 4 Northwestern District play.
Offensively, Gretchen Thomas and Jordan Cabanban each had one goal and one assist. So Liberty has outscored its opponents 29-3 this fall.
Abby Keller added two assists and Daymude had one.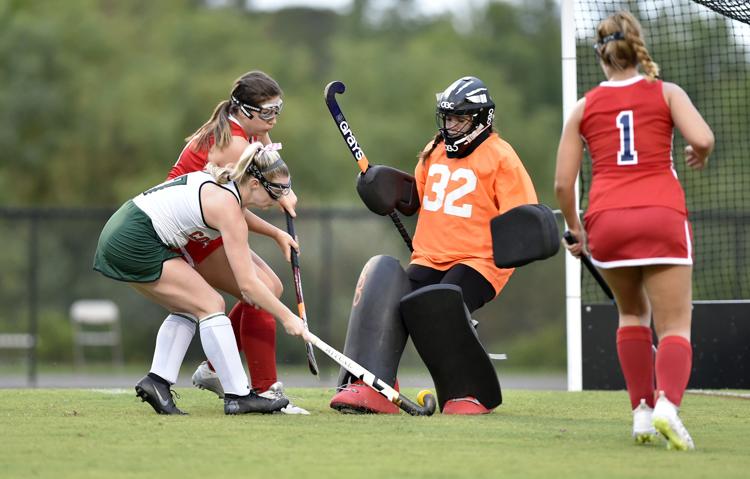 Kettle Run field hockey 1, Fauquier 0
The Kettle Run Cougars began play in the Class 4 Northwestern District with a 1-0 victory in an overtime shootout Tuesday over Fauquier's field hockey team at home in Nokesville.
Jess Wood scored the winning shootout goal while goalie Allyssa Space recorded Kettle Run's fourth shutout of the season en route to a 5-2 record (1-0 district).
Maddie Powers also scored a goal in the shootout session.