The Wakefield Owls scored more than four goals for the second consecutive game en route to beating Fredericksburg Academy's boys soccer team 5-0 Friday at home in The Plains. 
The victory gave Wakefield a 2-1 record with a 1-0 mark in the Delaney Athletic Conference after defeating Fairfax HomeSchool 5-1 Monday at home.
Against Fredericksburg, Connor Weaver scored two goals with one each from Dylan Fanico, Jess Seaborn and Sten Ohrstrom. Goalkeepers Will Rich and Boston Chute combined for the shutout.
Against Fairfax, Fanico had three goals, while Weaver and Alejandro Ford had one apiece.
Kettle Run and Liberty volleyball
The Kettle Run Cougars rebounded from their first district loss of the volleyball season by beating Liberty 3-0 Thursday on the road in Bealeton.
Kayla Gillham amassed 12 assists in the 25-21, 25-16, 25-19 victory to boost the Cougars' record to 3-1 in the Class 4 Northwestern District and 6-4 overall. Lily McIntyre added eight assists while Jordan Dixon led Kettle Run with five kills and Faith Schaefer had four.
Defensively, Dixon and Gillham had eight digs each while Scharfer had three, as well as two blocks.
Previously, Tuesday, the Cougars lost to Millbrook 19-25, 25-23, 11-24, 12-25 at home despite Olivia Conte's five kills, four aces and three blocks. Mae Sutliff added six kills with five each from Dixon and Taylor Reinaldo.
Erin Salzman added 12 digs while McIntyre and Gillham combined for seven digs and 22 assists.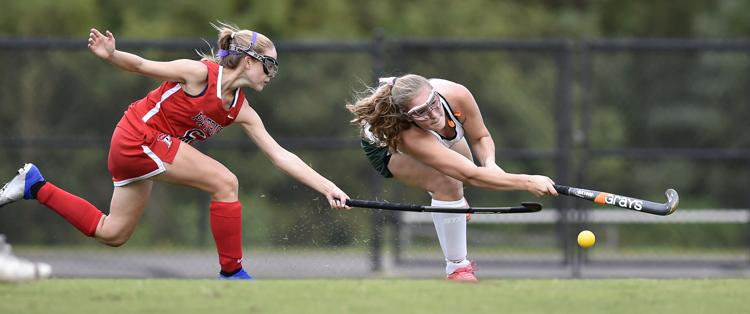 Kettle Run field hockey 4, George Mason 0
After the recent end to their three-game winning streak, the Kettle Run Cougars responded with a 4-0 victory over George Mason's field hockey team Thursday at home in Nokesville.
So Kettle Run's record improved to 4-2 after losing 1-0 Monday to Freedom (South Riding).
Aubrey Kearns led the Cougars with two goals against George Mason while goalie Allyssa Space recorded her third shut out of the season.
Katelyn Grundy and Samantha Malloy also had one goal each offensively. Adding one assist apiece were Maddy Powers, Jessica Wood and Grundy.