Achieving greatness came with a price for Patrick Atwell.
During his highly decorated four-year track career at Fauquier High, the recently-graduated Atwell went from being the hunter to the hunted. But he overcame the pressure to win three individual state championships and establish new state records in the 400- and 500-meter runs.
He also scored consistently in the long jump, triple jump and some relays, helping make him the 2019 Fauquier Times Fauquier High Boys Athlete of the Year. And his golden feats earned him a spot on the Virginia Tech track team.
Atwell's initial athletic focus was football, with a dream of playing wide receiver for his beloved Hokies. To gain speed for football, he ran outdoor track as a Fauquier freshman.
When Falcons sprint coach Ian Lansdowne first saw the lanky Atwell, he saw huge promise.
"Patrick had the body build that could be made into a special track athlete," Lansdowne said. "He was 6-foot-2 to 6-3 [and] he could put on muscle.
"When he ran, he could cover a lot of ground," Lansdowne said. "I saw serious potential there, but you always wonder whether a kid is willing to work."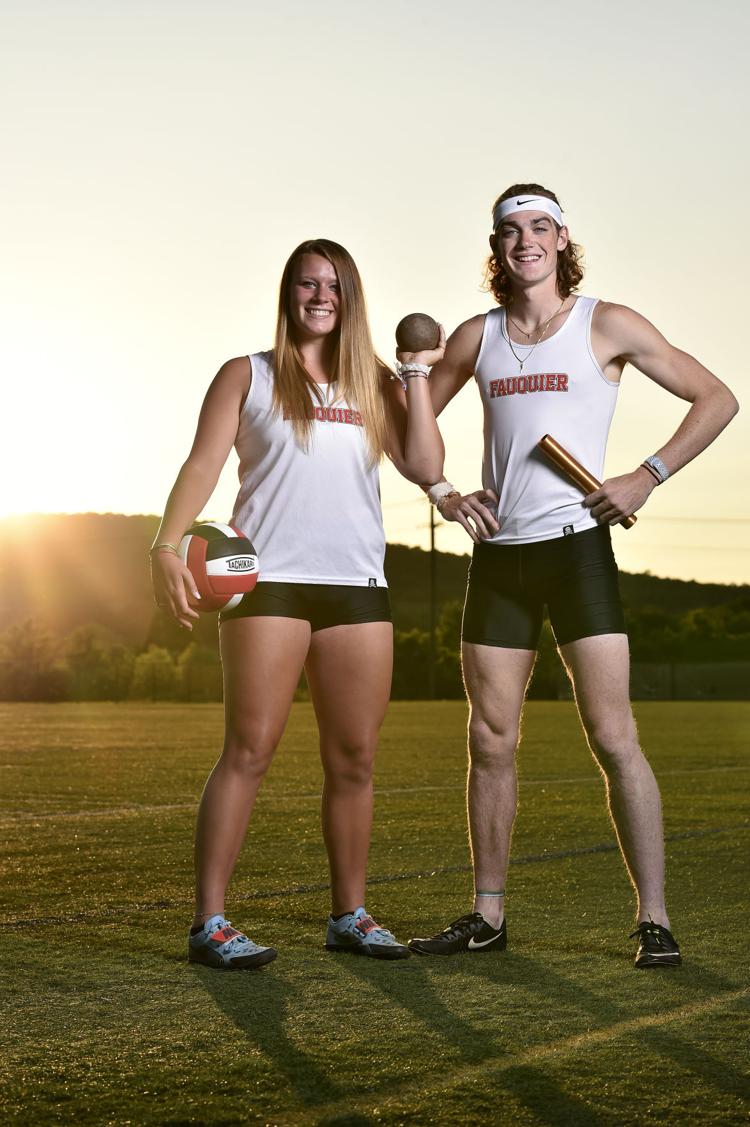 Atwell returned to football as a sophomore, but he moved into indoor track as well, setting the wheels in motion for his explosion as an elite athlete. Football fell by the wayside his junior year as track became his sole concentration.
"He was never scared of a workout. I could tell he accepted it as a challenge," Lansdowne said. "He'd actually get amped up. That put him on a different level."
A downside to his emerging speed was an escalation of his pre-race anxiety.
"As a junior, it would get really scary," Atwell said. "I would get so nervous before the races."
But his fitness and speed were undeniable, with his breakout coming at the 2018 Class 4A indoor meet. He took fifth in the 300 in 36.56 seconds and won the 500 in 1:05.81 for his first individual state championship.
Then, in May, Atwell took third in the 400 at the prestigious Southern Track Classic, clocking a time of 48.7 after previously peaking around 50 seconds.
"It was such a big jump," Atwell said "We were [expecting] progress, but the time was a surprise. It was a big confidence boost, which I needed."
Atwell skipped the 400 in the district championship meet, but he won the 300 hurdles. He then captured gold in the 400 at regionals the following week.
At state, he took second in the 400 by an agonizingly narrow margin of .01 to Courtland's Zachary Wadas, who dove across the finish line to win in a spectacular time of 48.74.
Lansdowne suspected that disappointment would ignite Atwell's fire as a senior. So the coach established a lofty list of goals, including a repeat of the indoor 500 title with the hope of breaking the state record held by former teammate Tyler Benson, who now runs for George Mason University.
Then outdoor season "was to be a year of redemption" following the narrow loss in the 2018 state finals.
"We wanted to take it step by step because he does not want to see too much into the future," Lansdowne said. "He does better when we say, "This is want we need you to do right now.'"
That approach also helped diminish Atwell's anxiety, which sometimes included queasiness before performances at the biggest venues.
"I get really nervous when I'm on top when people are coming for me," he said. "Before races, I'm a wreck. I can't get myself together.
"The more time I have to wait it's awful," he said. "I just want to get the race over so I can relax."
Atwell easily won the 500 and 300 in the Northwestern District indoor meet, but Fauquier coaches held him out of those events at the Region 4C meet. So he instead helped the Falcons win the 1,600 and 3,200 relays.
In the Class 4 state meet, he crunched his competition to repeat as the 500 champion by 1.7 seconds. His time of 1:04.34 surpassed Benson's state record 1:05.02.
That time was also briefly the fastest in the nation for the 500 until E.J. Richardson of Bethel won the Class 5 state 500 in 1:04.13 less than an hour later.
"It was really cool to have one of Fauquier's athletes as one of the fastest in the nation," Lansdowne said. "That put Patrick [on] a different pedestal as far as college coaches were concerned, but it also gave him confidence that 'I can do this. I can compete with the fastest people.'"
Atwell also was part of the state champion 1,600 relay team and the runner-up 3,200 relay team.
His third individual gold medal came in the outdoor state 400, winning by more than 0.7 in 47.66, setting a new state record by besting the 2016 mark of 48.07.
Next Atwell will try to help Virginia Tech build a nationally-ranked 1,600 relay after he chose the Hokies over Penn State.
"I think he could be an all-conference runner by the time he is finished," Lansdowne said.