After clinching their first regular season championship in field hockey history earlier this month, the Liberty Eagles finished their Northwestern District schedule undefeated Tuesday by beating Fauquier 3-0 at home in Bealeton. 
Daphne Daymude produced two assists and a goal against the Falcons to boost Liberty's district record to 8-0 with a 15-0 mark overall while Fauquier fell to 6-8 and 3-5. Skyler Hadler and Abby Keller added one goal each while goalie Keely Crane recorded Liberty's ninth shutout of the season.
The Eagles previously clinched the Northwestern title Oct. 2 with a 1-0 win over Kettle Run.
On Monday, Fauquier defeated George Mason 5-0 at home with Ruby Wrigley producing one goal and one assist. Adding one goal apiece were Lucy Arnold, Ella Irvin, Zofeya Maldonado and Abby McCusker while Paige Keith had one assist.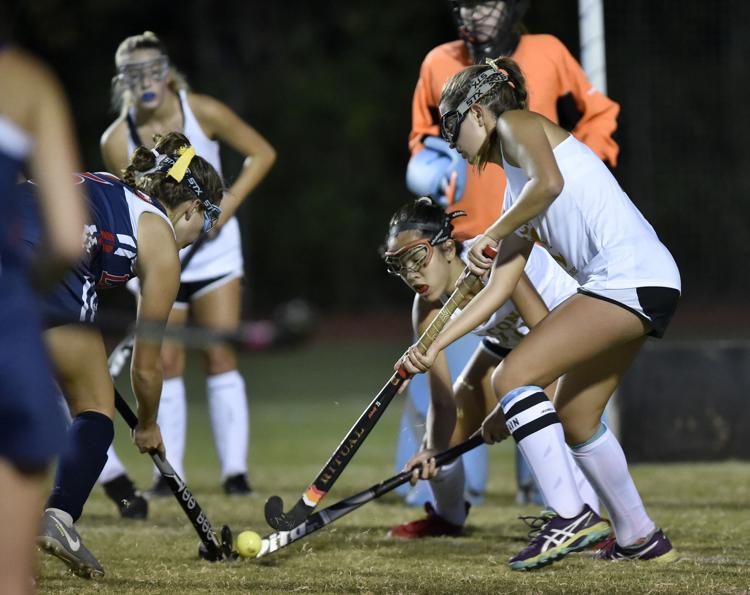 Kettle Run field hockey 2, Culpeper 0
Goalie Allyssa Space recorded the Kettle Run Cougars' sixth shutout of the field hockey season by beating Culpeper 2-0 on the road.
Jess Wood and Kailtyn Nakamura scored the Cougars' goals to improve their record to 8-6 overall and 5-3 in the Northwestern District. Maddie White and Kiersten Johannesen assisted those goals. 
Highland boys soccer 5, Trinity Christian 2
The Highland Hawks clinched the Delaney Athletic Conference regular season championship Tuesday by beating Trinity Christian's boy soccer team 5-2 on the road in Fairfax.
Will Garr amassed three goals and one assist to give Highland a 6-0 final record in the DAC with an 11-1-1 mark overall. 
"Despite the injuries sustained today and another starter just returning from injury, the team is in great form going into the DAC playoffs," Hawks coach Rick Ashley said. "They are excited and they have very high expectations."
Pierce Maurelli scored the winning goal 9 minutes, 12 seconds into the second half after Garr played a ball over the back line of Trinity Christian, giving Highland a 3-0 lead.
Earlier, Santiago Moreno scored the first goal 17:28 into the first half on a short cross near the 6-yard box by Malachi Harris. Highland scored again 37:28 into the half after Maurelli lofted a ball over Trinity Christian's back line. Garr won that ball near Trinity's goalkeeper before spinning and scoring.
In the second half, the Gryphons scored with 14:19 remaining after Highland starting goalkeeper Brennan Bosque left with an injury, as did Santiago. Trinity scored again with 11:24 remaining to narrow its deficit to 3-2, but the Hawks responded with a Garr goal 2:39 before the final whistle.
About two minutes later, Garr beat a double team before drawing a foul in the 18-yard box. He then converted the penalty kick to finish the scoring.
Highland volleyball 3, Wakefield 0
With 20 aces Tuesday, the Highland Hawks broke a two-match losing streak by beating Wakefield's volleyball team 3-0 at home in Warrnton.
The Hawks finished 66-for-72 from the service line in the 25-15, 25-21, 25-22 victory to boost their record to 9-6 with a 3-2 mark in the Delaney Athletic Conference. 
"A good team win and confidence builder heading into tomorrow's key conference match, at home, versus Fredericksburg Christian School," Highland coach Gary Hicklin said.
Junior Lyndi Thornhill finished with six aces each while Bridget Conlon, Ella Salzman and Rylee Mayer had four each. Ryle Mayer added 16 kills with the aid of setter Bridget Conlon.
Highland girls tennis 9, Trinity Christian 0
The Highland Hawks ended a two-match losing streak Tuesday by beating Trinity Christian's girls tennis team 9-0 on the road in Fairfax. 
So Highland improved its record to 6-0 in the Delaney Athletic Conference and 6-2 overall with four shutouts.
Winning 8-0 for the Hawks were No. 3 singles player Lauren Medica, No. 5 Skylar Place and the No. 3 doubles team of Alexa Graham and Susannah Gerhardt. Adding 8-1 victories were No. 1 singles player Kiki Wegdam, No. 2 Paris Wegdam, No. 4 Graham and the No. 2 doubles team of Paris Wegdam and Place.
Garhardt won 8-2 in the No. 6 singles match while Kiki Wegdam and Medica won 8-3 at No. 1 singles.