A Midland dog earned the coveted Speed of the Breed title at last week's American Kennel Club Fast CAT Invitational – coursing ability test – in Orlando, Florida. Owner Meredith Krause showed her German pinscher, Otto, to the AKC's national lure coursing championship.
Some 250 dogs representing 154 individual breeds competed. The event is open to all AKC-registered dogs including mixed breeds, which AKC calls "all-American dogs."
Otto clocked in at 26.57 miles per hour.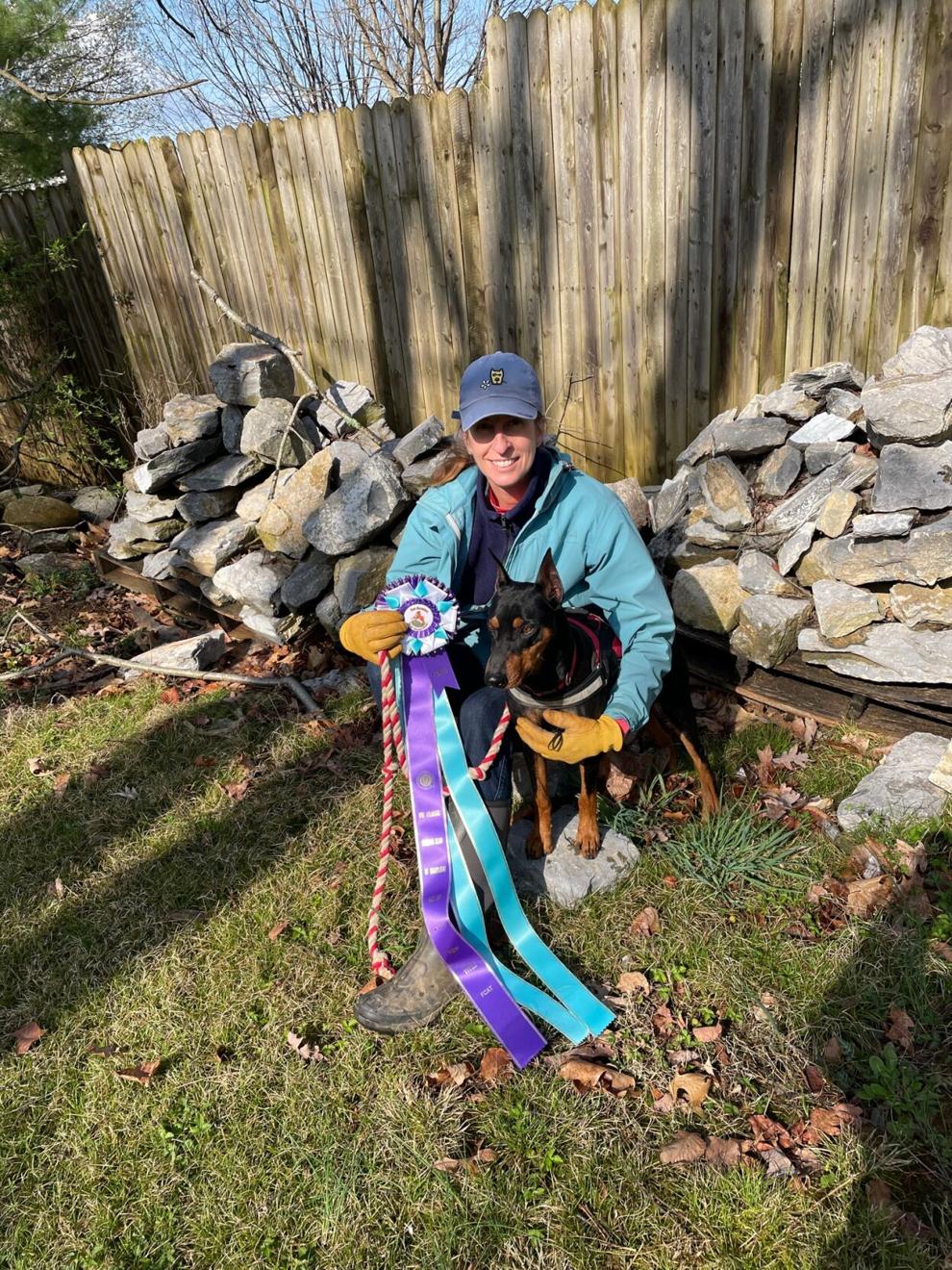 In Fast CAT, dogs compete in two preliminary trials to determine division finalists. The pure speed category recognizes the top 10 in each height class – open competition that favors long-legged sighthound breeds. Speed of the Breed determines the top 10 of each breed, the top prize going to the dog that runs faster than average for all of the breeds.
Overall fastest dog was a whippet, Reas, who ran the 100-yard course in 5.769 seconds – 35.45 miles per hour. That Otto's winning time was somewhat slower than Reas' isn't surprising: whippets are bred for hunting, and chasing, by sight. German pinschers are a smaller version of the better-known Doberman pinscher, bred as personal protection and general farm dogs and not widely known for either speed nor lure coursing ability.
But Otto is one of a kind, Krause said.
His full name is a mouthful, reflecting his many titles: CH Windamirs Ottoman Emperor RN FCAT3 SWN SIA RATN CGCA TKI AT. Though earning titles was far from the plan when she got Otto as a puppy for her sick father, Krause said. "I bought him as a pet with hopes that he would be a companion and distraction for my dad, who was ill at the time," explained Krause, who shares Winged Foot Farm in Midland with husband John Jarvis and what she calls a "motley crew" of animals, including her silver medal-winning dressage mare, llamas, chickens, donkeys, cats, Otto and an adopted Ashland basset hound that preferred swimming to hunting. Krause works as a clinical psychologist in Stafford.
"We lost my dad a month after we got Otto (from Windamir German Pinschers in Maryland in 2018.) Otto ended up being a true light through it all. I showed him to a conformation championship shortly after his first birthday and also earned rally obedience, barn hunt, trick dog, canine good citizen and scentwork titles with him."
Her late father, Bob Krause, was an avid outdoorsman, an upland game and wing hunter and amateur dog trainer who was rarely without a perfectly mannered labrador retriever, his daughter said. Her late mother was also "a dog person," partial to toy poodles and border collies. Both encouraged Meredith to learn about all kinds of canines.
"Dad spent every day with this pup at his side for the last month of his life," Krause recalled. "Otto was truly a bright spot for all of us."
German pinschers are considered all-around farm dogs that excel in vermin control because of a high prey drive, and for personal protection dogs because of a famously alert, confident nature.
Otto was special from the start. "His speed and prey drive led me to give lure coursing a try," Krause said. The black dog was a natural, winning AKC FastCAT titles in 2019, 2020 and 2021.
Otto won select dog titles at the National and Regional Breed Specialty shows in North Carolina last month.
Though he's only 3 ½, Otto is now retired from racing, Krause said. She'll now focus on scentwork and tracking titles and aim for his grand championship in the breed ring.
Complete results and details on FastCAT competition, go to akc.org.