Justin Lawson was a nine-month-old infant when the Fauquier Falcons won the 2002 Fauquier Times Bird Bowl over Liberty's football team.
So as a 17-year-old Liberty senior on Friday, he wasn't about to let the Falcons win that esteemed rivalry game for the second time in his lifetime.
Lawson blocked a Fauquier punt less than three minutes into the first quarter, and on the very next play the Eagles scored with a 3-yard touchdown run that gave them the lead for good en route to a 42-12 victory on the road in Warrenton. So Liberty has 17 consecutive victories in the Bird Bowl since the Falcons won on Nov. 8, 2002.
"It means a lot," Lawson said of continuing the streak.
Even after all these years.
"It's just something special," Eagles senior Jordan Hicks said. "Just the atmosphere and loving" the rivalry.
So Liberty – playoff bound with a 10-0 record – now has a 22-4 record in Bird Bowl history for an overall 28-7 all-time record against Fauquier, including a 14-game winning streak. In 35 overall games, the Eagles have scored more than twice as many points as Fauquier, 1,029-503.
The Falcons – whose season ended Friday with a 4-6 record – last beat the Eagles in the 2007 season opener before losing the Bird Bowl in the regular season finale, 33-27. In fact, since Liberty High opened in 1994, only one Falcons football coach has won the Bird Bowl with Tom Ferrell last doing so in 2002.
Many of Liberty's players Friday didn't even exist when that happened, such as sophomore Austin Jacobs, who began this season at age 14.
"The kids don't even understand the meaning of it," Eagles coach Travis Buzzo said.
But few people can appreciate the Bird Bowl like Buzzo. The 26-year-old first-year head coach has been a part of the rivalry since he served as Liberty's water boy in 1996.
Buzzo's father, Tommy, coached Liberty back then. In fact, the Eagles last finished a regular season undefeated when Tommy Buzzo was head coach, doing so in 2004, 2003 and 2001.
Then Travis Buzzo joined Liberty's football program as a player in 2009.
"It's a lot of history I can talk about," Buzzo said. "And what it means to the community to continue the streak. ... It's just Liberty's tradition."
But high expectations come with a 17-0 Bird Bowl streak, which Fauquier coach Karl Buckwalter tried to use to alleviate some of the pressure that the Falcons may have felt leading up to the game.
"The burden's probably on [Liberty] more than us," he said. "We've got everything to win, nothing to lose."
Lawson didn't disagree.
"Anything can happen," he said. "You don't want to come into the game too cocky."
But the Eagles certainly began feeling assured once they took a 20-0 lead only 15 minutes into the first half. That advantage ballooned to 42-6 with 4 minutes, 55 seconds still remaining in the third period as Liberty physically overpowered the Falcons at times.
"We're got to get in the weight room," Buckwalter said. "That's the biggest thing. … We've got to get strong and start developing, and go from there."
The Eagles particularly dominated on defense. They amassed nine tackles-for-loss, three sacks and two interceptions to hold Fauquier to only 191 yards of total offense, 73 of which came on one Evan Jackson run late in the fourth quarter with the Eagles delving deeper into their defensive roster.
"It's just experience on that side of the ball," Buzzo said.
So the Falcons failed to score 15 points for 15th time in the 26-year history of the Bird Bowl. Liberty ensured that by consistently flushing Fauquier quarterback J.T. Diehl out of the pocket with a strong push by defensive linemen Jordan Woodson, Colby Lewis and Wyheem Vessels, as well as linebackers such as Hicks.
Diehl finished 5-for-14 with 91 yards and two interceptions as he often had to throw under pressure or while rolling out with a shifting pocket by design. The Eagles also held running back Deandre Chavis – Fauquier's Bird Bowl MVP – to only 15 yards on 15 carries.
"We knew they were a run-heavy team," Hicks said. "Their quarterback, he was a good thrower, but we knew he [was best when] he could roll out and make people miss. We just had to contain."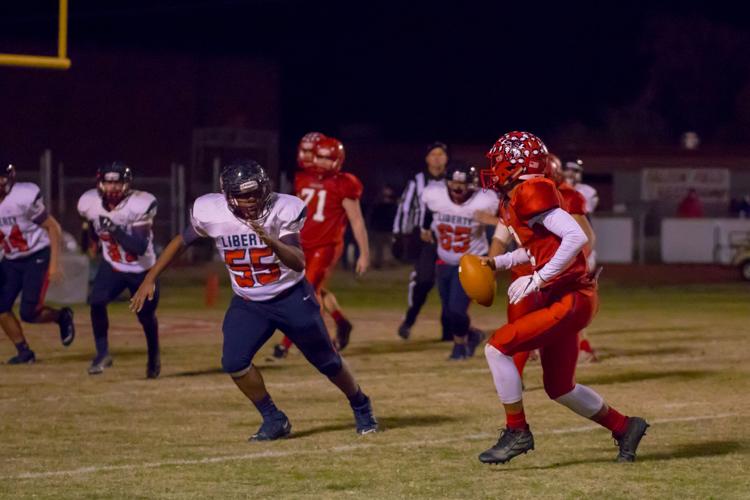 Diehl ended with negative-four yards rushing on 10 carries.
Hicks led the Eagles with three tackles-for-loss, including a sack, despite playing on defense for the first time in seven games. He filled in at outside linebacker for injured senior Matt Sloan while also maintaining his offensive role as tight end, finishing with 33 yards and a touchdown on three catches.
Saud Ismael added two tackles-for-loss, with one sack each from Keegan Shipe and Freddie Harris. In the secondary, Tre'Von White had two interceptions while Lawson knocked down a pair of passes.
White also blocked an extra point kick as Liberty's special teams played well most of the night. There was no greater example than Lawson's pivotal blocked punt about 2:15 into the first quarter. He curved around the right end of Fauquier's punt protection and leaped to knock the ball backward about five yards.
"I wasn't expecting to block it … but I was right there on him," Lawson said. "I knew I had to get one this year."
The Eagles hadn't blocked any punt in their previous nine games.
"That was huge. It hurts," Buckwalter said. "The kids were getting excited with what we're doing, and then we give up a blocked punt and give them the short field."
The Eagles recovered the ball on Fauquier's 3-yard line, so Sam Marouse ran for a touchdown on the next play to give Liberty a 6-0 lead.
Less than a minute later, White intercepted a Diehl pass to set up a 52-yard drive. White capped that possession with a 12-yard touchdown catch from Dylan Bailey, and a two-point conversion pass from Bailey to Hicks proved to be the winning points as the Eagles took a 14-0 lead.
"They're a big-strike team," Buckwalter said. "They've got a lot of weapons. They've got players everywhere."
In fact, six different Liberty players scored touchdowns Friday – Marouse, then White, then Hicks, then Lawson, then Markkel Newman, then Mason Gay.
"We're such a well-rounded team," Hicks said.
Lawson – Liberty's Bird Bowl MVP – led the Eagles with 79 yards on four receptions, helping Bailey go 12-for-18 with 217 yards and three touchdowns (one interception). Wyatt Hicks added 72 yards on two catches while Newmann had 75 yards on six carries.
Nonetheless, Fauquier had some strong moments defensively. In the opening 11 minutes, for example, they amassed five sacks thanks in part to a defensive front that alternated between four linemen and three linemen.
"We weren't relaying the messages" about those changes, Buzzo said. "It was just the O-line and making some different calls that we're not used to making. … We got it fixed."
The Falcons finished with eight tackles-for-loss, led by defensive end Kyle Dargis, who had three sacks. Grayson Kramer added two tackles-for-loss and a fumble recovery while Darryl Mayfield and Paul Heisler had one sack each with an interception by Jackson, his 10th of the season.
"We're not big up front; probably [averaging 190] pounds," Buckwalter said. "But they all don't quit. It's a great group.
"We felt like we were getting after [the Eagles] pretty good," he said, "but we kept giving them the short field."