Special teams blunders, red zone penalties, untimely turnovers and a catastrophic 50 seconds in the third quarter cost the Kettle Run Cougars a chance to win their home opener Friday.
Heritage's defense held the Pride in contention just long enough to for its offense to score two touchdowns late in the third quarter and earn a 14-6 victory.
Twice in the first half the Cougars had costly red-zone penalties that pushed them out of striking distance, and a holding penalty also called back a touchdown run. They amassed over 100 penalty yards on the night, most of which came in the red zone.
"We just didn't play well," Kettle Run head coach Charlie Porterfield said. "We have a lot of things we have to fix tomorrow. We shot ourselves in the foot over and over again, and we aren't talented enough to win games when we do that."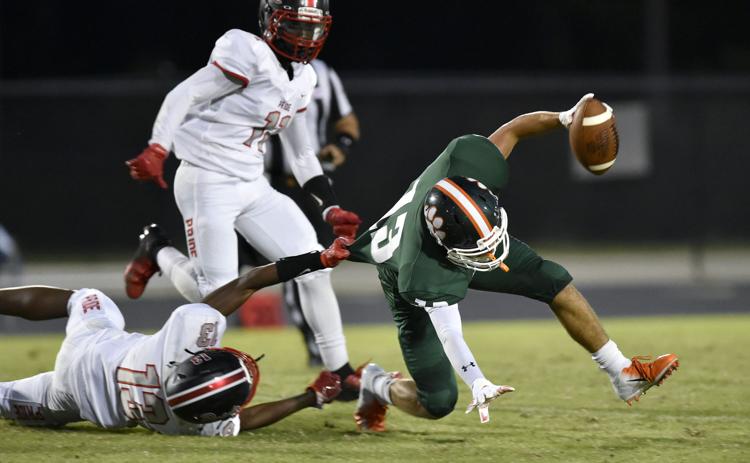 The game hinged on a 44-yard field goal attempt late in the third quarter. Heritage blocked the kick by Kettle Run's Andrew Piercy and returned to the 27-yard line. The Cougars picked up a personal foul at the end of the play to move the Pride to the 12, where senior running back Alex Kovacs rushed for a touchdown on the following play. Justin Rodriquez added the winning extra point to give the Pride a 7-6 lead with 3 minutes, 8 seconds left in the third quarter.
"We have young guys and they are making little mental mistakes that good teams exploit," Porterfield said. "Once the wheels came off it was tough to get them back on. We have to find a way to get through games like this and find a way to win."
The following Kettle Run drive was immediately stuffed, and Cougars starting quarterback Trevor Yergey went down with an injury. Heritage's special teams came after Piercy again and this time finished the job themselves.
The Pride swarmed him to block his punt and the ricocheted ball bounced directly to sophomore Omari Cornwall, who had nothing but green grass in front of him.
That 25-yard blocked punt return with 2:18 left in the third gave Heritage a pair of touchdown in only 50 seconds.
"We couldn't get one [touchdown], then we got those two in a row," Heritage head coach Joe Cockerham said.
"Just like any teenager, our kids feed off of confidence," he said. "As soon as we scored I knew our kids were into it."
The third quarter gave Heritage (1-1) its first points of the season after losing 6-0 in Week One to Riverside.
The Pride also fell behind 6-0 Friday early in the third period.
"So our defense was thinking, 'Here we go again,'" Cockerham said. But "there is no quit in these kids and I love it."
Early in the game, the Cougars' promising drives sputtered in the red zone, but their defense played well.
In the second quarter, Kettle Run junior defensive lineman Andrew Adair blasted Heritage quarterback Braden Smith and sent the ball flying. Junior defensive end Hunter Lambert recovered it and gave the Cougars their best starting field position at the Heritage 36-yard line.
But Piercy's 42-yard field goal attempt was blocked, foreshadowing things to come.
Kettle Run's next possession once again found them teetering on the edge of the red zone before the Pride picked off a tipped pass. Not to be outdone, the Cougars' defense recorded interceptions on the following two Heritage drives, one from junior defensive back Alden Willaims and the other from senior Seth Tenberg.
"I thought the defense played really well tonight and gave us a shot to win it," Porterfield said, "but the other two phases let us down pretty bad. We have to get those fixed."
The Cougars came out after halftime to swarm for back-to-back sacks and force Heritage into a bad snap on its punt attempt. That set up Kettle Run at the 15.
Senior running back Darian Lambert rushed the Cougars down to the doorstep. Then, on fourth down, Yergey dove over the pile and broke the scoreless tie.
Lambert was Kettle Run's steadiest offensive weapon on the night, rushing 18 times for 93 yards.
"I thought we were running the ball pretty well," Porterfield said. "You just can't do anything after the mistakes that put us behind the chains. We backed ourselves up so much that we didn't have a chance."
After taking a 6-0 lead, momentum continued for the Cougars during the ensuing possession. Yergey found sophomore Jacob Robinson several times, including a jaw-dropping one-handed grab that left the crowd chanting his name.
Robinson, a sophomore still learning the position, had a breakout game by catching seven passes for 53 yards. With senior wide receiver Levi Carver out due to injury, Robinson emerged as the Cougars' main perimeter threat.
"A young kid who has a ton of upside," Porterfield said. "It has been a blessing for us to get him out here. He made some amazing catches. He gave us a shot to move the ball down the field."
But the Cougars scored only once.
"Hopefully we can get this fixed in about a day or two," Porterfield said. "We need to keep moving forward and try to get the offense and special teams on the same boat as defense right now."