Soccer was Kayla Soltys' spring sport until she decided to try something different in fifth grade.
As a 10-year-old, she showed up at a lacrosse camp run by Kristen Conques, who immediately knew Soltys was special. Conques convinced Soltys to join the Cardinal travel and Highland School teams she coached.
So, seven years later, Soltys graduated high school June 14 as the greatest girls lacrosse player in Highland history, with similar accolades in basketball. She helped the Hawks win a state title for the first time in both sports before leaving as a five-time champion, making her a shoo-in as the Fauquier Times 2019 Highland Girls Athlete of the Year.
"She leaves a huge legacy," said Conques, who won four consecutive lacrosse state titles with Soltys and the Hawks. "She has already been such an amazing example for her younger teammates. They all try to emulate her."
During her five-year career, Highland's girls basketball and lacrosse teams had a 166-49 combined record, including an incredible 114-11 run during her final four years. So Soltys, a four-time state Player of the Year, set an almost impossible standard for future Hawks to meet.
"It's amazing to see the legacy that she's left," Highland girls basketball coach Diana Martinez said. "It's going to be hard to find somebody that has that kind of [resume] in two sports."
Soltys graduated with effectively every offensive record in Highland girls lacrosse history after amassing 640 career points with 437 goals, 203 assists and 545 draw controls.
"Stats speak volumes for her, but it was more than that to us," Conques said of the 17-year-old from Gainesville. "She was our captain and our leader. ... She kind of ran our offense, setting things up. She could really read the game and the situation."
Basketball boon
The state finals had never treated Highland well until Kayla Soltys led the Hawks there this girls basketball season.
They entered the VISAA Division II title game as a four-time state runner-up, and they had to face Miller, a seven-time state champion. But they shed that daunting history when Soltys scored a game-high 16 points to give Highland a 43-35 victory over the Mavericks for the Hawks' first title.
"I had the most fun this year," she said. "Even though I like lacrosse more, I think the basketball [championship] was the most memorable.
"It's like once in a lifetime, while we did it four times in lacrosse," she said. "It was the first time ever so everyone wanted it so much more."
The Hawks found motivation, rather than demoralization, in their 43-35 loss to Miller during the 2017-18 state final. Soltys was one of four starters who returned from that team this winter.
"We put in so much work because last year hurt so much," she said. "I had a lot more faith in this team."
Soltys' confidence did waver, though, when the Hawks lost three of four games to begin her senior season. In fact, they finished the 2018 portion of their schedule with only a 5-7 record after playing a bunch of quality teams across the Mid-Atlantic.
So Soltys visited the coaches' office following one of those losses.
"She asked us, 'What do we need to do to win?'" Martinez said. "She was willing to do whatever, whether it was giving up some of her shots and moving the ball more.
"We talked about defense a lot with her and she was able to turn it around," the coach said. "Helping us win a state championship, that was a huge piece of it."
The Hawks did not lose a game during the 2019 portion of their schedule, finishing on a 16-0 run for a 21-7 final record.
"At the beginning we thought we sucked," Soltys said. "Our coaches kept reminding us, 'These are the best teams we'll play all season. That gave us a little bit of hope."
She finished as Highland's only double-figure scorer, averaging 17.9 points per game along with averages of 3.9 rebounds, 2.8 assists and 2.3 steals. So she was named the D-II state Player of the Year as she became the second-leading career scorer in Hawks history.
Soltys graduated with 1,827 points, 648 rebounds, 322 assists and 146 blocks. Her 186 3-pointers included a streak of 34 consecutive games with a 3-pointer. Two games after that streak ended, Soltys set Highland single-game records by making nine 3-pointers for 39 points on 15-for-23 shooting during a 77-39 win over Seton that gave the Hawks a Delaney Athletic Conference tournament title for the second consecutive season.
"She's a player you rarely have to get on about effort," Martinez said. "She's always coming in with a smile on her face and always kind of a positive mood. She's an amazing young lady character-wise.
"Teams can be somewhat clique-y, but she just jells with everybody," the coach said. "It's huge to have a leader like that."
Soltys began playing basketball in second grade and joined Highland's varsity team as an eighth grader, but she didn't develop the perfect balance of aggressive dribble-drives and consistent long-range shooting until the final few years of her career.
"Eighth grade was kind of rough," Soltys said. "I had no muscles and everyone was bigger than me.
"I didn't really like basketball as much" as lacrosse, she said, "but I'm going to miss it a lot next year."
And the Hawks will miss her.
"She's a tremendous athlete," Martinez said. "It will be very hard to try and replace someone who had that type of scoring prowess."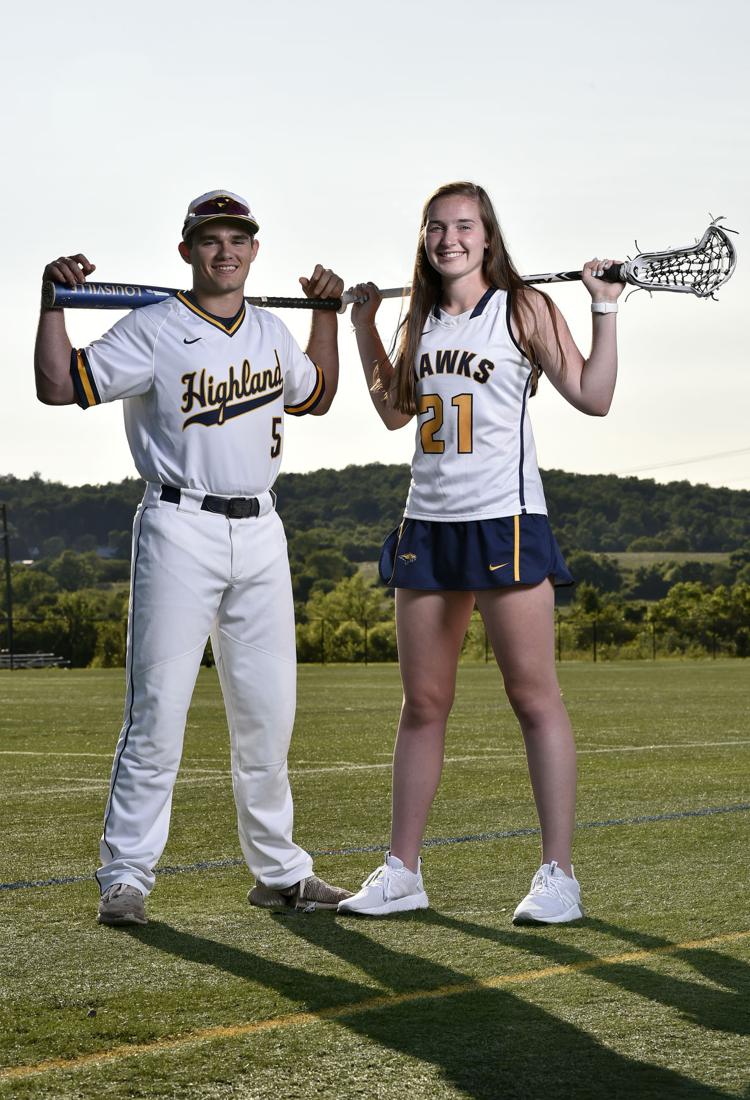 Dynasty building
On May 14, 2018, the Highland Hawks' 47-game winning streak ended with a 13-12 loss to Foxcroft in the Delaney Athletic Conference championship game.
So Kayla Soltys retired the lacrosse stick, cleats and socks that she had used for each of those games. Then she bought a new set of gear.
"My lacrosse coach was very superstitious, so it kind of rubbed off on me," Soltys said with a laugh.
And that certainly didn't hurt the Hawks. Following that loss, they composed a 23-game winning streak that included the 2018 and 2019 state championships games with Soltys finishing as the VISAA D-II state Player of the Year for the second and third time in her career.
During that two-year stretch, Hawks coach Kristen Conques was interestingly most impressed with Soltys during their lone loss to Seton.
"She was coming off the flu and was barely surviving that game," Conques said. "We were down a couple goals and she just worked so hard and out-hustled everyone on the field. She got a goal to send us into overtime and literally collapsed because of exhaustion. That's just how much effort she put in."
Highland also lost to Foxcroft in the state final during Soltys' eighth grade season, but the Hawks found revenge in the 2015-16 title game to begin their run of four consecutive state championships with a 70-1 record.
"Kind of crazy," Soltys said. "Freshman year ... was such a big deal for us. I never thought that we would have been able to do it four times in a row.
"But we put in the work and I think we deserve it," she said. "It's cool to say we've won four."
Soltys graduated with single-season and single-game Highland records in points (162/13), goals (113/10), assists (60/7) and draw controls (160/18).
"She has amazing stick skills," Conques said. "She used her height and that fearlessness to take on two, three players with ease. ... Her ability to take over is just huge."
That showed even five seasons ago when she scored the initial goal of Highland's 2015 season.
"There was no fear even as a little eighth grader," Conques said. "She's obviously gotten stronger and taller, and her skills have improved every year, but she's always had that heart and drive."
A midfielder her entire career, Soltys considers winning draws as her greatest skill, but she also obviously excelled offensively despite opponents often focusing their defense on her.
"Other teams try to face guard me," Soltys said. "Most people wouldn't like that, but it's fun to mess with them and then score on them."