Kayla Pavlock didn't realize how huge an effect sports would have on her during high school when she entered Fauquier as a freshman. 
But then she became a three-sport athlete and earned 11 varsity letters by the time she graduated, making her the 2019 Fauquier Times Fauquier High Girls Athlete of the Year.
"I liked sports all my life, but I had no idea I would come into high school and have sports change my life; make me who I am," said Pavlock, who plans to study nursing at Duquesne University this fall. "It was worth it."
She finished with four varsity letters in outdoor track, three in volleyball and two each in indoor track and basketball to gain induction into the Falcon Hall of Fame. She was perhaps strongest in track, earning a fistful of district, regional and state medals, especially in the shot put and discus the past two years.
Pavlock planned on playing basketball and softball when she arrived at Fauquier, but softball never materialized, leading her to track. She attended a Falcon track camp and knew coach Quentin Jones was a big fan.
"I felt Coach Jones was going to take care of me," she said, describing her transition to track as, "This is so cool."
As a freshman she placed fifth in the district shot put and ninth in the discus.
"She exploded onto the scene as a sophomore," Jones said.
Pavlock threw the shot put regularly in the 34- to 35-foot range and won the district crown at 35 feet, 9 inches and was the discus silver medalist at 105-5. Then, at the region meet, she recorded the then-best throw of her career at 38-10.5 to win the shot put.
"Out of nowhere," she said. "I remember to this day that it felt like nothing.
"I looked over at coach Jones, and he was 'What just happened?'" she said. "I thought, 'Maybe I'm on to something.'"
Her region title fueled lofty expectations for the Class 4A state meet, but she left disappointed after taking third at 37-4.
"I was devastated," said Pavlock, whose region-winning distance would have won the state title.
As a junior, she left basketball behind to focus on track and volleyball, but she finished the outdoor track season unsatisfied by a fourth-place finish in the shot put. As a senior, she won the indoor district shot put at 39-2 and added the region crown en route to the state silver medal with a throw of 37-4.
That medal elevated expectations for her final outdoor campaign, when she won the Class 4 Northwestern District shot put at 37-10. But she remembers her discus gold medal throw of 117-9 more vividly.
Because "discus really is not my thing," she said. "I'm decent at it, but I've never been anything special."
Pavlock also became the Region 4C shot put champion at 39-4, the first time she had surpassed the 39-foot mark. She also threw a career best 120-2 to place second in the region discus.
In the state meet, she placed third in both events, falling short of her state championship goal at 37-4 in the shot put and 118-8 in the discus.
"I was happy with the discus, but when I finished third in the shot, I'm not going to lie, I cried like a little baby," Pavlock said. "Not because I'm a poor sport. That's not where I wanted to end my career."
She now realizes "in sports, you can't have perfect day every day," she said. "I'm just trying to be at peace with that."
Jones said Pavlock's double bronze at state was a sign of her versatility.
"For her to do that well in both throws was exceptional," he said.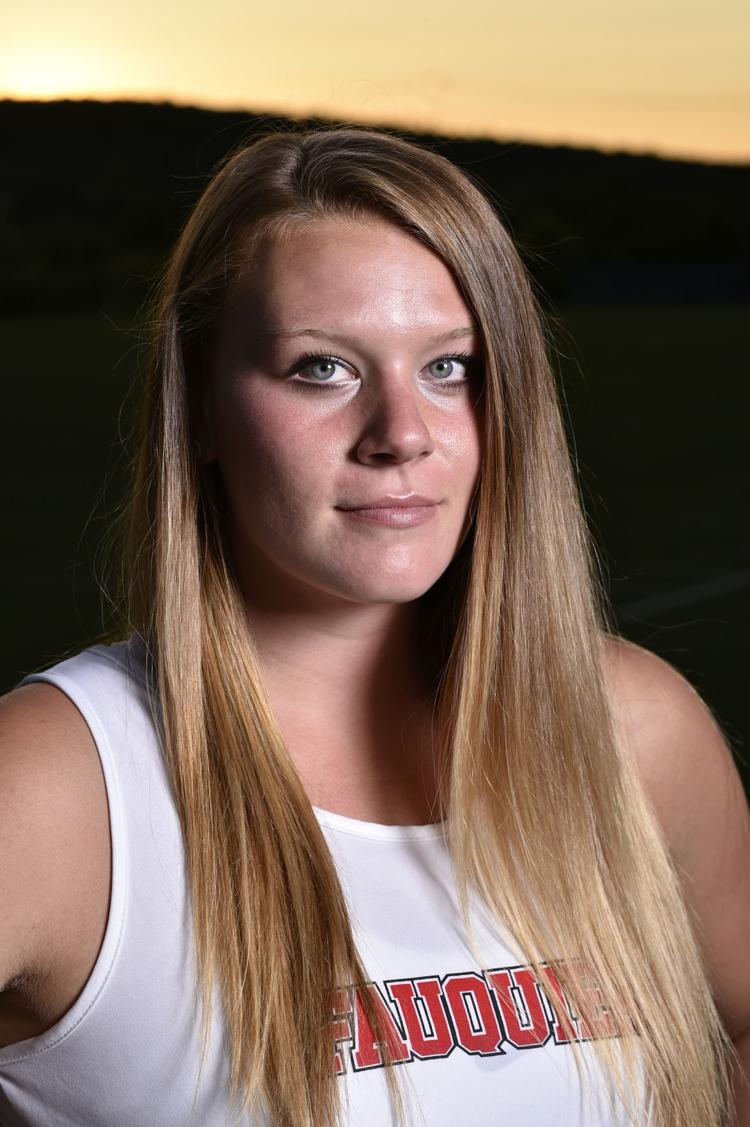 Volleyball life
Kayla Pavlock's budding volleyball career almost never left the ground in middle school when she was cut in seventh grade.
But she made the squad as an eighth grader, and Fauquier High coach Diana Story noticed her.
"In volleyball, you have those athletes who are just natural," Story said. "They can come into a season and make an immediate impact. Kayla was that athlete.
"She's a strong girl," she said. "That was one the biggest things we noticed."
Pavlock wondered if she would make Fauquier's freshman team her first year. She was delighted to be assigned to the junior varsity squad and volleyball emerged as her favorite sport.
"All these girls were incredible," Pavlock said of that JV team. "I don't want to say I didn't belong, but I felt a little bit like an outsider because they all had been playing together."
Pavlock then received playing time as a sophomore before moving into the starting lineup as a middle blocker during her last two years. The Falcons won the Class 4 Northwestern District championship, placed second in Region 4C and advanced to the state quarterfinals.
"I am so aware that I'm not as good at volleyball as I am at throwing," Pavlock said. "But there is really something about [volleyball] that is unmatched."
Pavlock praised Jones and Story for their guidance.
"They are mentors," she said. "They have taught me about life, the highs and lows of being an athlete. … I am a more confident person and athlete because of them."