Joe DeBardi's strength through adversity after an accident 11 years ago helped make him the 2019 Fauquier Times Highland Boys Athlete of the Year.
A standout Highland baseball player and recent graduate, DeBardi traveled to a West Virginia fishing hole in 2008 with some family members. They made a turn in their suburban as a tractor trailer approached from the other direction. The truck did not brake, DeBardi said, and hit the car, which nosedived 25 feet into a creek bed, landing on a tree.
"I got pulled out by my dad and my godfather, and at that point my leg was snapped in half," DeBardi said. "And got airlifted to West Virginia River Memorial Hospital."
He underwent a surgery to repair the broken femur.
A couple years later, doctors found out that his labrum was torn in the accident, so they repaired that with surgery, too. DeBardi also suffered multiple hip dislocations in the years following the accident. So he underwent another surgery to anchor the hip together.
When the doctors checked to see if anything else was wrong, they found further problems.
"They did some x-rays and my ankles were crushed in the accident as well, so I got two ankle reconstructions on my left and right ankle," DeBardi said.
DeBardi played soccer and baseball at the time of the accident, but his lateral movement was poor after the hip injury. He could barely walk and doctors doubted he would play sports again.
"They thought I couldn't run again," DeBardi said. "They were like, 'No, baseball's out.'
"They set me up with a walker," he said. "I was there for a while [and] felt like I didn't want to live that way. I hit physical therapy hard to try and get back out there."
DeBardi kept those doctors' doubts in the back of his mind as he pushed through years of physical therapy.
"You've got to set your mind to some things in life and my thing is I want to prove to all the people that said I couldn't ... that I could," DeBardi said.
He stopped playing soccer because of his limited lateral movement, but he devoted himself to baseball and excelled, especially as a senior. He was named Player of the Year in the Delaney Athletic Conference and a member of the VISAA Division II all-state first team.
Prior to many of his games with Highland, DeBardi tapped his foot on the foul line, tempting the "baseball gods."
"It's supposed to be bad luck, but I haven't gotten luck from anything else," DeBardi said. "So I step on it three times. I do that to say to myself 'Nothing's going to help me through this. This is all me, I'm going to do this myself.' And if I do bad it's on me, not on anything else."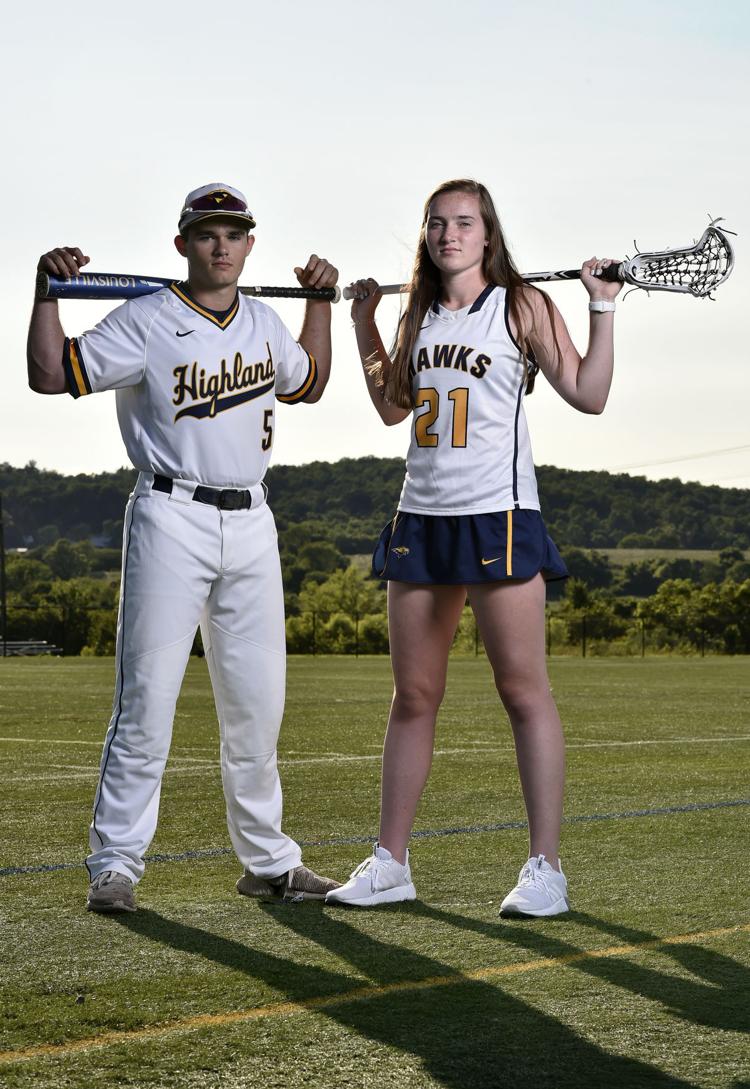 Another injury
It seemed like another exciting play in the baseball life of Joe DeBardi.
At a 2018 tournament in Myrtle Beach, South Carolina, DeBardi was rounding third, looking to score on a base hit. Then he felt a pop.
It was his hamstring tearing.
After limping home to score for Highland, DeBardi took stock of his body and emotions.
"I went in the dugout, sat down and said, 'Well, that's done. That's gone,'" DeBardi said. "I ended up getting an MRI and it was torn in three places."
So DeBardi missed most of his junior season before returning for the state tournament, although not at 100 percent. But that injury didn't keep him from composing a superb senior year. He helped the Hawks enjoy the best season in school history, going 20-5 and making the VISAA D-II state championship game.
Named the Delaney Athletic Conference Player of the Year, DeBardi hit .463 with 30 RBI and 15 stolen bases. His 13 doubles and 19 extra base hits set single-season program records, and his four home runs tied a record. He also earned an offer from Mount St. Mary's University, a NCAA Division I team in Emmittsburg, Maryland.
First impressions
Highland baseball coach Micah Higgins remembers the day he met Joe DeBardi at a summer practice in 2017.
"[He] was kind of an outspoken player, someone that I kind of fell in love with the way he played, his overall attitude and intensity that he brought to practice," Higgins said. "Once we started playing games a week later it was just like, 'Wow, this kid's special.' He does things on the baseball field that most players can't do and is just a freak athlete."
DeBardi's vast medical history isn't apparent now. He plays with maximum effort and feels unrestrained.
"From running the ball out to going after a popup to diving head first down the first base line, he's just 100 percent all the time," Higgins said.
DeBardi hit home runs in back-to-back at-bats against Seton on May 9. One of the long balls landed on the tennis courts, almost hitting a player during that tennis match.
"I hit one to left and one to right," DeBardi said. "It was a great experience for me. I've done that twice now. It's certainly one of the best feelings in the world, hitting a home run and doing something for the team."
His play propelled No. 3-seeded Highland to a strong postseason run with wins over North Cross, 8-1 in the state quarterfinals, and No. 2 Greenbrier Christian, 7-2 in the state semifinals. DeBardi went 1-for-4 with two RBIs, a double and a steal in the semifinal game, but Highland fell to the Miller 10-5 in the state title game.
DeBardi wasn't upset, knowing how far he'd come on an injury-riddled road.
"I remember I was very relaxed and happy the entire game because I knew it was going to be my last high school game," DeBardi said. "I wanted to remember it as a positive experience."