The Kettle Run Cougars won 11 events with eight region-qualifying times (Class 4C) Saturday to go 3-1 during a three-way dual meet at the Manassas Park Community Center. 
Kettle Run's boys beat Sherando 173-98 and Liberty 193-51, while the Cougars' girls defeated Liberty 187-80 but lost to Sherando 150-128.
Nick Maranto had a hand in four of Kettle Run's first-place finishes with individual victories in the boys 200-meter individual medley and 100 breaststroke thanks to respective times of 2 minutes, 5.21 seconds and 1:03.56. He also joined Nathan Kim, Ben Adams and Mark Fallin to win the 500 freestyle relay in 3:36.09, while the 200 medley relay team of Fallin, Maranto, Kim and Wiley Saville won in 1:44.83.
Kim also won the 50 free in 23.13 and Fallin won the 100 backstroke in 1:00.72 while Richard Cruger won the 500 free in 5:50.64. Plus, Cruger joined Saville, Lukas Baines and Bradley Platt to win the 200 free relay in 1:44.47.
For Kettle Run's girls, Erin Kerrigan swam a Class 4 state-qualifying time of 5:21.13 to win the 500 free while also finishing first in the 200 free with a time of 2:02.57. And she joined Peyton Talomie, Gemma Flook and Megan Fallin to win the 200 free relay in 1:49.96.
Liberty, meanwhile, had two runner-up finishes thanks to William Frederick in the 50 free (24.65) and 100 back (1:02.59).
Highland girls basketball 54, Wakefield 14
The Highland Hawks held Wakefield under four points in three of four periods Saturday en route to a 54-14 victory over the Owls at home in Warrenton. 
They build a 19-2 lead in the first quarter – despite playing without two starters due to injury and illness – before entering halftime with a 25-9 advantage and ending the third period with a 44-12 lead. Abby Soltys scored 22 of Highland's 25 points in the first half to help boost the Hawks' record to 10-4 overall and 2-0 in the Delaney Athletic Conference. So they have won seven consecutive games against the Owls since losing the rivalry game in 2014.
Soltys finished with 27 points on 12-for-19 field-goal shooting, seven steals, six rebounds and five assists. Adding 11 points apiece were Caite Leake and Gabby Brisbin, while Skylar Place and Leake had nine rebounds each. Brisbin also had five steals and Leake had five assists.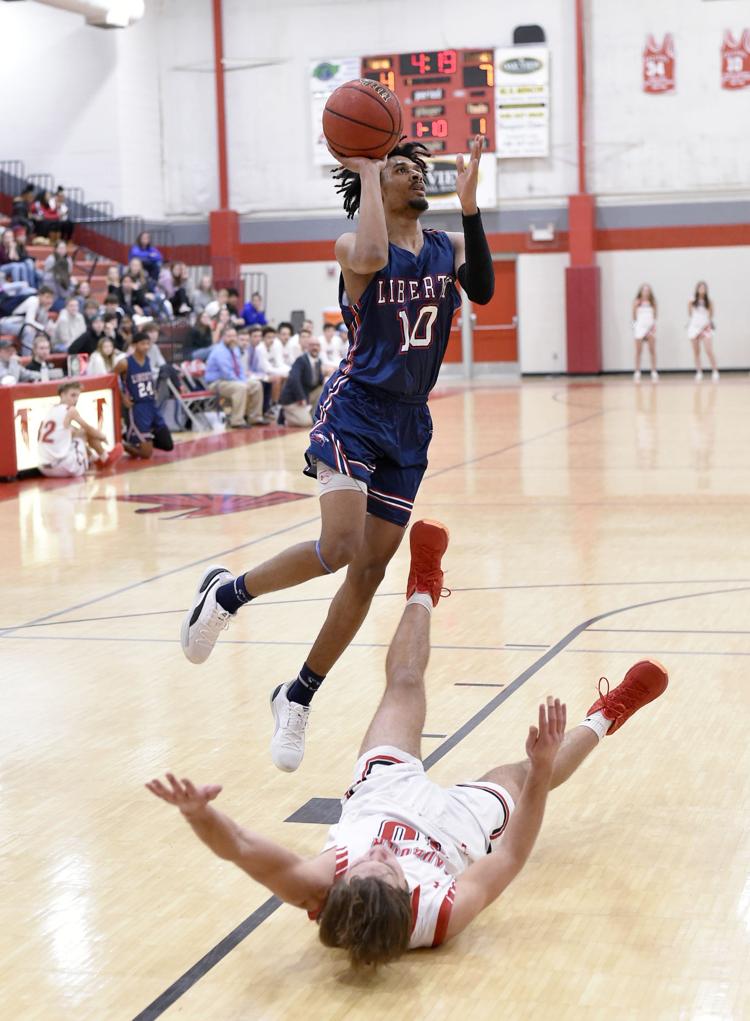 Liberty boys basketball 65, Culpeper 56 
The Liberty Eagles won their third consecutive game in Class 4 Northwestern District play by beating Culpeper's boys basketball team 65-56 Friday at home in Bealeton.
Russell Morton fueled the victory with 5-for-6 3-point shooting that boosted Liberty's record to 4-2 in the district and 8-4 overall with a four-game winning streak.
"I just played through our offense and I was hitting the shots we worked on in practice," Morton said. "Also, I felt great in shoot-around."
So he finished with 17 points while Bryan Barnes had 16 and Derrick Brooks had 12. Morton scored eight points in the third quarter alone to give the Eagles a 47-38 lead after they entered halftime with a 32-20 advantage following a 12-8 first-quarter lead.
Culpeper cut its deficit to 55-51 in the fourth quarter, but Liberty made 10 of 11 free throws in that final period to seal the victory.
Fauquier swimming 
The Fauquier Falcons won eight events Friday to go 3-1 during a three-way dual swim meet at the Manassas Park Community Center.
Fauquier's girls beat Manassas Park 107-56 and Millbrook 93-71 with Isabel Robey and Leah Bengston each having a hand in three event victories, while the Falcons' boys defeated Millbrook 79-73 but lost to Manassas Park 103-64. Robey used a pair of Class 4 state-qualifying times to win the 200 individual medley and 100 backstroke. She also won the 200 medley relay with Bengston, Rachel Rohrbaugh and Olivia Keenley.
Bengston added victories in the 50 freestyle and 100 breaststroke, while Jake Goldman led the Fauquier boys with wins in the 500 free and 100 breast. Mason Worst added a victory in the 200 IM.
Highland swimming
Each of the Highland Hawks' five swimmers posted at least one top-eight finish Friday during a meet at Fredericksburg Academy, including a trio of victories.
Paris Thornburg won the girls 50-meter freestyle while Morgan Malinow won the 100 breaststroke and Madisyn Carter won the 100 butterfly. They also combined to achieve the VISAA state-qualifying standards for the first this season in the 200 medley relay and 200 freestyle relay. Bridget Conlon rounded out those relay teams, which placed second in the 200 free and third in the 200 medley.
Thornburg added a runner-up finish in the 200 free and Carter took second in the 200 IM while Malinow placed third in the 100 free and Conlon finished seventh in the 50 free.
For Highland's boys, George Light took fourth in the 50 free.