Like a lot of gamblers, Charlie Porterfield felt helpless during a November game last football season. 
Porterfield, Kettle Run's head coach, lost what seemed like a fun preseason bet in August to his senior quarterback, Gabe Chumley. But, only a few months later, that wager didn't seem so whimsical when Chumley claimed his winnings in the form of taking complete control over the Cougars' offensive play-calling for one series during a regular season game.
"I think he about had a heart attack," Chumley said.
"I've never been more nervous in my coaching career," Porterfield said. "Not knowing what was going on."
But Porterfield's willingness to even take that risk showed his confidence in his quarterback's judgment and calmness on the field, traits that also helped make Chumley the 2019 Fauquier Times Kettle Run Boys Athlete of the Year. And Chumley rewarded Porterfield's faith by leading the Cougars down the field for a touchdown without the usual aid of his coaches.
"He was always kind of cool under pressure," Porterfield said of the 17-year-old, who also shined as a state runner-up wrestler for Kettle Run. "He never loses focus and never gets out of control.
"At a time in the game when I was kind of [off-kilter], I'd look at Gabe and be like, 'OK, we'll be OK,'" Porterfield said. "He's reassuring to you as a coach."
Their preseason bet was on whether or not Chumley could lead the Cougars to touchdowns on their first few drives of a 7-on-7 game. Chumley, of course, did exactly that to earn brief play-calling rights during a regular season game.
"That was pretty awesome," he said of dictating the offense. "It was literally like a Madden [video] game. I got to do whatever I wanted."
Chumley returned to the sideline to see a different reaction from Porterfield, though.
"He's like, 'It's too stressful. We're never doing that again,'" Chumley said with a laugh.
But the experience did give Chumley a better appreciation for his coaches.
"I got to one play where I didn't know what to call," the quarterback said. "You never respect how hard it is for the offensive coordinator until you have to do [a lot of play calls] really quick."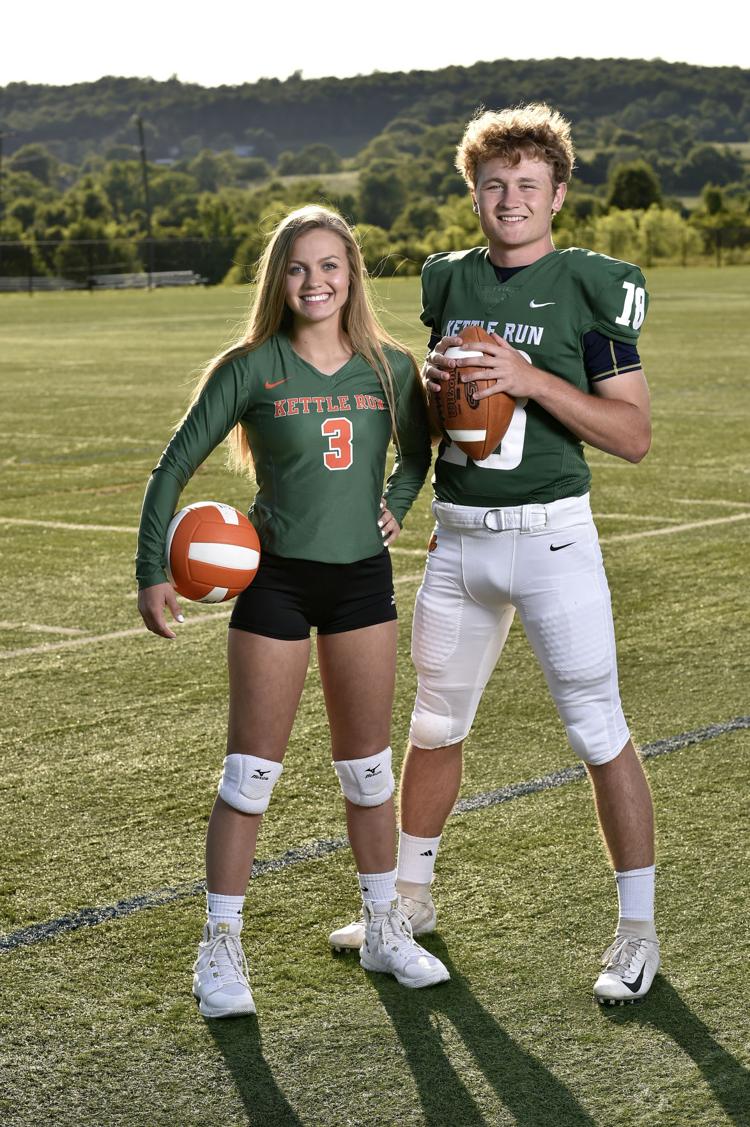 Beating brother
In 2018, Casen Chumley broke the majority of Kettle Run's passing records to become the Fauquier Times Kettle Run Boys Athlete of the Year that senior season as a third-year starter.
Following graduation, Chumley's younger brother, Gabe, replaced him as staring quarterback after serving as his backup for two seasons. Despite that change, Kettle Run's offense didn't suffer a setback. In fact, Gabe Chumley quickly broke a handful of his older brother's records.
"I was telling him I was going to do it, and he didn't believe me," Chumley said. "I got to give my brother the call and tell him I beat all of his [single-season] records. He was kind of in disbelief."
Chumley set single-season passing records with 2,110 yards, 28 touchdowns and 155 completions while throwing a record 89-yard completion and tying his brother's record with six touchdowns in a game.
"It meant a lot because I look up to Casen," said Gabe Chumley, who credited his teammates and coaches for his success. "He said he didn't want me to break his records, but I know secretly he was actually pretty happy I did it because he's just a good brother. I know he was proud of me."
Separated in age by little more than one year, Casen and Gabe Chumley grew up playing football together. Their father, a quarterback in his playing days, tried to mold them in his image, but Gabe Chumley ended up playing center for much of his Fauquier Youth Football career before becoming Kettle Run's junior varsity starting quarterback and varsity backup as a sophomore.
As a junior, Chumley remained the backup quarterback and also added defensive safety to his duties.
"I was like, 'I'll get my shot [at starting quarterback],'" Chumley, a Warrenton resident, said. "I just wanted to help the team in other ways. I kind of fit in where I could. Then senior year I was pretty grateful that I got that shot."
Chumley led the Cougars to a Class 4 Region C semifinals appearance and a 10-2 record for their second-best winning percentage in history before he committed to the Salisbury (Maryland) University football team.
Wrestling ride
Even hours after the wrestling match ended in the final seconds of triple overtime, Mike Foy couldn't shake the frustration he felt after a controversial hand-lock penalty cost Gabe Chumley the Class 4 state championship.
"That was devastating," Foy, Kettle Run's head coach, said. "I felt like there were some bad calls and I was pretty upset about it."
But then Foy received a text from Chumley, his 170-pound wrestler: I'm fine with it, Coach. Nothing's going to change it. Everything happens for a reason and I'll learn from it.
"That's what I should have been telling him," Foy said. "That's the student teaching the teacher."
Regardless, Chumley credits Foy as one of the top teachers in his life.
"Coach Porterfield and Coach Foy are the best leaders that I know, except for my dad," Chumley said. "I texted [Foy] because I think he was having a harder time than me. That's how much he cares about us and wants us to succeed. He just has such a passion for the sport, and that's why I love him."
Chumley finished his career with 121 wins thanks to a 41-4 record as a senior. He won the 2019 Region 4C championship and Class 4 Northwestern District title.
"Gabriel's very athletic and has that desire to win," Foy said. "It was just that refuse-to-lose attitude. He sometimes almost hurt himself to get off his back. It would sometimes translate into crazy things."
Chumley, a team captain, accomplished a lot despite never wrestling seriously until his freshman season, when he won fewer than 10 matches.
"To go from that to be in the state finals is pretty incredible," Foy said. "He meant the world to us.
"His work ethic and determination, it just rubs off on the other guys," the coach said. "When practices get tough and people are cutting weight and slowing down, he kept everybody going."