After the slap, Sam Fisher won in a snap.
As has been the custom during his unrivaled career with Fauquier High's wrestling team.
Fisher became the first four-time state champion in Fauquier County wrestling history Saturday, which helped the Falcons win the third team state title in county history – all over the past six seasons for the Falcons – by beating runner-up Great Bridge 170.5-164 in the Class 4 tournament at Tuscarora High in Leesburg, while Liberty placed third with 139 points.
Fisher scored Fauquier High's final points of the weekend by pinning Amherst's Josh Brooks in 68 seconds during the 182-pound title match for the quickest victory of the finals.
Just before the beginning of that bout, Fisher stepped onto the mat and ferociously slapped the hand of his father, Fauquier head coach Doug Fisher. That's a pre-match tradition that the son and father have shared for four years, and it's often a reliable barometer for how well Sam Fisher will perform.
"There are times he gets me like, 'Woof.' I mean it's bad," Doug Fisher said of his stinging hand. "Then I'm like, 'Oh, this [opponent] is in trouble.'
"It wasn't bad tonight," the coach said Saturday. "One out of 10, that was a three. … But I'm pretty calloused by now."
That hand slap almost always leads to a victory for Sam Fisher, a Virginia Tech recruit who will soon graduate with an incredible 172-24 career record. He pinned all four of his state opponents this weekend in a cumulative 8 minutes, 47 seconds, which gave him seven pins in nine postseason matches this month with technical falls of 23-8 and 20-5 as he also claimed the Region 4C and Class 4 Northwestern District championships for the fourth consecutive season.
In similar historic fashion Saturday, Mason Barrett became Liberty's first two-time state champion by winning at 120 pounds while 132-pound teammate Colin Dupill became the Eagles' first freshman state champion. Also earning state medals for Liberty were Bryan Contreras (152 runner-up), William Winegardner (138 runner-up), Jovon Mitchell (145, third), Caleb Swinson (160, fifth) and Royce Hall (170, fifth).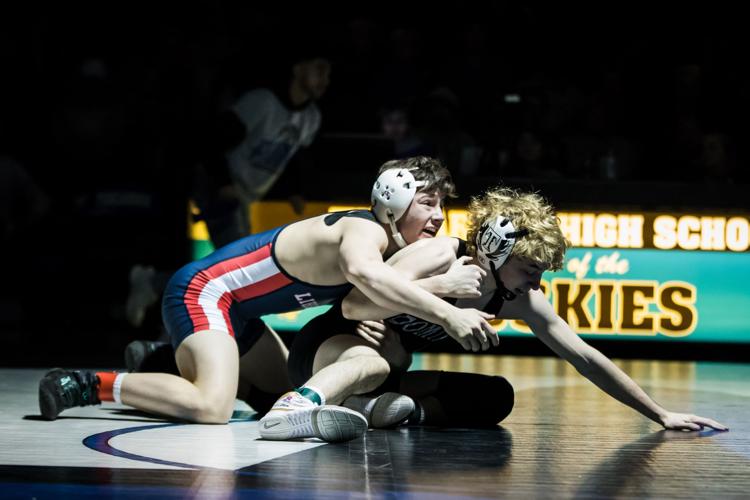 For Fauquier, D.J. Richards won the 126 championship and Gino Camarca won the 138 title with a 160 runner-up in Eric DeWald. Also earning state medals for the Falcons were Ben Bell (fourth, 195), Casey Burr (fourth, 285), Reece Kuhns (fifth, 120) and Thomas Heisler (fifth, 220).
So Fauquier claimed its seven consecutive top-seven finish at state with 14 consecutive top-nine placements, including the Class 4A title in 2015-16 and 2014-15. So Doug Fisher won his third title as coach Saturday.
"I was really happy," Fisher said. "Of course your first one is something [special], but the second one we kind of had the same [wrestlers] and sort of felt destined for that. This one's a whole different feel – really special [after] we had a lot of struggles in a lot of different areas midseason."
The Falcons didn't win a regular season tournament until late January, but that lone victory gave them some needed confidence, which then increased when they won the Class 4 Northwestern District and the Region 4C titles.
"Honestly, I didn't think our team had it in us [to win at state] until these last few weeks where we were just pushing as hard as we could," Camarca said. "It's incredible."
Sam Fisher agreed.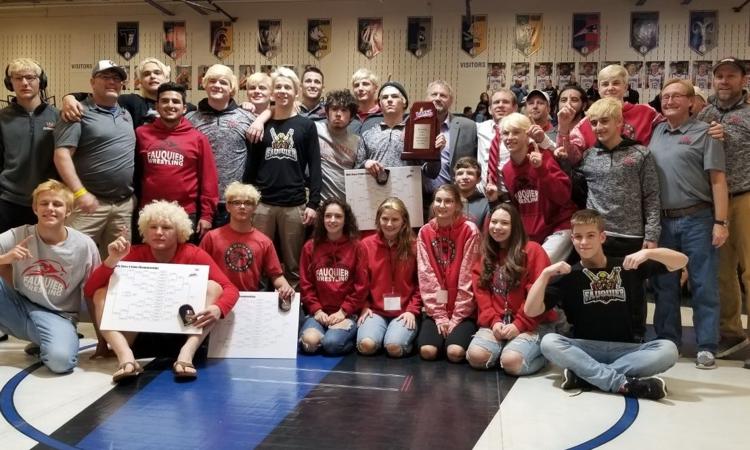 "Halfway through the year, I honestly would not have put us up there in the top four" among Class 4 teams, he said. "This last month the whole team kind of committed.
"I'm so proud of the team," he said. "It's awesome to be a part of that effort."
Fisher helped spark the Falcons' improvement by insisting they log an extra practice session at 6 a.m. most mornings before school during the postseason. That served as a supplement to their afternoon practices.
"He finally stepped up and became the vocal leader and just took ownership of the team completely," Doug Fisher said of his son. "Honestly, that was probably the hugest thing."
As a dominant wrestler, Sam Fisher previously relied mostly on a lead-by-example approach, but he improved his leadership skills late this season.
"A lot of seniors on this team, he's really good friends with," Doug Fisher said, "and he had a hard time holding them accountable when they didn't put the effort in that they needed to.
"When he started holding people accountable," Fisher said, "they responded well."
So the Falcons built an early 84-82.5 lead Friday over Great Bridge during the first session of the state tournament, and they expanded that to 152.5-149 entering the finals Saturday. The Wildcats took a brief 153-152.5 lead by winning the 106-pound final, but Fauquier took the lead back for good at 158.5-153 with Richards winning the 126 final.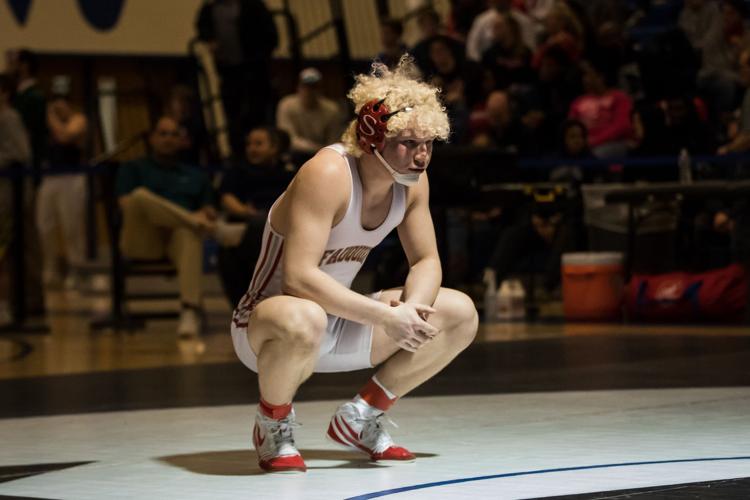 Fisher's historic performance
D.J. Richards pinned Powhatan's Sean Hall in 3:11, but Sam Fisher outdid him with a pin in 1:08 at 182.
Fisher also won the 182 weight class last season as a junior with a 170 title as a sophomore and a 160 title as a freshman. So he topped the Falcons' Garrett Tingen, who won championships in 2016, 2015 and 2014 to set the bar for individual titles in a career.
"It's a cool title to have, but it doesn't make me any different of a person," Fisher said. "I've still got a lot of getting better to do."
Fisher is one of only five county wrestlers in history who have four state medals.
"I feel like if you aren't [focused on the future] than you're kind of stagnant," the Virginia Tech recruit said. "You've got to be always working to progress forward. So that's where my mindset will stay."
Wrestling during the Virginia High School League season hasn't posed much of a challenge recently for Fisher, compared to his out-of-state competitions. He has claimed medals at prestigious national tournaments such as the Walsh Jesuit Ironman championships and the United States Marine Corps Cadet/Junior championships.
Nonetheless, Fisher chose to wrestle at Fauquier as a senior rather than foregoing his final season to begin training early at Virginia Tech.
"That was an option on the table, but he really wanted to complete his senior year," Doug Fisher said. "He's really committed to Fauquier – the school, the community, the parents, the program that we have. I think that was more important than the four state titles.
"He chose to stay, and I'm glad he did," the coach said. "He contributed significantly to this state title, much more than the points he scored."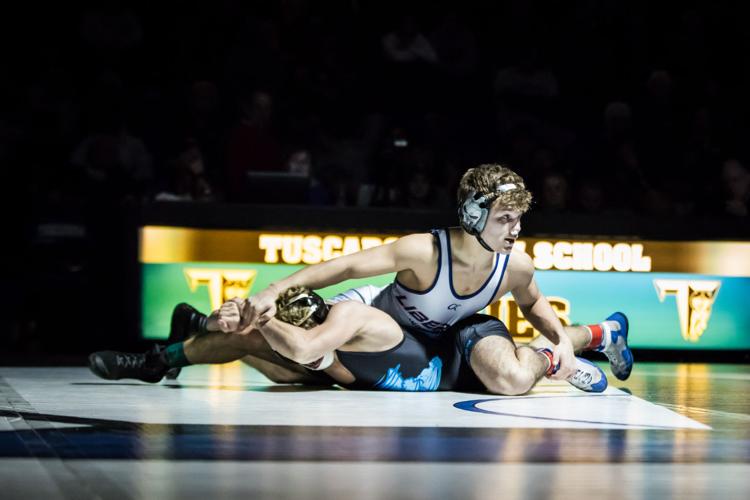 Dupill becomes Liberty's youngest champ
Similar to Sam Fisher, Liberty's Dupill seemed unimpressed by winning a state championship Saturday.
"It just feels like any other tournament," Dupill, a freshman, said after beating Eastern View's Johnny Laird 5-0 in the 132 final. "But it still felt pretty good."
Dupill has become somewhat jaded after faring well at prestigious national events, including his youth age-division championships at the Grand River Rumble and Powerade tournaments.
"I've been wrestling since I was 4," he said. "I like to work hard."
So Dupill has potential to follow in Fisher's footsteps as a four-time VHSL state champion.
"This will be the best kid to come out of Fauquier County by the end of it," Liberty assistant coach Joe Divello said.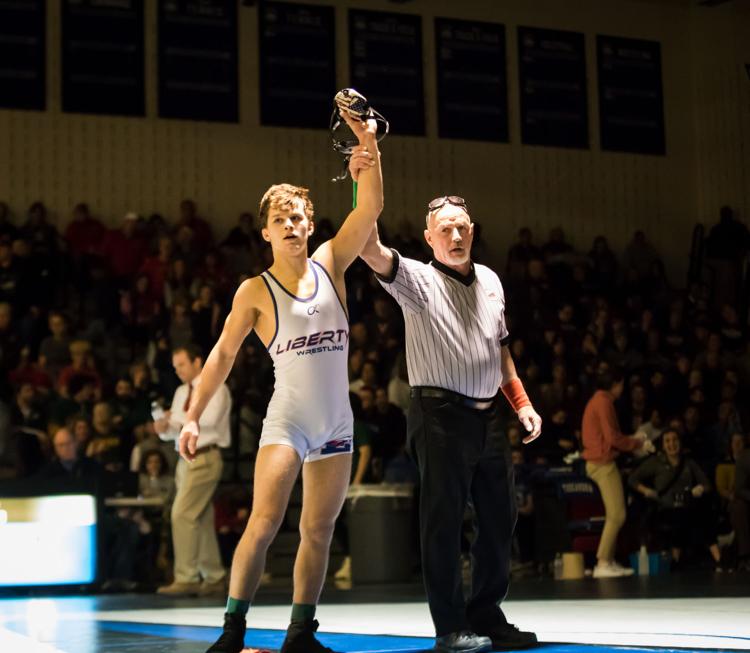 He helped Liberty amass a program-record 139 points at state as a team, but the Eagles still only tied for their best state placement in history by finishing third for the third consecutive season.
"I wanted us to win, but the other [Fauquier] kids came to wrestle," Mason Barrett said. "They did what they needed to do."
Barrett won the 120 final over Dominion's Jack Creamer, 3-1. He wriggled out from bottom position in the third period by sliding backward between Creamer's legs to score a pair of points with a reversal for a 3-0 lead.
"I've been working on bottom a little bit," Barrett said.
Creamer entered the weekend as a two-time state champion, which added some satisfaction to Barrett's victory, even after he previously beat Creamer in the Region 4C final.
"It actually feels really good" to win again, Barrett said. "I just worked really hard the last few months."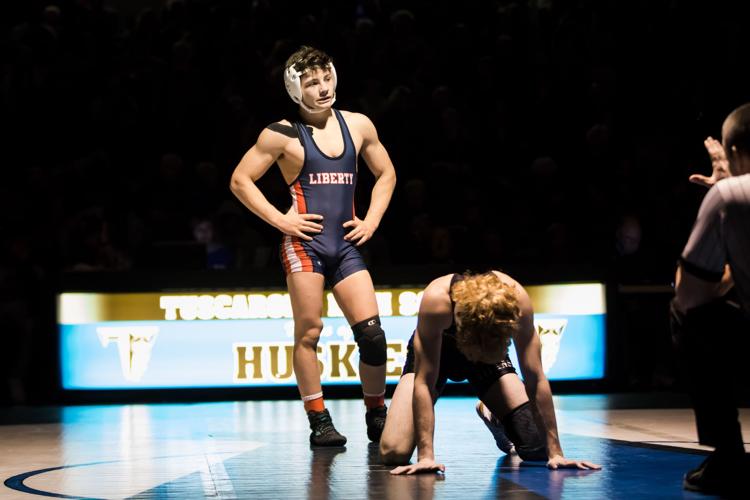 Fauquier's Richards, Camarca win titles
Like Liberty's Colin Dupill, Fauquier's D.J. Richards has potential to follow in Sam Fisher's footsteps as a four-time state champion. Richards finished his freshman season Saturday by winning the 126 title via pin.
"All the hard work paid off. It just feels great," Richards said. "But winning as a team is more special than winning individual. That means everything to me."
In the 126 final, Richards and Powhatan's Sean Hall wrestled to a scoreless stalemate during the first period and 40 seconds into the second period. But then Richards maneuvered into position to cradle Hall.
"Feeling him out in the begging, I thought this would be a tough one; one that might be a little hard to win," Richards said. "But as soon as I caught that cradle, all the adrenaline and intensity shot through and I felt really, really good."
Richards and Hall had never faced each other before, which may have been an advantage for the Fauquier freshman.
"I have a funky style … that's tough to counter," Richards said. "I have a unique style that requires more scrambling. It's just not what you normally see – that's what I've been told."
Less than an hour after beating Hall, Richards watched Fisher win a fourth career state title in the 182 final.
"He's one [person] to look up to and compare myself to, and something to shoot for," Richards said. "Winning a state title's pretty tough, but repeating it's even tougher."
That reality helps motivate Richards. So after attending afternoon practices at Fauquier he often lifts weights at home, or runs for conditioning.
"Because that's what you need to go out there and win," he said.
While Richards has an opportunity to win three more state titles, Gino Camarca entered Tuscarora's gym Saturday as a senior with only one last chance to win a championship. He placed only sixth at state last season and fifth as a sophomore in 2017-18, when he also watched his older brother, Franco Camarca, win a second consecutive state championship (182 and 170 pounds).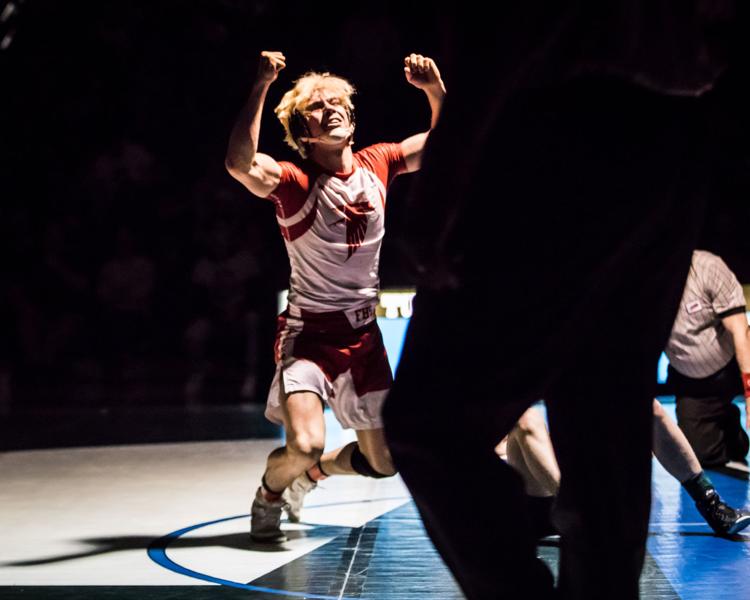 "So I wanted to get one so bad," Gino Camarca said Saturday. "I just went after it as hard as I could this year."
Earlier this month he won Region 4C and Northwestern District championships. Then he pinned all four of his opponents at state, including William Winegardner in 5:42 during the 138-pound final.
Much like his brother in 2016-17, the victory brought tears Gino Camarca's eyes.
"I'd have never thought it would end like that; like this tournament would go like that," he said of winning with four pins. "It's just an incredible feeling. It's amazing."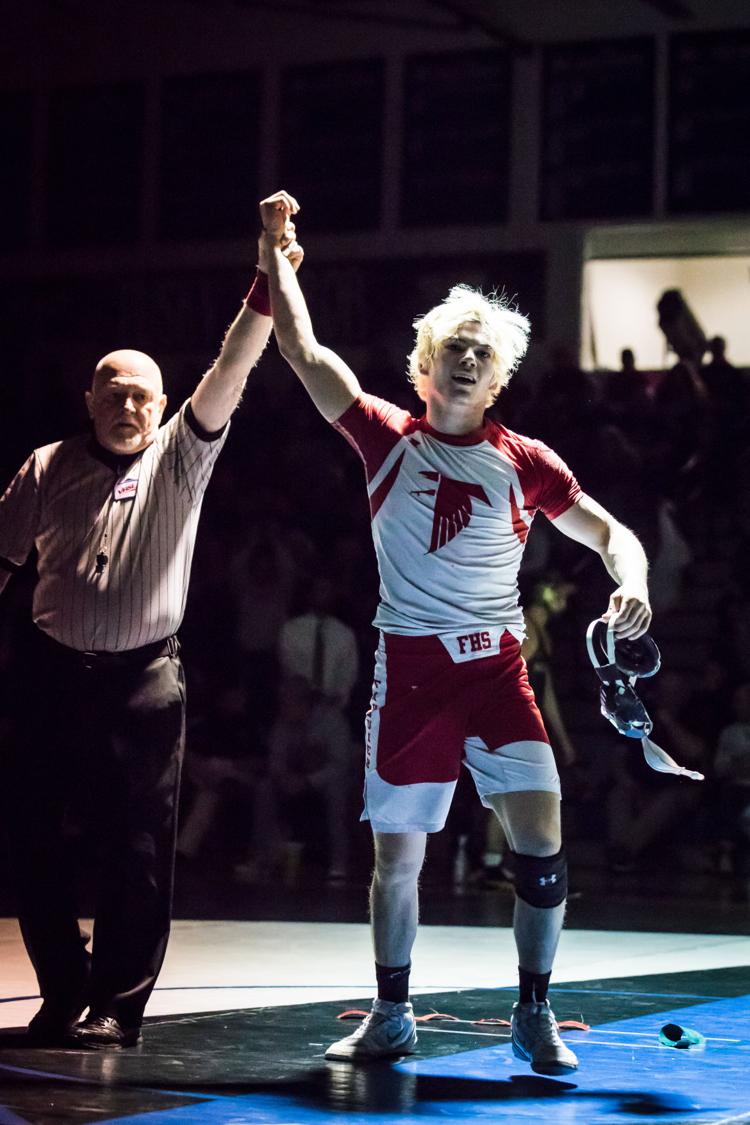 So Camarca graduated with 126 career wins. This season was by far his best, though, in part because he became a more analytical and cerebral wrestler.
"He's dynamic," Doug Fisher said. "He's wide open. He's fun to watch. He's a roller coaster of emotions. He gives you everything he has. He never quits. He's just so strong mentally.
"But his first three years … he wasn't taking ownership of his own training," Fisher said. "He wasn't [learning from his losses]. But this year he came in with a singular purpose, and he was a completely different kid. He was focused in practice."
Next, Camarca plans to reunite with his brother on the Benedictine College wrestling team.
"That'll be a lot of fun," he said.