Coaches love versatility.
So coaches love Chelsea Dodson.
The recent Kettle Run graduate's mindset of "I'll play anywhere" increased her worth in softball and volleyball, which also made her the 2019 Fauquier Times Kettle Run Girls Athlete of the Year. She played four positions for softball and made an important switch in volleyball as a senior to help Cougars.
"I just want to play, so I really didn't care where," said Dodson, who has played softball for 14 years, beginning at age 4.
She made her first Kettle Run varsity contributions in softball as a sophomore outfielder in 2017, earning a spot on the all-Conference 22 second team.
"I developed my trust in Chelsea very early on. She's a gamer," said Cougars coach Tori Hill, who liked the energy Dodson injected into the game and teammates.
Hill did not hesitate to move her to shortstop in 2018, when Dodson was also the team's No. 2 pitcher behind all-district hurler Jordanna Shorts, a senior. Then, in 2019, Dodson moved again to split time between pitching and second base.
"Chelsea's versatility has been incredibly vital to the growth and improvement of our team," Hill said. "Her willingness to learn new positions and fill roles has been huge for us over her four years here."
Dodson even played catcher in her youth.
"I've always been a utility player," she said. "I wouldn't say I liked some position over another."
The continued changes in responsibilities did not phase Dodson, who had her finest season as a senior. She posted a .406 batting average on 26 hits in 64 at bats. She had five doubles, five triples and one home run for a .688 slugging percentage with 20 runs and 14 RBIs.
"Seeing the ball and making contact" led to that success, said Dodson, who adjusted successfully to different pitchers and situations thanks to her experience and continued practice.
She was just as dangerous on the base paths.
"One of my favorite things in softball is running bases, making the pitcher or catcher throw the ball at you and pressuring them," Dodson said with her eyes lighting up.
"It's also critical thinking. You can't just be fast," said Dodson, a straight-A student. "To run the bases, you have to think what could happen next."
Those exploits helped her earn a sot on the Class 4 Northwestern all-district first team and all-region 4C second team.
"I was really shocked," she said of the latter. "I felt I had a great senior year. … I wasn't expecting to be [all-district], but I was happy to be."
Dodson's honors did not surprise Hill.
"She wants the ball, she wants the big situation," Hill said. "She just comes full throttle into every situation. … And I trust that."
Dodson played travel softball growing up, but switched to travel volleyball after she reached Kettle Run. So she graduated with seven years of volleyball under her belt after starting as a sixth grader, and she was also a cheerleader during elementary school.
"I am in love with the sport that I am currently playing," Dodson said, comparing seasons. "I felt I could put life aside and have fun. It's a getaway."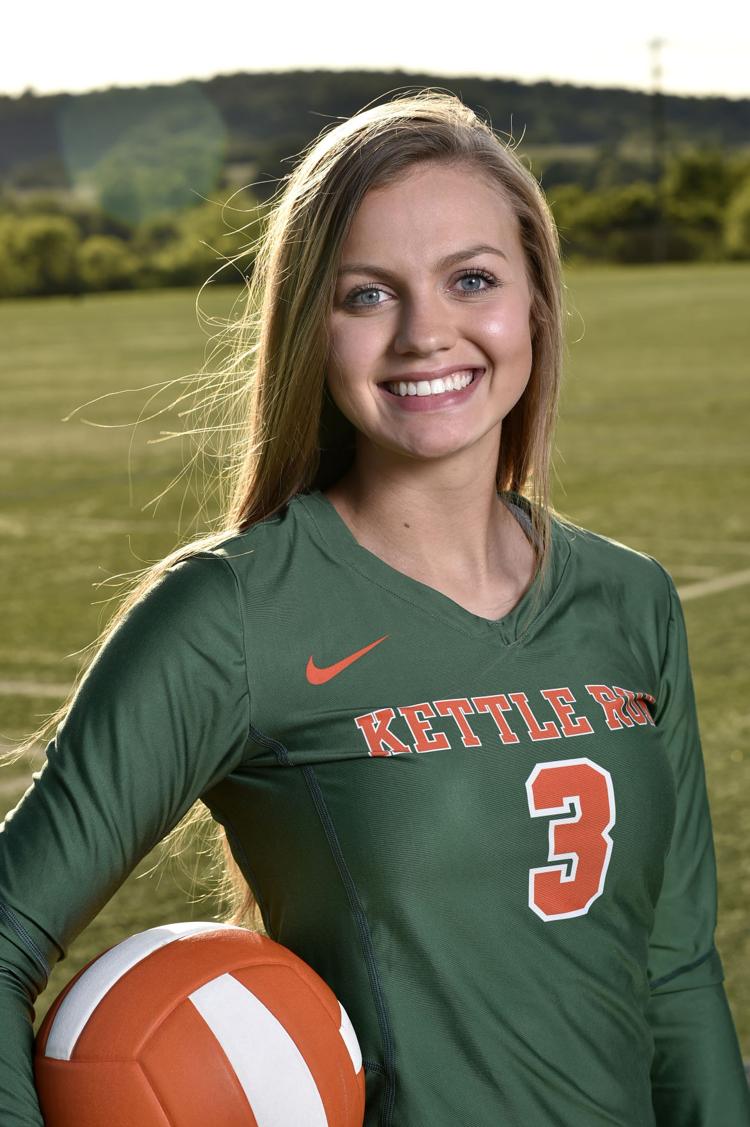 Volleyball change
Last fall, Kettle Run volleyball coach Janelle Sutliff approached Chelsea Dodson to discuss a major change.
As a junior, Dodson earned the Cougars' MVP award as an outside hitter. She was second on the team in kills and the leader in passing efficiency with 156 digs and 38 service aces. But Sutliff felt Dodson could instead strengthen Kettle Run's defensive scheme as a senior by switching to libero.
"When she told me, I was kind of shocked because I had a consistent position" as a hitter, said Dodson, who had played libero at Marshall Middle School before moving to hitter upon reaching Kettle Run.
"I was nervous," she said of the four-year gap in libero play. "It's a big role, but I [also] was excited because I knew I could do it, and it meant more playing time.
"I was a little rusty," she said, "but once I got into games, I was back into it."
Sutliff was confident Dodson could handle the switch.
"Chelsea is an A-plus high school athlete," Sutliff said. "I knew Chelsea could handle the change emotionally, and I was confident she would provide stability in the back row.
"I believed Chelsea would support the move to put more pressure on her, and take [the pressure] off from her teammates," the coach said.
The move paid dividends by solidifying Kettle Run's defense and the crucial return/receive element.
"Chelsea has the capacity to put bad plays behind her," Sutliff said. "She wants the ball in clutch situations, and her team knew she had their back."
Dodson, a team captain, recorded a team-high 51 services aces and 276 digs.
College next
Despite the time required to play two sports, Chelsea Dodson also excelled in the classroom.
She earned all As for the second term and credited solid time management.
Dodson studied in Kettle Run's Commons area during junior varsity volleyball games. She also worked on assignments while driving home after away softball games with the vehicle's interior lights.
Next, Dodson will attend Lord Fairfax Community College, where she will pursue a marketing degree. She currently is looking at a possible transfer to Christopher Newport University, or another four-year school, after earning an associate's degree.
Dodson will carry many fond memories of her athletic career that transcend the win-loss column.
"Bus rides were always fun, singing, laughing," she said with a big smile. "Dancing down the aisles and being yelled at.
"At the end of the day, it's not what's on the scoreboard," she said. "It's the connections with each other."