It began as a typical, laid-back summer baseball season in Warrenton, with no practices and a roster fluctuating based on players' work and vacation schedules. 
But it turned into the best American Legion season in Post 72's history.
The Warrenton Post 72 West team finished as the Virginia state runner-up after winning the District 16 regular season and tournament championships en route to a 19-4 final record. With a team composed of players from the Fauquier, Kettle Run, Highland, Battlefield and Brentsville high school districts, Post 72 West earned a state berth for only the second time in legion history and then topped Warrenton's fourth-place finish in 1986.
Besides Fauquier and Kettle Run players, "nobody else really knew each other," Post 72 West coach Kevin Lee said. "I thought it was fun just to see these guys mesh as far as chemistry. We just had a really great roster."
Post 72 West was composed largely of rising-freshmen and -sophomore college players, giving Warrenton a more experienced and deeper team than usual.
"Really, for the majority of the regular season, our goals simply were to get our guys their reps in, get their work in and report back to their college coaches what they've gotten done for the summer," Lee said. "So our approach is we're going to have fun. We're not about over-coaching or grinding too much."
The relaxed atmosphere, however, didn't keep Warrenton from advancing to the state championship game, which Vienna Post 180 won at City Stadium in Lynchburg for the second consecutive summer.
"These guys had a great year," Lee said of his players, "and had a great time doing it."
They improved greatly after finishing last summer with a 5-9 record, which followed a 9-4 record in 2017, when they ended as the District 16 runner-up.
Last season, Post 72 West often struggled to assemble more than a nine-player starting lineup, but plenty of healthy players turned out this summer. In fact, Warrenton decided to field two teams with its Post 72 East team drawing from Fauquier, Kettle Run, Highland, Patriot and Brentsville, excluding Battlefield because each legion team must draw from high schools that have grade 10-12 populations under 5,000 students combined.
"It seems like legion baseball around here is making a little bit of a comeback," Lee said.
Warrenton's East team had more current high school players than the West and finished with a 3-10 record.
"Their record did not reflect how good of a team they were," Lee said. "A lot of those guys were first-year legion guys ... and some of them were still playing their travel showcase schedules," which divided their time between different summer teams.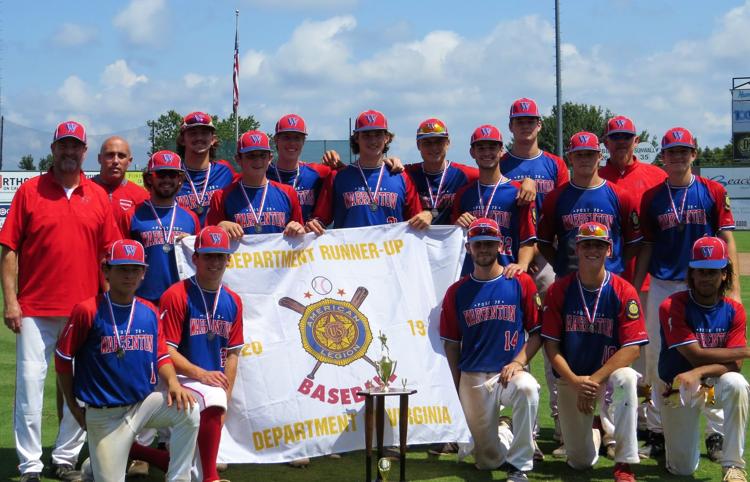 Post 72 West also had its typical scheduling conflicts, but the team usually had at least 13 of its 18 players available for a game.
"A lot of these guys depend on the money they make over the summer to help with their college educations," Lee said. "But they were really good communicating with me about when they weren't going to be there."
So Warrenton excelled despite playing as many as five games in four days some weeks.
"That will tax your arms," Lee said, "but I had plenty of pitching on the roster."
Warrenton finished with an outstanding 2.94 team ERA, led by a 1.19 from Brentsville's Mason Posey (George Mason University). He finished 5-0 with 45 strikeouts and a 1.15 WHIP.
Going 3-1 each were Fauquier graduate Cameron Lee (2.30 ERA, 1.43 WHIP, 23 strikeouts) and Kettle Run graduate Nate Mabe (3.74, 1.48, 17), while Fauquier graduate Carson McCusker went 2-0 with a 2.39 ERA, 1.48 WHIP and 23 strikeouts. Kettle Run graduate Zach Ewald added a 3-0 record with a 5.79 ERA, 1.71 WHIP and 20 strikeouts.
Offensively, Battlefield graduate Carter Cunningham led Post 72's regular batters with a 1.319 OPS, .491 average, 19 RBIs, 10 doubles and two triples, adding 20 runs.
"He's a great first baseman; a great hitter," Kevin Lee said. "And he's really not a pitcher, but he was kind of a stopgap for us."
Blaze O'Saben, a former Fauquier High shortstop, played outfield for Post 72 after recently switching to that position for the University of Maryland-Baltimore County. He finished this summer with a 1.137 OPS, .381 average, 13 RBIs, 10 runs and six doubles.
Kettle Run graduate Caden DeCroo added a 1.021 OPS, .381 average, 30 runs, 20 walks, 12 RBIs and five doubles, while Brentsville graduate Sam Beard had a 1.018 OPS, 4.13 average, 13 RBIs, and four doubles.
"Just a fantastic ball player," Lee said.
Battlefield rising senior Peter Benavides, 72 West's lone current high school player this summer, finished with a .994 OPS, .375 average, 14 RBIs, eight runs and four doubles.
"And he's just a fantastic defensive catcher," Lee said.
So Post 72 West lost to only two teams all season, falling twice each to Winchester and Vienna. Warrenton went 3-2 in the double-elimination state tournament despite beginning with a 10-0 loss to Vienna on July 29.
Warrenton followed that game with three consecutive victories to advance to the championship game. That run began with a 5-1 win over McLean Post 270 as Posey struck out 11 and allowed only one run on five hits and two walks over 6 1/3 innings.
"It's an elimination game and he threw great," Lee said.
Warrenton then beat Lynchburg Post 16 8-6 before defeating Leesburg Post 34 10-3 to advance to the championship game. In the final, Post 72 West fell behind 4-0 but closed the score to 4-3 before losing 6-4.
Warrenton played those state games at City Stadium in Lynchburg, the same host of the tournament in 1986, when Kevin Lee actually played for Post 72.
"That was cool thing about it," Lee said of making the trip again in 2019.