UPDATE: The Warrenton Town Council voted unanimously to approve the master plan for Eva Walker Park. Currently there is no funding set aside to complete the project, but grants and other funding opportunities may be pursued, now that a plan is in place.
ORIGINAL ARTICLE: The Town of Warrenton Planning Commission voted unanimously Jan. 19 to send the final draft of the Eva Walker Park Master Plan on to the Town Council; council members will consider the proposal at their Feb. 9 meeting. The design plan – paid for by the PATH Foundation and completed by Rhodeside Harwell, Inc. a landscape architecture, planning and urban design firm -- is a roadmap of possibilities for the 5.6-acre park in the middle of town.
At this point, no town funding has been allocated to implement the plan; whether taxpayer money should be used to make the proposal come to fruition is ultimately the decision of the Warrenton Town Council.
On Tuesday, planning commissioners were impressed with the design, but some were concerned about the cost. Although there are no solid estimates for the renovations, Denise Harris, the town's planning manager, said the bare-bones version of the renovated park would cost somewhere around $5 million, while the price tag for the fully built out plan would be closer to $11 million.
The only part of the plan that already has dollars set aside to complete is the Eva Walker Park Commemorative Garden, funded by an AARP Community Challenge Grant. The design calls for curved benches and a series of interpretive panels, with native and flowering plantings. The garden is intended to honor Eva Walker's life and legacy (see accompanying box).
The garden concept was conceived through close collaboration with Eva Walker's family and friends including: Ashleigh Corrin Webb (Eva Walker's granddaughter), Robyn Thompson (Eva Walker's daughter), Sherrie Carter (Eva Walker's daughter) and Christine Lewis, a family friend and local historian with the Afro-American Historical Association of Fauquier County.
The selected concept for the panels and plantings, called "Parade," was inspired by the parades that Walker led in the Haiti community as well as her background in dance and modeling. The concept incorporates personal memories of Eva Walker and her legacy.
Other key elements of the park design include a second basketball court; five entrances to the park (two on Haiti Street, one on Horner Street, one on North Street and one on Alexandria Pike); two new parking areas; a natural amphitheater; improved walking trails and a multi-use pavilion.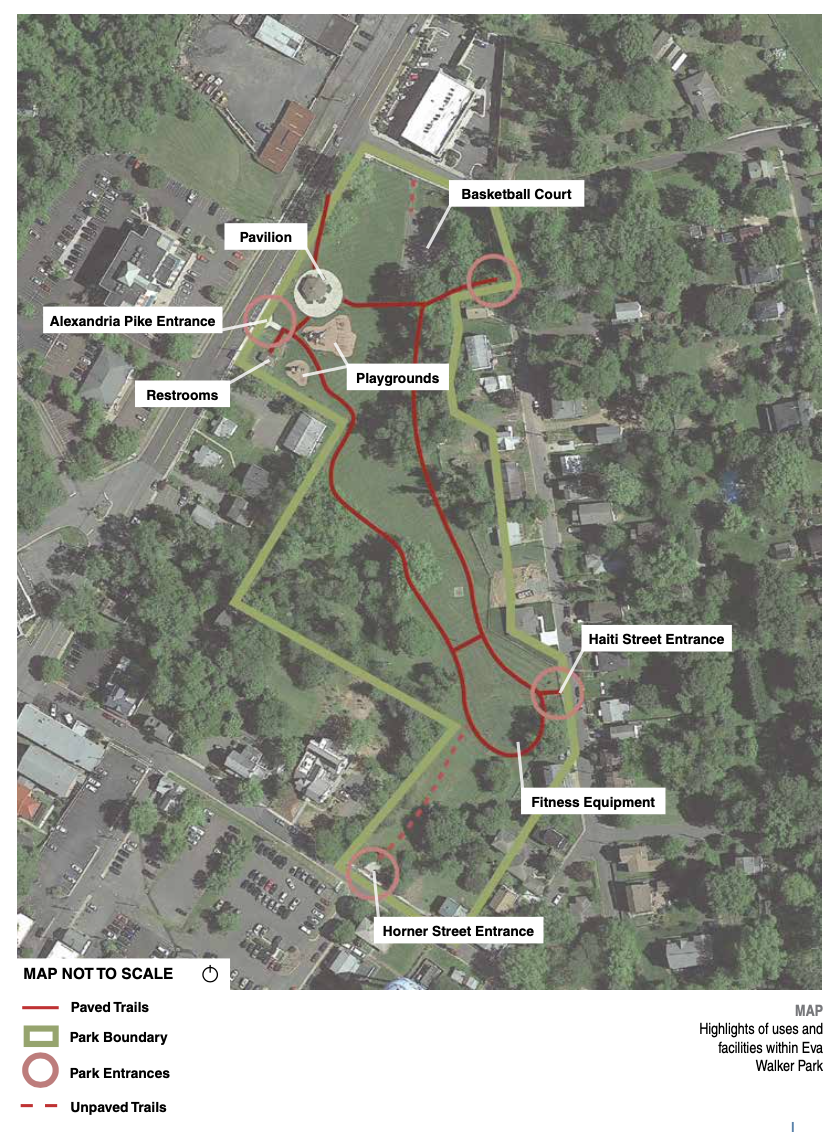 During a discussion about whether to move the master plan on to the town council, commissioner Ali Zarabi said, "I am delighted to honor the dedication and legacy of Mrs. Walker. Where I do differ a little and maybe I'm projecting, but I think both Commissioner [James] Lawrence and I probably had to take a hard breath when we were talking about the numbers, and the cost of a project like this… I would be remiss if I did not think that we could honor Mrs. Walker, in addition to some improvements to Eva Walker Park, by tending to an Oliver City community that has been living with malfunctioning storm runoff and sewer issues for decades and decades, and yet we are talking about this kind of money on the beautification of a park.
"I don't know how Mrs. Walker would feel about that, to be honest with you, but I think that part of a living legacy is improving the condition of life for people that were her own, and her community."
Stormwater and drainage issues have plagued Oliver City, a traditionally African American neighborhood on the east side of town, for years.
Planning commissioner Gerald Johnston agreed with Zarabi. He said, "The priorities of the park should be definitely looked into… but some of that money could be used where he thinks it should go… I commend him for saying that."
Harris explained that if the master plan for Eva Walker Park were to be approved by the town council, it would be added to the town capital improvement plan and evaluated during the budget process for possible funding. She added that grants might be available to help with the cost.