Riding the wave
By Brian Roeder
Owner, Barrel Oak Winery and Taphouse, Delaplane
March 10, 2020 is the day I will never forget. I woke up at just before 2 am. Lying there in the dark next to my wife and our 2-year-old son, my mind was crystal clear with a new and profound realization that pierced me in a way that was singular and unforgiving, jolting me awake to a stark new reality: "I was going to lose Barrel Oak."  
The intense clarity of this realization redefined everything that I thought I had known when I fell asleep a few hours earlier. Because Covid-19 clearly would close us, the business could not survive. 
Today, recalling that dark and terrifying moment still chills me to my core, and I know that I will never forget that feeling of my world falling apart. I will always be branded by the distinction between the time before and the time since. I quietly wept, lying there in the dark, mourning the loss of optimism and hope that had sustained me throughout my blessed and wonderful life. It was so clear in that moment that so much was going to be taken from us all. 
 The future that I had spent a lifetime working to create was at risk of completely disintegrating. As my little son lay innocently asleep in the bed next to me, I asked what was to be his future? How could I protect him? It was in that unforgiving moment that I began to gather myself, resolving to fight and to do everything I could to save Barrel Oak. So many people – so very many people -- including the innocent child next to me -- would be hurt by my failure. 
Then a small and balancing realization distantly illuminated the path ahead: This crushing burden that I felt could be universally carried and withstood by all of us together. While personal to each of us, the terrible challenges to be faced joined us all in a community of loss and struggle. With this realization, I would draw what strength I could and move forward in service to those around me, as well as my business and my community.
Somewhere around 3 a.m., I arose. Sitting alone in my darkened living room, I began to work up the mental framework of my own personal COVID rescue plan. At its core was communication, empathy, accountability, charity and clarity. All these would be needed to save Barrel Oak. 
Two days later, I met with my senior team and presented to them our situation and a plan of shared sacrifice, a vision for a successful outcome and my commitment to put their welfare first, above all else. Our leadership team embraced this plan and set out to improve upon it.
Over the next year, we together followed it even as we rolled with each successive COVID wave that broke over our heads, rising together again from the depths of trepidation to climb upon the board and ride each successive crashing wave.
The night of the 11, and for most of the nights that followed for several months, I awoke between 2 and 3 a.m. I would get up and begin work, unable to return to sleep. This was when and where I would spend the time needed to anticipate how to move forward … each and every day one foot in front of the other … each and every new idea and plan building upon the last. 
I grew up on the coast in Santa Cruz, California. This period of time was like falling off a surfboard at Mavericks and being crushed by a gigantic wave crashing over and pushing me deeply under … trying to hold on long enough for it to pass … pinned under water and running out of air. 
I took to telling people that I was rebuilding the business every few weeks. And we were.
Even as we constantly reinvented to meet our customers' needs, the overarching framework that we mapped out in those first few weeks held. We managed our business by trying to anticipate the demands of the pandemic. Together, we discussed, and we mapped out plans that were previously unimaginable. 
"How would we manage if there was on-site community spread? What was our continuity plan of action if I died? What if we were shut down over the winter? How could we do our jobs and still protect our families? Could we keep paying our bills? What if there was an economic depression?" 
None of our plans ever had to be implemented, but they helped to keep us safe and focused and moving forward. In this way, we rebuilt Barrel Oak for a new reality as best we could, while relying upon science and facts and the hopes and aspirations and feedback of our guests to chart our true north.  
It was an exhausting and overwhelming time. My family provided me with the small moments that we could grab of ever-present love and joy to keep going, even as my colleagues at Barrel Oak moved heaven and earth to protect each other, their families, the company and our guests.
 I am humbled by what my colleagues have accomplished, by their dedication to the business and patience with me, by their innovation and extraordinary commitment to each other. They all made huge sacrifices and our biggest win was perhaps when my managing team received raises beginning the 1st of last month. They earned it so many times over.
It is now one year after the pandemic was cast upon us, changing everything forever. One year before half a million American had died. One year after I lay alone in the dark with my fear. 
Today we are still standing, and my business has not gone bankrupt. Today, we have all been intrinsically bound together by the shared challenges, by some wins and many shared losses. There is so much clarity in the humbling gratitude that I feel for each and every beautiful day, grounded in the support that we have had from our wonderful friends, guests and the Fauquier community.
The journey continues, and we will persevere.
Please stay safe and happy!
---
A virtual solution for young athletes
By John Schlenker
Chair, Virginia Youth Soccer Association's TOPSoccer
Out of an abundance of caution and recognizing that many of our athletes have compromised immune systems and other health issues, we were forced to cancel our spring and fall 2020 TOPSoccer seasons.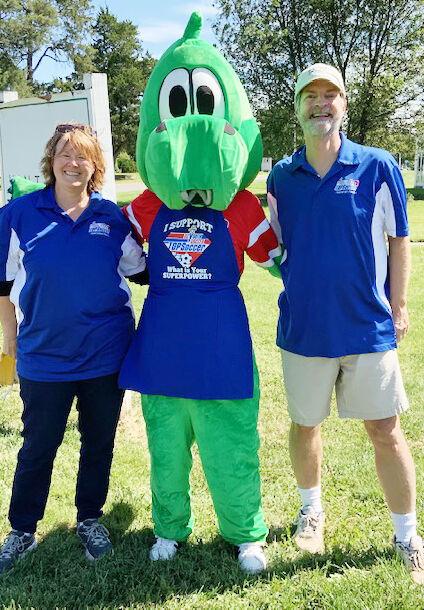 For the first time in 20 years, there was no TOPSoccer in Fauquier County for our athletes with developmental disabilities. Of course, the pandemic has had a big impact on all of us, but for the 80 TOPS athletes with different abilities and the over 100 amazing student volunteers that support this program, the impact was huge! Not only is TOPS a primary source of physical fitness for these athletes, but it also provides a great opportunity for these athletes to work on improving communications skills while having important social interactions with friends.
Although we were all disappointed that we couldn't hold our regular Saturday morning sessions because of the pandemic, we did the next best thing and held a "virtual" TOPSoccer season. In order to make sure our athletes had the necessary gear and equipment to practice at home, we distributed over 50 back packs during our "drive-by" parade at Vint Hill on Sept. 19. Each bag contained a soccer ball, practice cones, T-shirt, water bottle, car magnet and coupons for free ice cream (Effies) and food (Chick-fil-A). Several mascots from area clubs and schools were invited to entertain and wave to our kids, along with many of our coaches, as a caravan of cars filled with our special athletes passed by. Thanks to many generous sponsors and friends, everything was free.
During each of the next eight weeks, we shared a new video via our Facebook group featuring a student volunteer demonstrating a soccer drill or activity for our athletes to try at home. Understanding the importance of keeping our volunteers engaged and providing our athletes with a familiar face, this turned out to be a win-win opportunity for the entire program.