In an effort to encourage drivers on Waterloo Street to slow down and to improve safety for residents, the town of Warrenton made some adjustments to the roadway in April. Street parking was moved and in some cases eliminated; bump outs were placed at the intersection with Chestnut Street, and perhaps most noticeably, the center lines were redrawn to create a deliberate curve in the road.
The plan was explained as a relatively low-cost attempt at traffic calming.
Five months later, the reviews are in: the experiment has not been a success.
Town Manager Brandie Schaeffer said Wednesday, "Based on resident feedback over the last few months we have traded one set of problems for another, not really moving the needle. While some residents are better able to see from their driveways when pulling out, others have lost parking. Speeding remains a concern."
Constance Houk, a Waterloo Street resident, spoke during citizens time at Tuesday night's town council meeting to explain the problem. Houk shares a driveway with another neighbor and used to be able to park on the street. "Now there's no parking. For 17 homes, we have two parking spots… When delivery trucks come to the house, there is nowhere for them to park."
And, she said, anyone who tries to turn onto Waterloo Street from a side street must pull out into traffic in order to see if there are any cars coming.
Bruce Mechem, also a Waterloo Street resident, was one of the homeowners who wrote to the town council about the traffic-calming measures. His house is a perfect example of the problem. Mecham shares a driveway and garage with his neighbor. It's a fine arrangement, he said, but when so many of the parking spots were taken away when traffic calming measures were installed, it created a street parking shortage. During a conversation Wednesday evening, he pointed across the street indicating a family with three or more cars. "They used to park in front of my house. Now, they have nowhere to park."
He said in his letter, "We have been told this issue with parking will affect the value of our house. Technically we have parking for one vehicle. The one in the driveway. How many of you would purchase a house like this?  We are counting on being able to sell this property for our retirement. I wonder how many families only have one car these days."
Mechem's driveway also illustrates the sight lines issue. As he exits his driveway, there is a 4-foot stone wall that goes all the way out to the curb. Mechem and his wife both have low-lying cars, so their view to the left is completely blocked by the wall. Since his section of the street was reconfigured without any parking spaces (which also served to create a buffer between his curb and the oncoming traffic), he has to pull out into traffic to see around the wall.
His home is about halfway down a hill that peaks to the left as he leaves his driveway. "From the time a driver gets to the top of the hill, it's 5 seconds to my house," and that is if the person is obeying the 25 mph speed limit. Often cars coming from Old Town are moving faster than that, he said.
Mechem said that when the pizza delivery person comes, they have to pull into the driveway. "And when they leave, I go out into the street so I can stop traffic and he can stay alive for his next delivery."
Mechem said that Town Councilman Renard Carlos (at large) stopped by to talk to him about the traffic issues, and Town Councilman James Hartman (Ward 4) called him on the phone to discuss it. Mechem is gratified that the council is being responsive to residents' concerns. He would like to see Waterloo Street returned to its original configuration.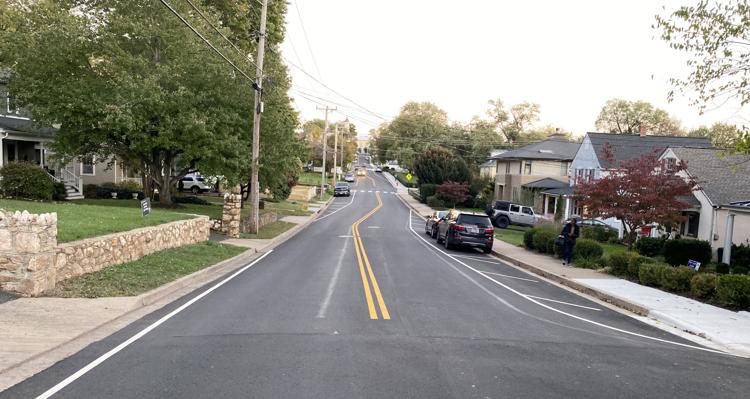 Hartman during Tuesday night's meeting held up a pile of letters from residents and Mayor Carter Nevill confirmed that the town has been fielding feedback from residents. Nevill said, "It's a good model for cooperative communication. We certainly want a positive solution that addresses safety and speeding, yet serves the neighborhood. Hopefully we can achieve a positive outcome. Their input certainly contributes to that." 
Schaeffer said Wednesday, "Waterloo Street is very complex, even though it seems like a simple residential road. The road carries a significant amount of traffic for a residential street and currently has a middle school with a good number of walkers when school is in."
About the traffic calming effort she said, "The goal here was simply to try a solution at no expense to the taxpayer. Incrementally trying to achieve traffic calming is a good approach to finding solutions that work. Paint is cost effective, and allows us to test something in the field." 
Schaeffer has been grateful for the Waterloo Street residents' respectful input. She said, "We will continue to work with the Waterloo neighborhood citizens to find the right solution for them that improves the overall quality of life in their neighborhood. They have been very engaged and offered solutions and insight along the way; staff has enjoyed the collaborative effort and the honest feedback is also helpful."  
She explained, "We took this same approach at 5th Street and had to make some adjustments before we found a permanent solution. While some still don't like the traffic calming at 5th Street, our data shows increased pedestrian activity and a reduction in vehicular speed at 5th Street."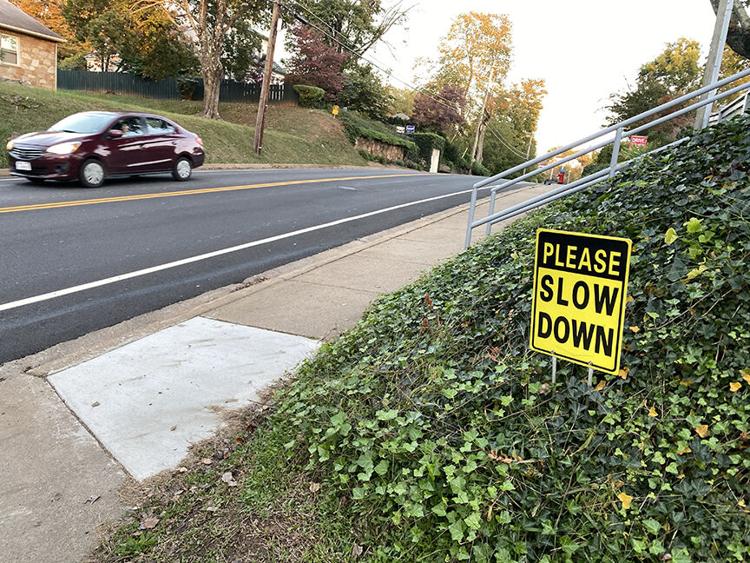 Looking toward a solution for Waterloo Street, Schaeffer said, "Staff is working with council and a transportation engineer to examine adjustments and a set of solutions. From there we will meet with the neighborhood and execute a plan. If the residents prefer everything go back to the previous design, staff and council are more than willing to accommodate that request. We remain committed to a permanent solution for the residents."