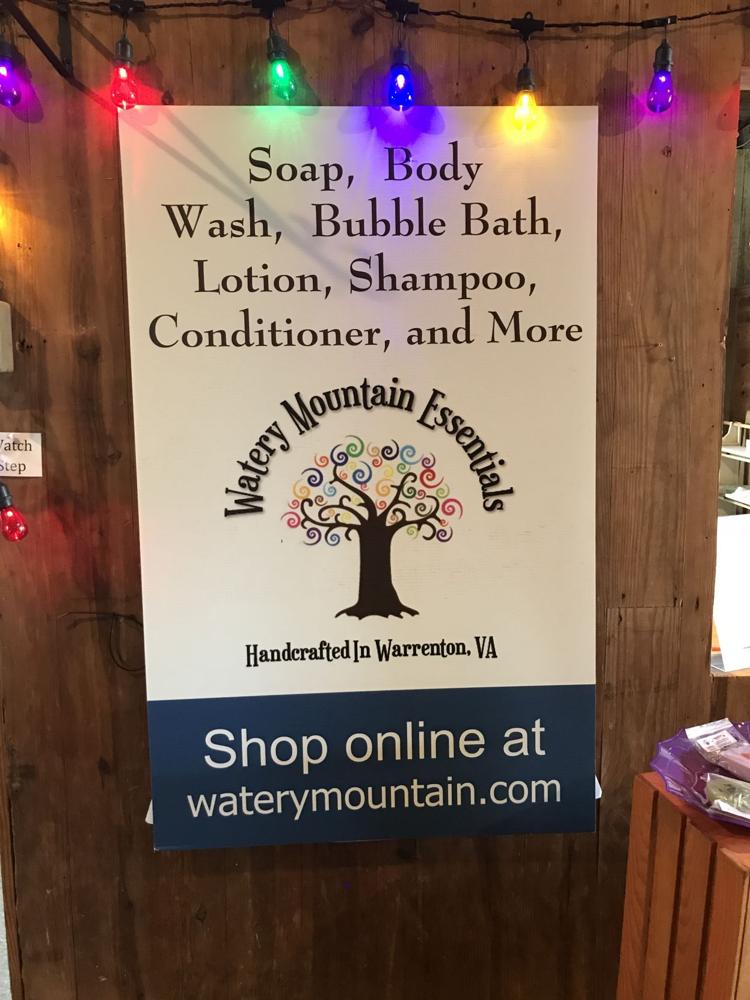 Doris Bitler Davis became interested in making bath and body products several years ago, mostly because "it combines two of my abiding passions, science and creativity," she said.
Davis launched into learning the properties of different ingredients and began to formulate products, sharing the results with family and friends. Their enthusiasm for her creations led to her husband, Kirk Davis, and her mother, Lois Bitler, helping her start a business. 
Davis began work with her family to make the products while she perfected the formulas.
"We started out at our farm in Catlett in a small, 1960s travel trailer," Davis said. "But in 2017, we moved to Warrenton.  Our home has a second kitchen and storage area where we keep ingredients and make our products.  We got the paperwork in order and Watery Mountain Essentials officially opened for business in May 2018."
From the start, Watery Mountain Essentials was a family affair. They worked together to make and package the products and attended events as a group. They also were thrilled that they quickly gained a loyal following of customers. 
"The sad part of this story," Davis said, "is that my husband, Kirk, who was instrumental in taking us from hobby to business, passed away at the end of August after a brief illness.  He and I dated when we were in high school in New Jersey, then went our separate ways.  He found me on Facebook in 2010 and drove up from his home in Georgia to visit.
"Kirk was ecstatic about how well our products were received.  He loved talking with our customers and the other vendors and was exceptionally proud of our products.  Honestly, after he died, I wasn't sure I wanted to continue, but his passion and desire to make a difference through our products drove me to carry on."
Watery Mountain Essentials' slogan is, "We care about people, animals and the planet" and that provides the guiding principle. They believe everyone should have access to high-quality bath and body products at a fair price, which ranges from $1 for travel soap to $12 for hair conditioner. 
The products include beeswax hand and foot cream, body wash, bubble bath, lip balm, lotion, soap and shampoo. All are made fresh in small batches from carefully sourced ingredients.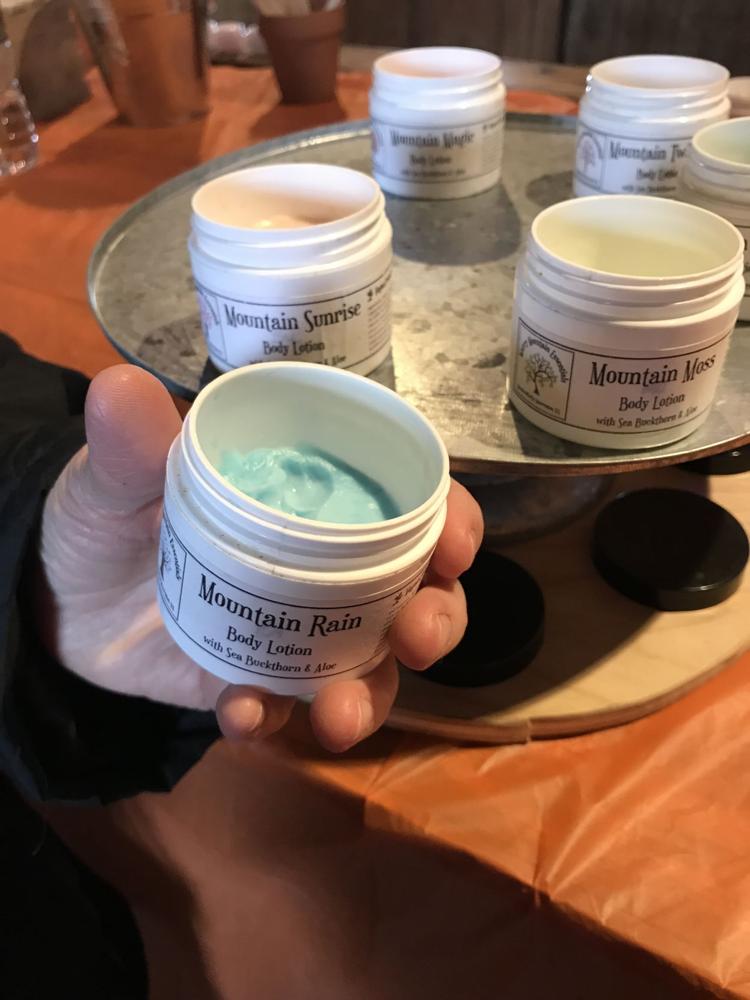 Stephanie Miller of The Plains loves the shampoo, conditioner and soap and includes the hand soap at her sinks.
"My favorite is the conditioner," she said. "It really helps with dry, curly hair." 
Davis said, "We' re scrupulously honest in our labeling." She's created guidelines and definitions for customers at events and on her website that provide additional information about all their ingredients. 
"We try to demonstrate our commitment to people in every aspect of our business," Davis said. "So, our ingredients and other supplies come almost exclusively from U.S.-based, family-run and/or women-owned small businesses."   
Since animals large and small are cherished creatures in this area, all the elements and creations are never tested on them.  Most of the products are vegan-friendly, the only exceptions being those that include honey, beeswax or goat milk.
"This was a bigger challenge than expected," Davis said, "since some ingredients can be obtained from either animals or plants.  An example is panthenol (Vitamin B5), which is wonderful for both skin and hair.  I had to contact many suppliers before finding one with a mindset similar to my own who could guarantee their panthenol is derived from only plant-based sources.
"Finally, environmental issues should be a concern for all of us," Davis added.  "After lengthy and careful consideration, we decided to include palm oil in our soaps, but we only use it certified by the Roundtable on Sustainable Palm Oil. 
Davis is currently considering ways to reduce packaging, including the formulation of solid shampoo, conditioner and lotion bars that wouldn't require plastic containers.
 "The ingredients we use are derived from sustainable sources and have little to no environmental impact," she said.
Vicky Moon can be reached at vickyannmoon@aol.com