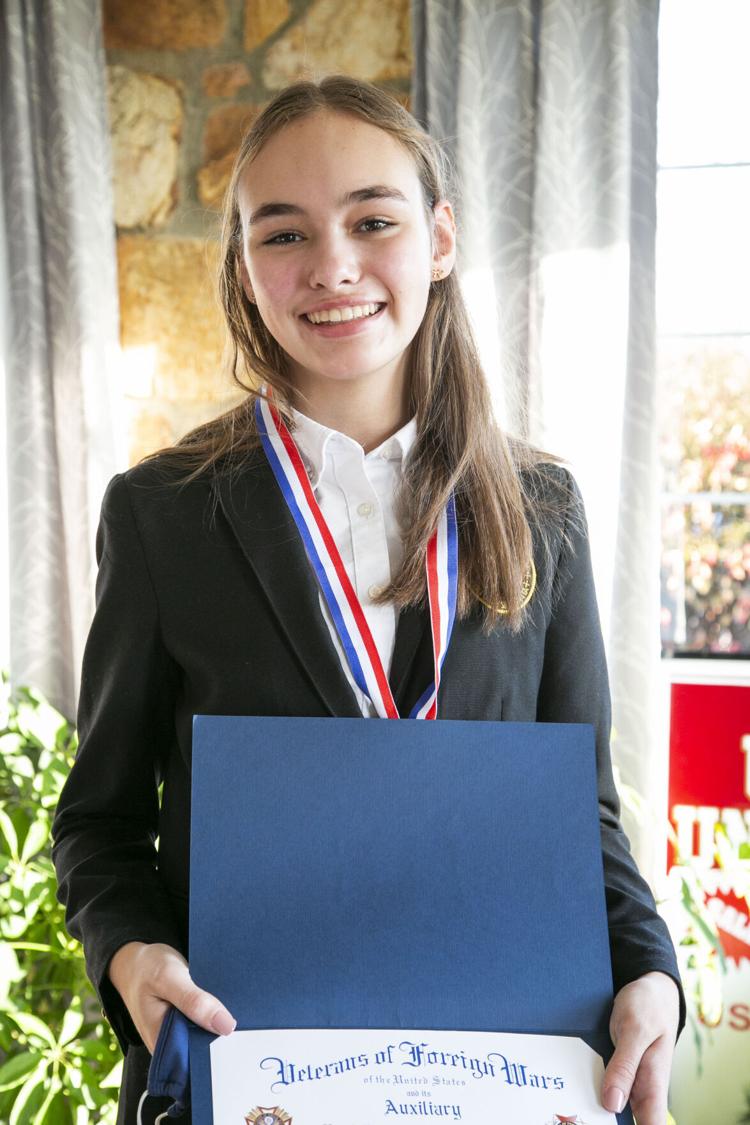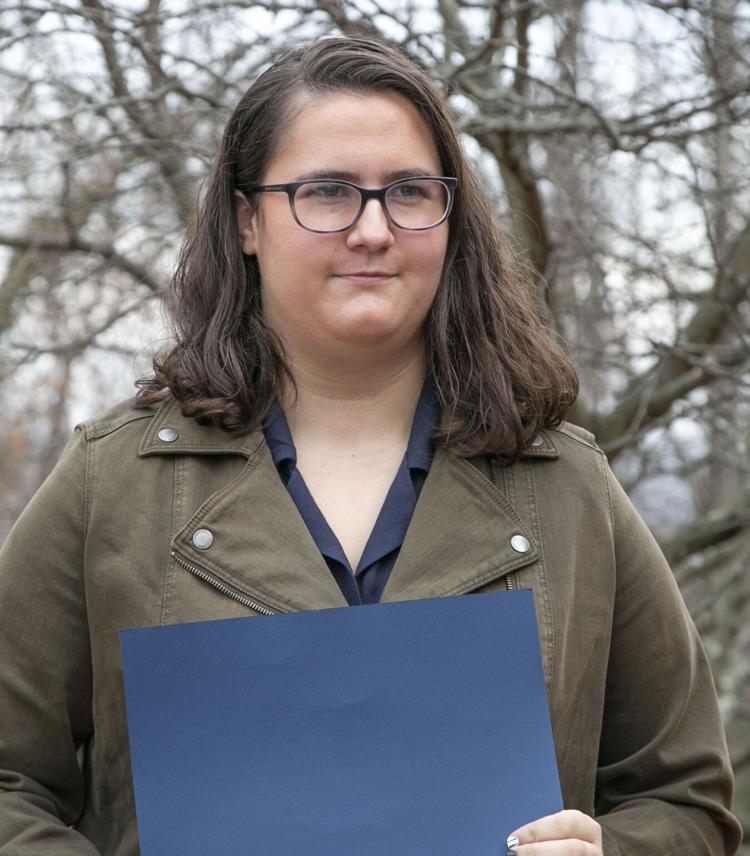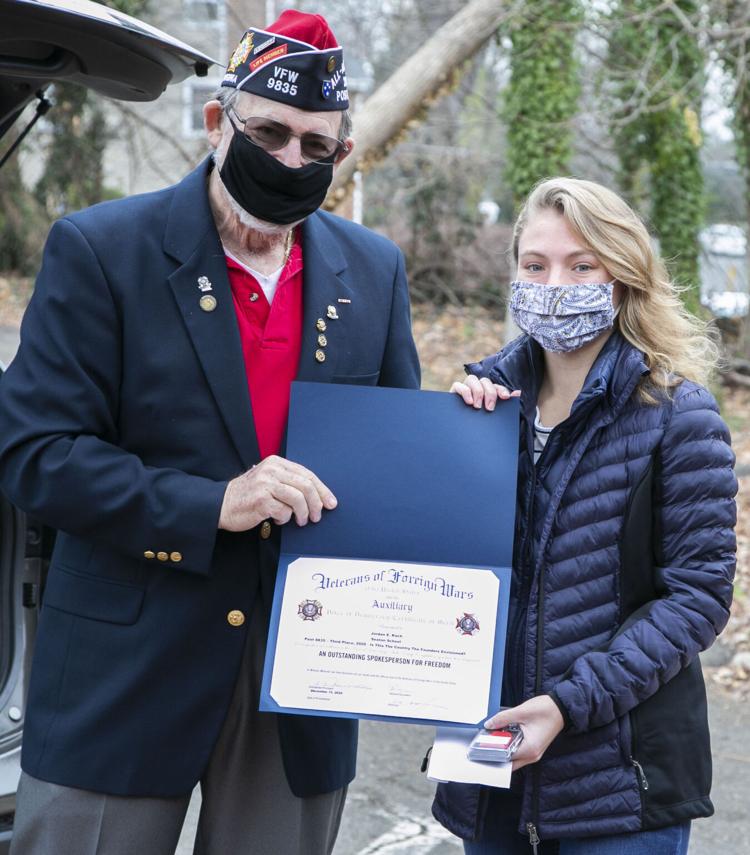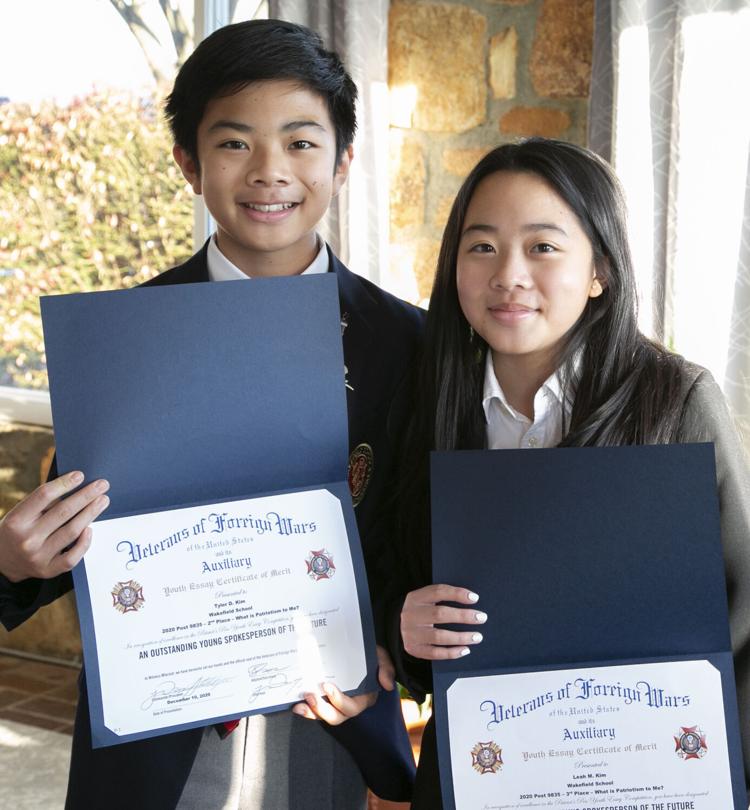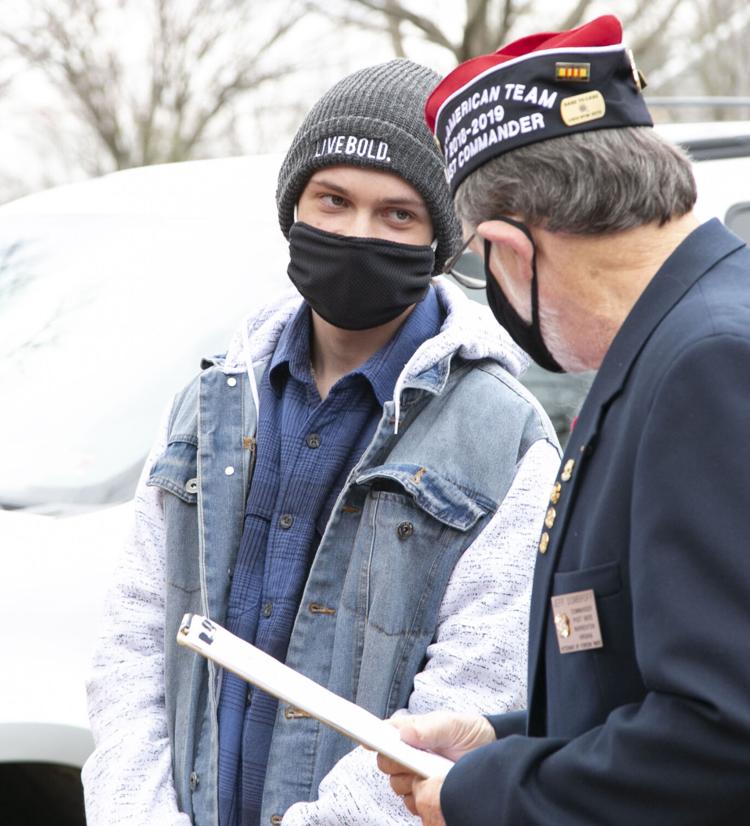 VFW Post 9835 presented awards last week to middle and high school students who excelled in writing or performing essays. Middle school students in the annual National VFW Student Essay competition Patriot's Pen were asked to submit a typewritten essay of between 300 and 400 words on the topic "What is patriotism to me?" 
High school students entering the Voice of Democracy competition submitted a 3- to 5-minute recorded essay on the topic "Is this the country the founders envisioned?"  
Entries were evaluated by several judging panels last month and post winners advance to district, state and national competitions.
On Dec. 11, VFW Post Commander Jeff Dombroff and Auxiliary President Kathleen Bilger were at Wakefield School in The Plains to present medals, certificates and checks to students who wrote the top three Patriot's Pen entries; the post received more than 60 entries. The winners, all of whom attend Wakefield School, were eighth-grader Leah Kim (third place); seventh-grader Tyler Kim (second place) and eighth-grader Ava Price (first place). Price earned second place honors last year.
On Saturday, awards were presented to the top finishers in the Voice of Democracy competition.  Family members and teachers met in the parking lot of the former Warrenton Visitor Center to witness Seaton School 11th-grader Jordan Kach (third place); Fresta Valley student Colleen Stow (second place); and Southeastern Alternative School senior Tyler Kelley (first place) receive their awards. Kelley was also informed that his entry had been forwarded to the District 8 competition, where it took top honors. Kelley now represents the 8th District at state-level judging, where the essay will be judged on Dec. 19 against the top entries from the other 12 VFW districts in the commonwealth. 
The Post also recognized Wakefield upper class history teacher Peter Findler as its Citizenship Education Teacher of the Year. Besides his classroom work, which stimulates his students to embrace the country and its history, Findler was singled out for his creation of and overseeing the 9:57 project. The program connects schools and veterans in a recognition of 9/11 courage, resilience and sacrifice. The name recognizes the time when the crew of American Airlines Flight 93 chose to fight back. Findler's entry also took first place in District 8 and is competing for the state title later this month.