"It's a big change. After 35 years, I'm not going to be in charge," laughed Burrell Spindel, the owner of Virginia Hobbies Etc., inside the Warrenton Main Street shop on Thursday. Before opening the shop about 13 years ago, Spindel had worked in hobby shops in Northern Virginia for more than two decades.
After suffering two strokes and other health complications over the winter that have left him mostly blind, Spindel has given up the reins of the shop, although he will still be a constant presence in the store.
At midnight on Friday, Virginia Hobbies Etc. ceased to be and Warrenton Hobby Shoppe took its place; the new venture is owned by two of Spindel's close friends, Lori Gibson and Wes McCarville, and occupies the same storefront. Spindel will continue to be employed there.
"I'm not ready to give up working, at all," Spindel said. He said that after decades of experience, he can usually identify a part just by feel, even if he can't see it. And after so many years in the business, he said that his reputation as "hobby guy" proceeds him. He said that once while camping in Delaware a former customer recognized him, exclaiming, "Hey! It's 'hobby guy' from Warrenton!"
Gibson said that she and McCarville are "dear friends" with Spindel and saw the opportunity to continue serving customers – and possibly to expand the business – while enabling Spindel to continue working in the business he loves. "It's the best of both worlds," Gibson said.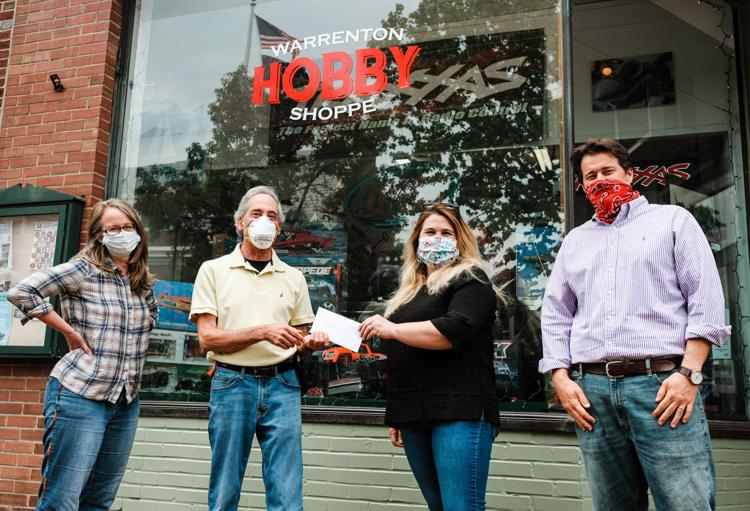 Since the Virginia Hobbies Etc. moved to Main Street from the Warrenton Village Center shopping center more than three years ago, Spindel said that the shop's operations had grown "at an incredible rate." Even during the pandemic, he added, the shop had suffered, but not as much as he had feared.
On his hopes for the new Warrenton Hobby Shoppe, Spindel said that the store could help bring customers from other places to Warrenton. "A hobby shop is a destination business," he said. "We think we've been an asset and we want to continue to be an asset to the town."
On Thursday, Virginia Hobbies Etc. received a check through the Help Old Town grant program administered by Experience Old Town Warrenton. At the same time, Spindel received an additional check to help with his medical expenses, a contribution made possible by a donation from Tom Gay of the Patrick Ryan Gay Memorial Golf Tournament.
Charity Furness, EOTW executive director and Tray Allen, EOTW board chair, presented Spindel with the checks on Thursday. A total of $26,000 has been dispersed to 36 businesses by EOTW since the HOT program was started on April 20. Funds dispersed under the program are required to be spent on "essential expenses."
"The goal of these grants is to provide relief to local businesses during the pandemic," a May 18 press release from EOTW quoted Allen as saying. "We're proud that we're meeting this goal, including as ownership changes hands in one of these longstanding businesses."
Originally funded by $40,000 in donations, the HOT grant program will provide more funds to businesses in Old Town Warrenton in the coming weeks, according to the EOTW press release. Donations toward the program are accepted at the EOTW website or by mail, at 26 S. Third St., Warrenton.
Reach Coy Ferrell at cferrell@fauquier.com