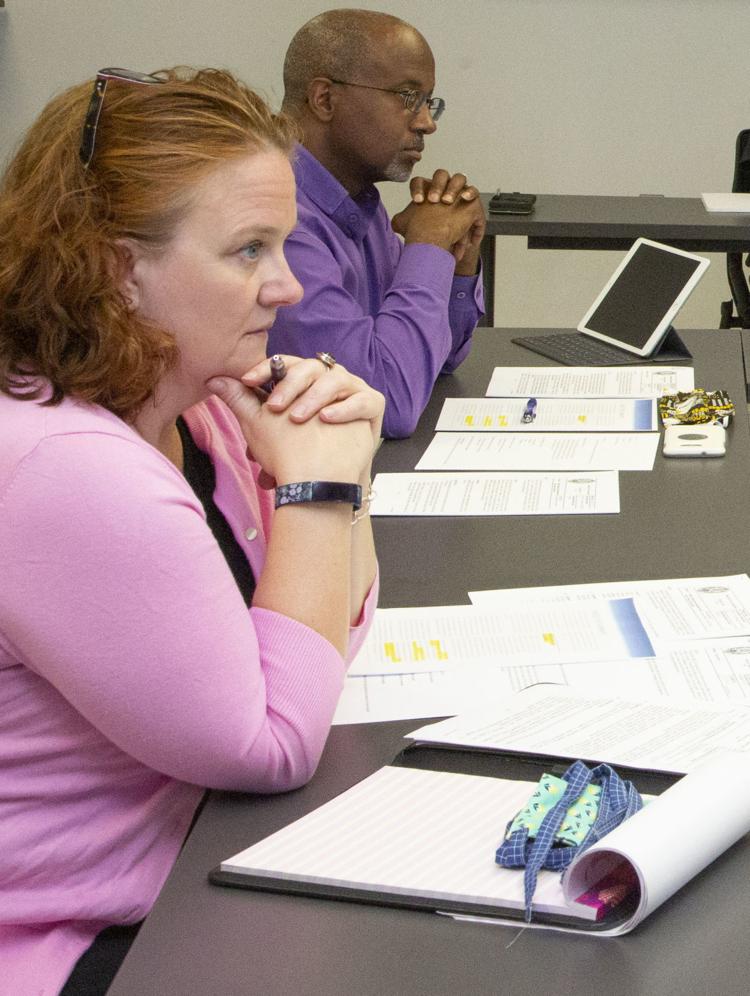 The Warrenton Police Department's Citizens Advisory Committee met for the first time on Thursday, June 4. It's an initiative that Police Chief Mike Kochis has been talking about since before he took over as chief in February.
"It was awesome," he said about the first meeting. "We met for two hours. We had to discuss our charter and what we want out of the group. And we dug deep into two current policies – the ones on body-worn cameras and use of force. We are comparing our current policies to the 'Policing in the 21st Century' report that was developed by President [Barack] Obama after Ferguson."
Kochis explained that there are six pillars of policing outlined in the report:
Building trust and legitimacy
Policy and oversight
Technology and social media
Community policing and crime reduction
Officer training and education
Officer safety and wellness
Committee member Mary Correia said of the goals of the group, "I think our goal is to create more transparency and better opportunities for dialogue between the police department and members of the community, and hopefully foster greater levels of trust through those actions."
Vinicent Holland, associate pastor of the First Baptist Church in Warrenton, said he joined the committee hoping to "create an environment where transparency is the norm, conversations happen without stress or strain, law enforcement and the legal system always see people as human beings, and not as a color or gender."
Betty Compton, another committee member added, "I want to communicate positive law enforcement issues out to my neighborhood in order to open up two-way communications. Additionally, [I want to] assist local law enforcement with distribution of official alerts and public notifications to my neighborhood."
Correia said, "In my role with Habitat, the goal is to support residents in identifying and advocating for the changes they'd like to see in their neighborhood, so I understand the importance of making sure they have a seat at the table. My job is to help facilitate conversations within the larger community."
Policies
On the body worn camera policy, one question the group looked at was when to release video footage to the public. Kochis said, "Lots of agencies release footage within 24 hours if the video looks good for them, but not if it makes their officers look bad. It should be in our policy when it will be released. I don't think we should have the option of not releasing. But what if a victim's family member doesn't want it released? These are questions the advisory group was able to weigh in on."
Kochis said that the body camera starts recording 15 to 30 seconds before an officer pushes record. "It's a great program. When it's on, it can be protective. But when an officer forgets to turn it on, it doesn't look good."
Kochis said he is committed to transparency. "When there is a critical incident, I will brief this group within 24 hours and let them see the video." He said that once finalized, the policies of the department will be available on the department's webpage on the town of Warrenton website.
The committee discussed the department's use of force policy as well, including the use of chokeholds or neck restraints. "Through the standard of 'reasonableness' established by the Supreme Court, chokeholds are banned. But right now, our policy doesn't say that exactly," Kochis said. "There is no time where officers are allowed to use a chokehold, unless it's a deadly force situation, where the officer is trying to stay alive. We need to put that in the policy, specifically."
He said that during the discussion, one member of the committee asked for clarification, "What is a chokehold, exactly?" He said that the definition needs to be in the policy, too. "We need to spell it out."
Kochis said he explained to committee members that when deciding if a use-of-force was appropriate, they need to consider the severity of crime, the nature and extent of threat posed by the suspect and the degree to which they are trying to escape or evade capture.
Referring to the death of George Floyd while in police custody, he said, "The Minneapolis case didn't meet any of these standards."
An educational opportunity
The purpose of the citizen's committee is educational too. Kochis said, "I want to make sure community leaders understand how the police department operates, so they can have the ability to influence decisions. We want to build relationships, build understanding, build trust."
He said the committee asked important questions, too. "They wanted to know about our training," he said.
Correia said, "I was impressed to learn both Warrenton Police Department and The Fauquier Sheriff's Office are accredited law enforcement agencies, a distinction held by only 25% of law enforcement agencies in the commonwealth."
Holland said, "I believe it went very well for an initial meeting. You could sense a true desire to set up the Warrenton Police Department and citizens for success and positive interactions in dealing within the scope of law and order and community."
Tiana Minor, a recent graduate of Fauquier High and the group's youngest member, said she signed up "because I wanted to be more aware to what's going on in my community and how it is being dealt with, so that I'm not blind to everything that's happening."
Of the group, she said, "We hope to enhance the transparency between the community and the police department/law enforcement, and ultimately help them make the community a better place."
Kochis is particularly enthusiastic about Minor's participation. He said that she has started a summer internship with the department. "Her ideas on how to communicate with the public are very different than mine. We are used to using email and listservs. She uses Snapchat. ... She gave us some great ideas."
Minor said she is glad to be able to provide the youth perspective. "With me being 18, and just graduating high school [and] about to go on to college, I have experienced what the younger ones have and keep in contact with many of the youth in our community. So, the problems and concerns that we as youth face, I can bring them to this team."
After the initial meeting, members of the group left with some homework.
"They are going to look at the two policies some more and come up with ideas to bring to the next group," said Kochis. The committee meets the first Thursday of every month.
Before any changes to policy become final, Kochis said the accrediting agency that governs the Warrenton department will have to look the suggestions over.
"It was cool to see different perspectives," Kochis said. "This is the temperature of the community." He said all members of the committee will be participating in ride-alongs so they can see police work in action.
Correia is optimistic about the committee and what they can accomplish. She said, I respect Chief Kochis for making the formation of the Community Action Team a high priority so early in his tenure. Given the recent national events, this committee is more important than ever before. Our community will benefit from the work – and I'm proud, both personally, and as a representative of Fauquier Habitat, to be part of this."
Reach Robin Earl at rearl@fauquier.com