Sen. Mark Warner visited Old Bust Head Brewing Company in Vint Hill on Friday for a meeting with local business owners and a public town hall. Economic development was the focus of the afternoon event, which was attended by several business owners and local officials.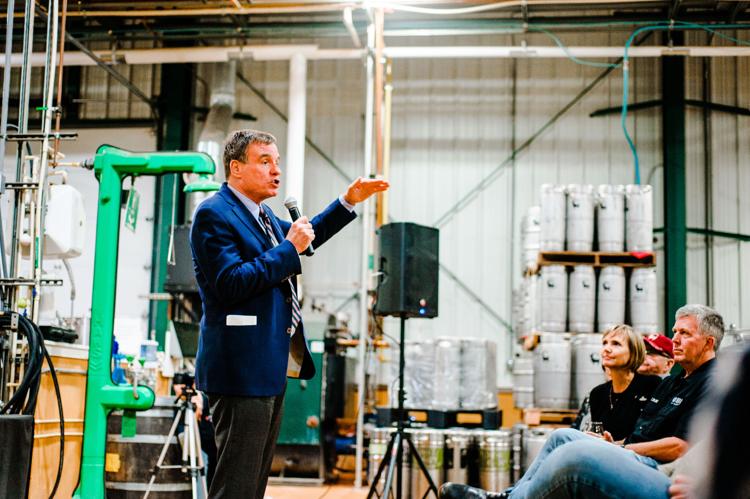 Warner, D-Va., first met with about 20 local business leaders, after which brewery owners Ike and Julie Broaddus gave him a tour of the production facilities. His visit continued with an hour-long town hall attended by about 90 people.
Warner said that attendees were welcome to ask him about any topic, or, he said, "if you just need to vent." 
He continued by saying that, despite recent events in Washington, the political environment is more conciliatory than some might think. 
"The first point I want to make, is the vast majority of us in the Senate actually like each other and get along," he said. "… The vast majority of the things that I'm working on – I've got a Republican partner."
During the course of the forum, the senator answered questions from a mostly friendly crowd on environmentally sustainable energy, the cost of health care and prescription drugs, transportation funding, the size of government and efforts to combat human trafficking. He repeatedly cautioned that politicians, in his view, have historically "overpromised and underdelivered," and that any new program should have a clear funding model in place before it is implemented.
Access to broadband internet in rural areas was a main topic of discussion, a subject on which the senator's remarks were especially animated and technical. Before running for office, Warner was a venture capitalist who invested heavily in telecommunications firms, including Nextel. 
Mary Leigh McDaniel, chair of the Fauquier Board of County Supervisors, asked the senator about broadband: "The lack of [access to broadband] has become unsustainable for us," she said. 
Warner responded that he doesn't have confidence that federal programs will ensure rural areas have access to high-speed internet quickly enough. 
"If we're waiting for the feds, … by the time we could get rural broadband in all of – or most of – Fauquier County, the urban areas are going to move to 5G or 6G, and the rural areas will be further behind," he said. 
Instead, Warner argued that building broadband infrastructure in rural areas should be a prerequisite for telecommunications firms purchasing wavelength spectrum from the federal government to build 5G networks. 
"I think it's going to take a grand bargain, big deal, if we're going to be realistic about getting you what you need," he said. 
He said that access to broadband would not "guarantee lots of jobs, but the absence of broadband means you're not going to have those jobs. The absence of broadband means your kids aren't going to have the choice to stay in Fauquier if they want to," he said.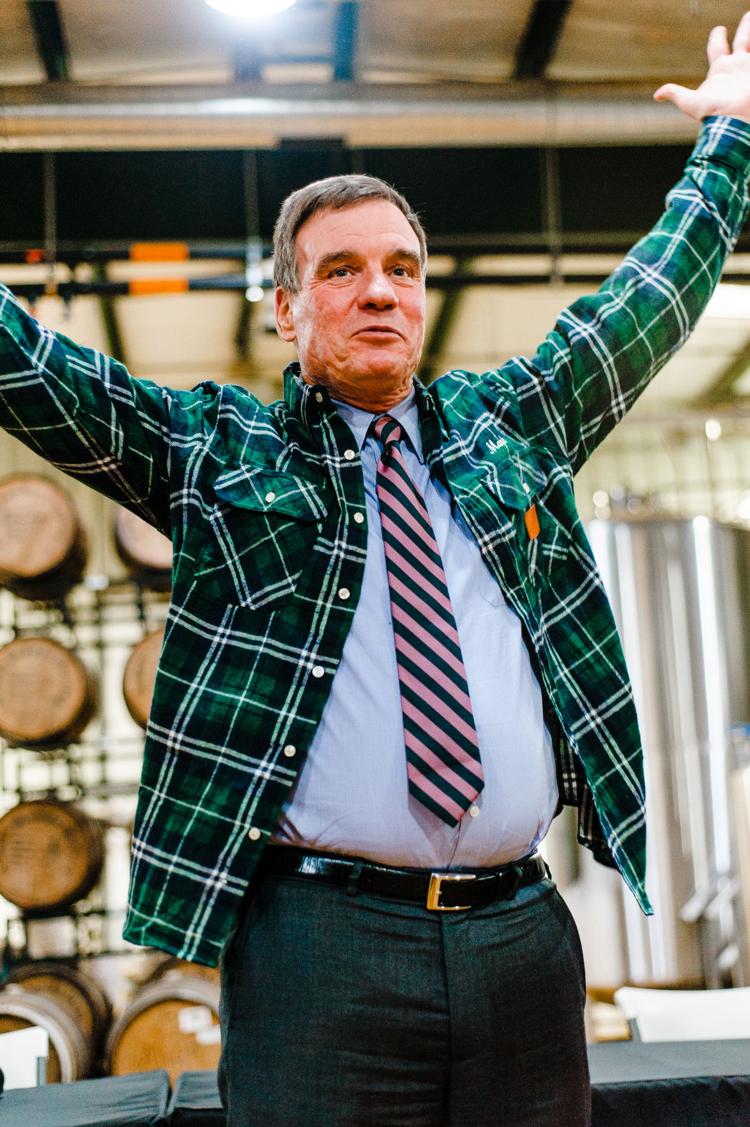 In response to questions from Fauquier Chamber of Commerce President Joe Martin and Miles Friedman, Fauquier County's director of economic development, Warner also spoke extensively on workforce development. He argued that policies need to change in response to fundamental shifts in the economy in the past several decades. 
"In the 20th century, we had an abundance of labor and a shortage of capital," he said. "In the 21st century, we've got plenty of money, but we have a shortage of trained workforce. Yet, everything in our tax code, in our accounting system, in our public company reporting system all favors capital over labor."
"I think it's time to create the equivalent of a 'human capital' R&D tax credit. So that if a company invests in the skilling up [of their workforce] – toward an industry recognized badge or certificate – then you would receive a tax credit," he explained. 
He said this model would be more effective than federal programs that directly train workers. "Generally, business does a better job at training than the government," he said.  
The senator also spoke about how community colleges and technical training programs are, in his view, essential parts of the current economy. 
"No matter what kind of job you have, you're going to need to reskill," he said, citing advances in artificial intelligence and machine learning. "Everyone down the line is going to have to find a way to learn new skills." 
In response to a question about the cultural pressure in the United States to attend a four-year college, Warner responded that schools should begin helping students -- in middle school -- with developing skills for the workforce. 
"College is a good choice, but it's not the right choice for everybody," he said. "I would argue – pay the career and technical teachers … an equivalent wage, the same as a math or science teacher."
"What we have to realize is that it's not just trades," he continued. "It's also cybersecurity. It's also information technology. It's also – the fact is – on most manufacturing lines today you have to have basic computer and technology skills. And I would make those pathways a lot easier."
In his closing remarks, Warner argued for civility and engagement in the political process. 
"I appreciate the opportunity to respectfully disagree on things. The one thing that has always been [a reason for] the success of our country is – we should be able to disagree without questioning each other's patriotism," he said to applause. 
"I know – most of you – when the news comes on, you want to throw a shoe at the TV. I feel the same way and I'm inside the TV," he said to laughter. "But I ask, whether you're a Democrat or Republican or libertarian or vegetarian, I ask you not to tune out, because if you tune out or turn off, all you're going to do is turn the keys over to the extremes on either end of the political channels. Or you're going to turn the keys over to … foreign governments who are trying to intervene; who at the end of the day are trying to undermine our democracy." 
He ended, "We are going through challenging times, [but] our country has gone through tougher times than this. We will get through it. Let's always remember, we share a lot more – as Americans – in common than we disagree with."
Ike Broaddus had a similar message. "I was really proud of the folks who turned out in this political climate – in a largely Republican county – to have a healthy discussion," he said, emphasizing that a Republican would have been just as welcome at the brewery. "What makes [our country] great is our ability to treat each other with respect."
Reach Coy Ferrell at cferrell@fauquier.com