Democratic Sen. Mark Warner and his Republican challenger, Daniel Gade, participated in the first debate of the campaign Wednesday. Although the candidates and the moderator, Chuck Todd of NBC's Meet the Press, were all in separate studios, the hour-long event went off without a hitch, with the screen split into three panels to show each participant. A few questions were asked by other panelists, also in separate rooms. The debate was sponsored by Northern Virginia Chamber of Commerce, George Mason University's Schar School of Policy and Government, NBC Washington and Telemundo Washington.
Voters around Virginia went to the polls Tuesday to choose party nominees for U.S. Congress.…
Former Vice President Joe Biden is leading President Donald Trump by five points in Virginia…
Before running for public office, Warner was a venture capitalist who invested heavily in telecommunications firms, including Nextel. He was elected as Virginia's governor in 2001, served in that capacity until 2006 and was first elected to the U.S. Senate in 2008; he was reelected to the seat in 2014. He sits on several senate committees, including as the ranking member of the Select Committee on Intelligence.
This is the first time Gade has run for public office. He served for 25 years as an Army officer and lost one of his legs in combat in Iraq; he retired as a Lt. Col. in 2017. He holds a PhD in public administration and policy and is a professor at American University. He served in the administration of President George W. Bush, working on veterans and disability policy. In 2017 was nominated by President Donald Trump to serve on the Equal Employment Opportunity Commission; however, Gade withdrew his name from consideration.
During Wednesday's debate, Warner leaned heavily on his background in business and talked at length about "investing" in law enforcement officers, minority-owned small businesses and internet technologies. "I spent 25 years here in Virginia in business creating jobs," he said in his opening statement. "I then went into public service because I wanted to get stuff done." He touted the 55 bills he has sponsored or co-sponsored that have become law, "laws that cut red tape for small businesses, laws that improved our ship building businesses in Hampton Roads."
Gade came out aggressively against Warner, repeatedly calling him a "career politician" and claiming he has changed his position on several issues. "I'm a career servant with a mortgage and the everyday worries of middle-class life," Gade said in his own opening statement. "Mark is a career partisan who made millions off of political handouts. If you're sick of career politicians, let's choose a different path"
Gade followed a similar theme in his closing statement. "All you need to do and look at Washington, DC and realize it's a dysfunctional mess," he said. Politicians on both sides of the aisle have made it worse: blown-out budgets, endless wars that affect people just like me, partisan bickering over the simplest tasks and grandstanding just to win the next election." He repeated called out Warner for "flip-flopping" on several issues, like whether a new Supreme Court justice should be chosen during an election year.
Warner concluded the debate by talking about his own "bipartisan record of getting things done" and by again referencing his business background. "My first two businesses failed," he said, "but I had that third try, and one of the reasons I'm so interested in continuing in public service is to try to ensure everybody has the same kind of fair shot that I've had."
Warner continued, "We've got to realize the world is changing. It's technology driven. We need people who understand that change. So again, no matter what zip code you live in, you're going to have that fair shot that I've had."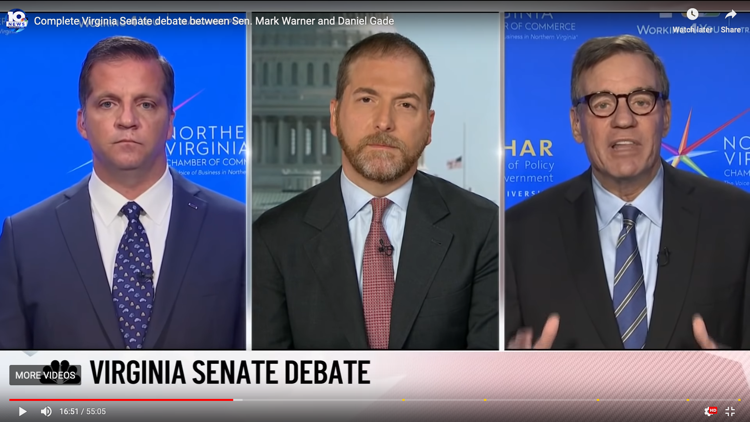 Both candidates claim support for protecting those with preexisting conditions
While no one raised their voices, the most heated exchange of the debate came when talking about ensuring people who have preexisting health conditions can still purchase health insurance.
Warner claimed Gade "can't have it both ways" by supporting the repeal of the Affordable Care Act while also maintaining he supports legislation that forbids health insurance companies from charging higher premiums or denying people with preexisting health conditions.
"The ACA is not perfect," Warner said of the 2010 law. "But 20 million Americans got health care coverage. It protects 3.5 million Virginians, including my daughter, with preexisting conditions; 400,000 Virginians got healthcare coverage because of Medicaid expansion." He later added, "This has been litigated for years," of efforts over the past decade to repeal it. "The 'repeal and replace' argument is a phony excuse. The ACA is the only law of the land that protects people with preexisting conditions."
Gade was visibly upset. "There were 25 states when the ACA had passed that had already protected people with preexisting conditions and the idea that I would take away protections for people with preexisting conditions is offensive and it's false and it's defamatory.
"I have a preexisting condition myself because I got my leg blown off in Iraq," Gade continued, "and since then I've worked with people with disabilities … There's nobody who cares more about people with preexisting conditions in this country than I do … Look Mark, 2014 called it wants its campaign back. That's not who I am. That's a lie."
Gade had earlier said those calling for the wholesale repeal of all the provisions of the law are "not thinking in terms of what is reality. What we actually need to do is, of course, protect people with preexisting conditions. And then we need to expand access and increase the quality of health care by doing things like expanding health savings accounts and by having price transparency. And the administration, for all of its sometimes flaws, has done a good job in heading in that direction."
Perspectives on pandemic response toe party lines
The first part of the debate focused on the pandemic and the federal government's response to it. Predictably, Warner and Gade bickered over what an additional economic stimulus package should look like. Gade criticized Warner for not voting in favor of a recent stimulus bill. Warner criticized the legislation for not including funds for local governments and pointed out some Republicans were reluctant to vote for it in the bill's current form.
"Politicians delayed needed relief," Gade claimed in reference to the failure of the recent stimulus bill. "In that I'm pointing directly to you, Senator Warner. Because you voted against $105 billion to reopen schools; $258 billion for a second round of protection through the [Paycheck Protection Program] and $31 billion for a COVID vaccine and $16 billion for testing. So you can't have it both ways. You can't say this is important and then vote against the needs of Virginia citizens."
Warner criticized the federal administration for not enacting a national coronavirus testing program and not having a "national plan on [personal protective equipment]." When asked directly what grade he would give President Donald Trump, Warner said he would give him a "failing grade."
Gade seemed reluctant to address the president's performance directly, instead answering the same question by stating, "Overall, I'd give our country a B- or a C+."
The two men also went back and forth on the issue of face coverings. Warner repeatedly claimed Gade had said wearing a mask was a form of "tyranny." Warner held up his own face mask, saying, "My opponent has called wearing masks a sign of tyranny. I think it's a sign of respect."
Gade sharply denied that he had compared wearing a mask to tyranny. "I've got my mask it's right here. It's camouflage to honor my 25 years of military service," he said, holding up his own mask.
(In a May 29 radio interview on The Schilling Show, which airs on WINA in Charlottesville, Gade did use the word "tyranny" in reference to an executive order issued by Gov. Ralph Northam three days previous. The executive order mandated – with many exceptions – the wearing of face coverings by most people in most public indoor settings. "You're supposed to be the ones who has the power, government is only supposed to have a little bit," Gade said in the interview. "And, you know, we're all getting a taste right now -- on the first day of this ridiculous mask order -- we're all getting a taste of what it's like to for government to reach into your lives and touch you. And every time you put on your mask, I want you to think about the fact that this is what tyranny feels like, what government overreach feels like: this touch of government on your face.")
Both candidates oppose 'defunding the police'
Gade repeatedly tried to associate Warner with calls by some activists and politicians to "defund" law enforcement agencies. "Defunding the police, as Mark's party has called for, is an evil idea because it puts the very same people at risk who are already at risk when police go rogue," Gade said, and touted his endorsement from the Virginia Police Benevolent Association, a law enforcement union with more than 60,000 members; the union has endorsed Warner in previous elections. "They put their trust in me because I'm better on this issue," Gade said.
Warner repeatedly refuted he was in any way in favor of measures to reduce police funding or even diverting police funding to crisis-intervention programs, and instead proposed to "invest" in law enforcement agencies and especially in training. "I believe as well we should not be defunding the police," Warner said. "In fact, if we're going to give our police forces the tools they need, they will need additional training." He added later, "I think we need to make the kind of investments in our police force to give them the tools and the training. We need to put body cameras on police officers … We can and must stand by our police officers and give them the training they need."
Gade also claimed that Warner had "defunded" law enforcement by $50 million in 2004, when Warner was governor.
Gade may have been referencing a line item in the state budget passed by the General Assembly in 2004, which then-Gov. Warner signed into law. Both chambers of the General Assembly were then controlled by Republicans, as they were throughout Warner's tenure in Richmond.
The budget for "personnel costs" fell year-over-year by $55.4 million – or 5.4% -- in the FY 2004 approved budget for the Virginia Office of Public Safety, which then contained 13 agencies dealing with criminal justice and emergency management. The overall operating budget, however, rose slightly that year, to $1.9 billion and had increased to $2.1 billion by FY 2006.
The FY 2004 budget reduction in personnel spending reduced the combined number of positions in the 13 agencies by 229, or 1.1%. The vast majority – 189 – of these eliminated positions were in the Department of Corrections. The number of positions in the Department of State Police was unchanged from FY 2003 and rose slightly in subsequent years.
Gade also defended allowing use of choke holds by police officers. "If they can't use a choke hold, sometimes, guess what they are going to reach for?" he said. "They are going to reach for lethal means, for their pistol, and that's going to be the next killing that happens. If we take a way tools from police, it's no wonder why violence goes up."
However, Gade said that "fundamental police reform" is needed. "We need increased penalties for gun crimes, which the Virginia Democrats have voted down. We need funding for body cameras when there's federal funding involved. And we need training on recognizing mental health crises."
Both candidates denounce violent acts but have different focuses on race issues
When asked about what he would do to "address those concerns around racial justice," Gade gave no specifics. "When I was wounded the second time [in combat], 25 sailors and soldiers gave me their blood and it didn't matter if they were black or white or gay or straight or Hispanic or anything else. So I think we as Americans can come together to solve some of these hard issues," he said.
He immediately transitioned into a statement about what he called "left-wing violence" and claimed "antifa" is a centralized organization with the goal of overthrowing government.
"There is a right to protest that is enshrined in the first amendment," Gade said. "There's a right to peaceable assembly that is enshrined in the constitution. But there's no place for organized, left-wing violence and what we see, when you trace back the roots of Antifa, you see an organized movement to overthrow our government and to damage our system of democracy."
(FBI Director Christopher Wray said Sept. 17 that some people who identify with "antifa" are a public safety concern, and that the movement is a "real thing," but, "It's not a group or an organization. It's a movement or an ideology.")
Warner also denounced ideologically driven violence. "I also think that violence of any kind should be avoided. So whether you're a vigilante on the street or about to throw a brick through a window, if you break the law you should be prosecuted to the fullest extent of the law," he said. It is at this point he added, "I believe as well we should not be defunding the police."
Gade and Warner had different answers when asked if "systemic racism" exists and what they would do to address racism.
"There are absolutely still pockets of racism that exist in this country," Gade said in response. "We need to find those and we need those and stomp them out. And getting people, updating their attitudes is the right way."
Warner referenced the first enslaved Africans landing in Virginia in 1619 and the "challenging … history of race" in the country since then. "So do I think systemic racism exists? I do," Warner said, adding pointedly, "Black lives matter."
While he said criminal justice reform was needed, Warner emphasized his view that the issues facing many minority communities stem largely from a lack of economic opportunity.
Warner talked about his time on the board of Virginia Union University, a historically Black university in Richmond, and his efforts there to partner with technology companies to afford opportunities to graduates of historically Black institutions. He also talked about the $17.9 billion bill he introduced in July which, if passed, would seek to expand access to capital for minority-owned businesses.
Candidates find common ground on immigration policy
Both Gade and Warner said they would vote for legislation that blocked the deportation of immigrates who have "temporary protected status" under existing federal law; President Trump has signaled he favors ending the protected status of these immigrants and deporting at least some of the estimated 317,000 people living in the United States under the program, most of whom are from El Salvador.
"America is a generous country and we've always welcomed people who are suffering," Gade said as to why he supports blocking deportations.
Warney and Gade also both agreed that, in contrast to the Trump administration, that the federal government should grant more -- not fewer -- H-1B visas – these are temporary residency permits for employers to hire "nonimmigrant aliens as workers in specialty occupations," according to the U.S. Department of Homeland Security.
"An area I break with my party is on H-1B visas. We need to have H1B visa workers, especially in Northern Virginia and especially in the technology sector," Gade said. "And the administration has curtailed H-1B visas and I think that's a mistake."
Warner smiled. "I'm glad to hear Mr. Gade finally break with his party at least on one item," he said, and referenced the percentage of technology firms in Northern Virginia that are founded by immigrants.
Gade also said that, "Of course we need to welcome low-skill workers who do important work, provided that we know who they are, where they are, they pay taxes and they go back when they're done. We are happy to have those folks." He elaborated, "And of course we need to secure out border. And, you know, the president says 'build a wall,' that's shorthand for 'secure the border.'"
Warner largely agreed but took a dig at the border wall Trump proposed for the length of the border with Mexico. "I think we need to secure our borders, but I think there are smarter ways -- to use drones and technology -- not a 14th century technology."