The Warrenton Aquatic and Recreation Facility has successfully completed its members-only reopening and will now welcome current members, new members, existing MVP pass holders and new MVP pass holders, according to an email addressed to members Wednesday night. The new access is in place as of today, Thursday, July 30.
The release outlined what facilities would be open and what COVID-19 mitigation procedures would be in place -- including temperature and health screenings at the WARF entrance as well as enhanced sanitation protocols.
Day pass holders will not be able to enter the WARF during this time. Facility usage will be limited to the fitness room, leisure pool (lazy river for water walking) and competition pool. 
Use of the WARF is by reservation only at this time for all activities. Reservations may be made up to 48 hours in advance on the WARF website (www.warfonline.com%20]www.warfonline.com) or via telephone (540-349-2520) during operating hours.
When reserving online, members will need to log into their account. MVP holders will need to create an online account to make a reservation online. Once logged in, registrants should follow the instructions below:
2.  Click on desired activity,
3.  Click on reservation.
4.  A window will pop up, select desired date and hit continue,
5.  Highlight desired service, resource and duration, click on list view, add to cart,
6.  A window with your booking information will pop up and if correct, hit continue.
7.  Select host (the member).
9.  Reservation is complete.
Any changes to these procedures will be communicated to members and patrons, said Wednesday night's release.
Swimming pools: The leisure pool (lazy river) is now open for water walking (up to four people per 45 minute reservation). 
The big slide, beach area (water works), and spa will remain closed at this time. 
The competition pool will be open for lap swimming and water walking with a reservation. Lanes are available for reservation for 45 minutes at the start of each hour. Once the 45 minutes have passed and members have exited the pool, staff will perform sanitization of all public surfaces. 
To maintain physical distancing, lanes are restricted to one person per time slot, or up to three people from the same household or family.
Swim lessons: No group or private swim lessons will be held at this time.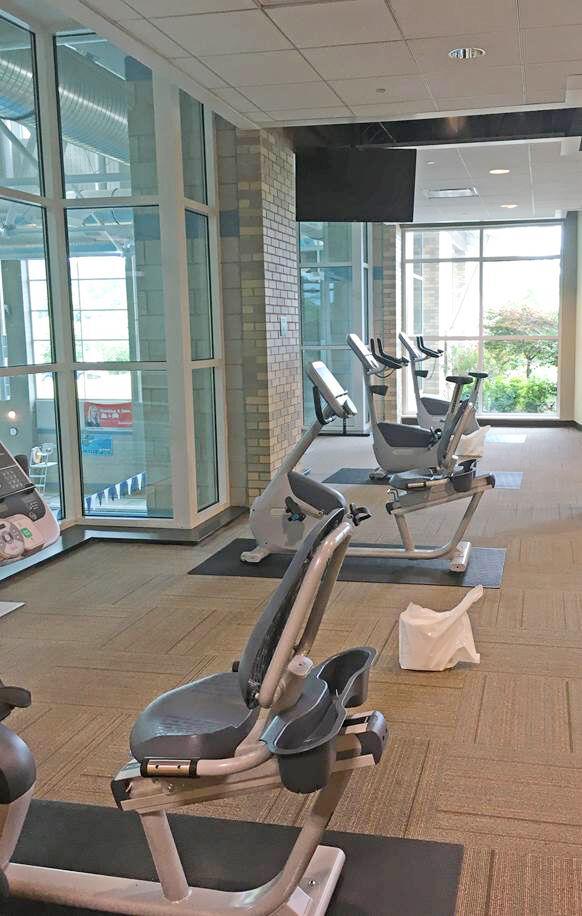 Fitness room: Fitness equipment has been spread out throughout the facility to allow for proper physical distancing. At this time, up to 20 people are permitted to use the fitness equipment per hour with a reservation. 
Additionally, the multi-purpose room has been set up to allow for eight people per hour to use the spin bicycles. 
All fitness reservations are for 45 minutes at the start of each hour. Once the 45 minutes have passed and members have exited the area, staff will perform sanitization of all used surfaces. 
Locker rooms: Members are strongly encouraged to arrive and leave the facility in their workout attire and shower at their homes. However, locker rooms remain open should members choose to use them. Locker usage will be restricted to only those that meet physical distancing guidelines.
Group fitness: Group fitness classes will not be held at this time. 
Child Care: Becky's Corner child care room remains closed at this time.
Safety measures in place
Members are encouraged to wear masks/face coverings when entering or exiting the facility and while in lobby areas. Face coverings do not need to be worn while exercising. All staff are required to wear face coverings when working in public areas.
To comply with physical distancing orders, all equipment has been spaced 10 feet apart or has a sign asking participants to adhere to the 10 feet of distance. Markers on the floor encourage 10 foot distance between members. Members are encouraged to keep interactions with other members and staff brief and with appropriate physical distance.
Hand sanitizer stations have been placed throughout the facility. Members and staff are encouraged to wash and sanitize their hands upon entrance to the facility and before and after using public equipment. Members are encouraged to sanitize their fitness equipment before and after use. 
Swimmers will be asked to keep their belongings in a designated location at the end of their swim lane.
During the last 15 minutes of every hour, the facility will close to allow staff to completely sanitize all public areas. Additionally, staff will maintain regular cleaning of high traffic areas throughout the day.
Pre-screening of COVID-19 symptoms
All members and staff will undergo an automatic temperature screening upon entrance to the facility using a hospital-grade thermal camera. Upon arrival, members are asked to check-in at the front desk and wait for staff to ask a few questions to screen for COVID-19 symptoms prior to admission to the rest of the facility.
Any person experiencing any of the following symptoms will not be permitted admittance to the facility:
Fever (temperature of 100.4°F or higher) or chills
Nausea or vomiting
Shortness of breath or difficulty breathing
Cough or fatigue
Muscle or body aches
Headache
Recent loss of taste or smell
Sore throat
Congestion or runny nose
Any person who returns a higher-than-normal temperature reading from the thermal camera of 100.4°F or higher will not be permitted further access to the facility.
Additionally, any person who has been in close contact with someone who has tested positive for COVID-19 in the last 14 days, or somebody who is suspected of having COVID-19 in the last 14 days, will not be admitted into the facility.
Memberships
All members who had an active status as of our closing date of March 14 will have their membership extended to reflect time they missed; they may have up to four months added to their membership upon their return to the facility. Monthly billing membership fees will be drafted as scheduled on Aug. 1.
Anyone who does not feel comfortable returning to the facility at this time, may contact the WARF to request a membership freeze. All administrative fees for freezes will be waived until further notice.