A local high schooler led the Virginia Region Pony Club team to gold at the prestigious U.S. Pony Club National Championship held at the Kentucky Horse Park in Lexington.
Samantha Homeyer of Hume and teammates Ainsley Colgan of Orlean and Colby Poe of Marshall, all members of the local Old Dominion Hounds Pony Club, were joined on the Virginia Region championship team by River Bend Pony Club rider Laurel Curry and stable manager Catherine Orr to win the novice eventing championship.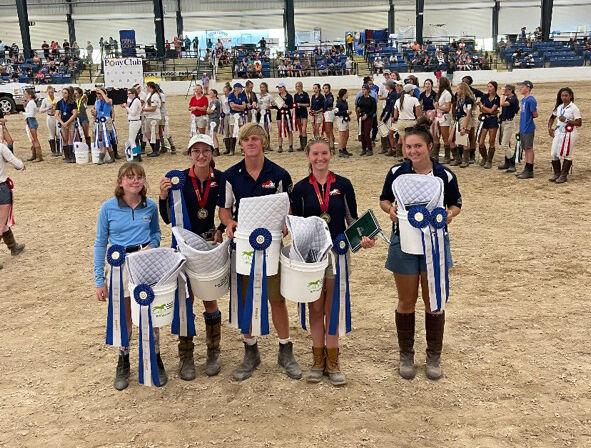 In addition to the overall team gold, Homeyer and her horse, Final Notice, earned individual gold in the novice division, finishing on their dressage score, 35.5. Final Notice was double-clear in cross-country and show jumping, and Homeyer added zero stable management penalties for the overall win.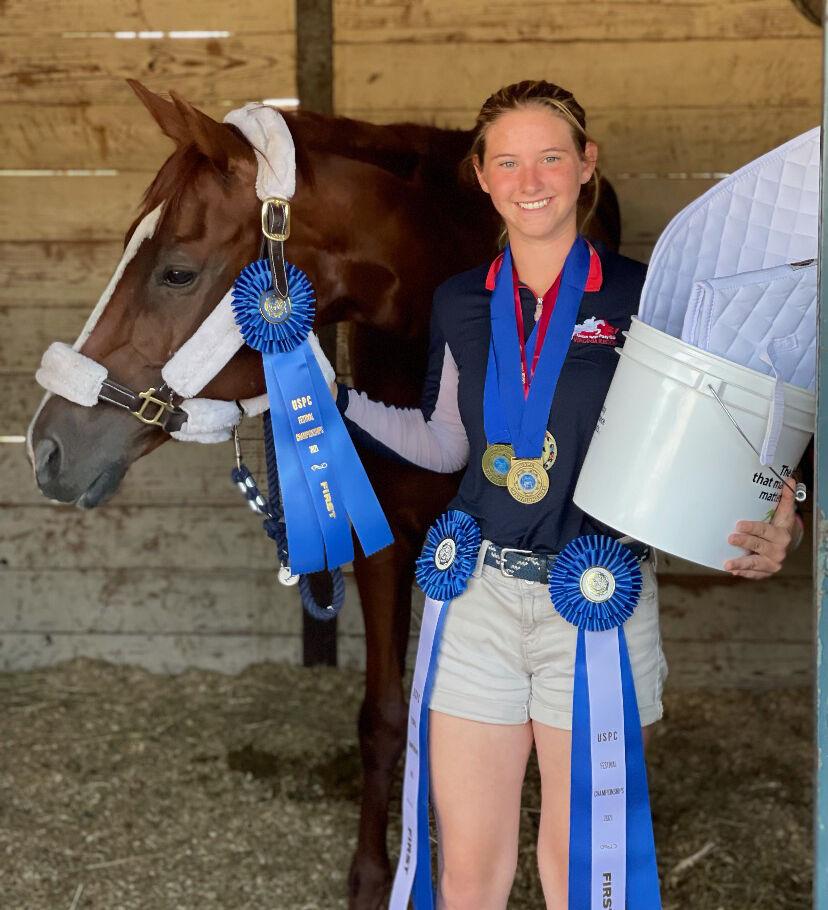 The Virginia Region novice team also captured the horse management award, an important part of the overall championship, Homeyer said
"What won us the championship was our stable management score," she explained. So-called "Pony Club standards" are rigorous and famously fastidious, with an emphasis on safety and perfection, designed to develop budding horse professionals.
A panel of roving judges prowling the vast Horse Park facility scored every participant every minute of their time on the grounds for everything from riding infractions to horse care slipups and tack care mistakes. Especially at the championship level, just a single penalty – a mislaid grooming tool or a fleck of debris on an item of tack – could make the winning difference.
"Scores were super tight at the top (of the leaderboard,)" Homeyer said.
The Virginia Region team accrued just three horse management penalties over four days of judging, as five young horsemen and women worked together toward the common goal of perfection.
"Our (local) club highlights learning every single little horse management detail, and we practice it over and over 'til we get it right," Homeyer added. She knows from experience: Homeyer was horse manager for the Virginia Region team that won the show jumping national championship four years ago.
ODHPC district commissioner Alice Johnson agrees with the assessment – it came down to teamwork and not losing "easy points" for largely preventable infractions. "The kids did awesome at champs," said Johnson. Her Copperfield Farm in Hume is the site of many of the club's horsemanship lessons, some taught by Johnson, others taught by Virginia Region eventing coach Lizzie Olmstead.
"I am so proud of all of our members," said Michelle Arnold, a resident of Warrenton and vice-regional supervisor for the Virginia Region Pony Club. "We're especially excited that out of the 34 regions participating, the Virginia Region had the greatest number of participants, 55 in total."
National champions in eight equestrian sports were determined at the week-long competition and educational festival. Many of the events were held in the same enormous main arena as the Kentucky Three-Day Event, with the hundreds of competitors and thousands of festival participants in attendance at the annual event giving the Horse Park an energy all its own, Arnold said.
ODHPC members Sophie Barnes and Isabella Cook joined stable manager Adelaide Kuhnert to win third overall, second in horse management, in the beginner novice division. Club rider Caroline Kuhnert was on the Virginia Region training level dressage team that placed second.
Casanova Warrenton Pony Club rider Amira Cooney was on the second-place training level team.
The U.S. Pony Club was founded in 1954, based on the model of the British Pony Club. The junior club focuses on teaching horse management and fundamentals of riding, mostly forward-seat, English-style, but a new western riding division was recently adopted by the group to expand participation.
The word, "pony," does not refer to small horses but rather the age of participants, who are 21 and younger. Pony club chapters offer regular monthly lessons, clinics, camps and competitions; at the regional level, riders train with world-class guest instructors. The stated purpose of pony club is to turn out young riders capable of stepping into any stable, anywhere in the world, in any discipline, and be able to manage it with confidence and competence.