This is a running list of community efforts to help out during the coronavirus health crisis. Send your good news to Robin Earl, managing editor, at rearl@fauquier.com.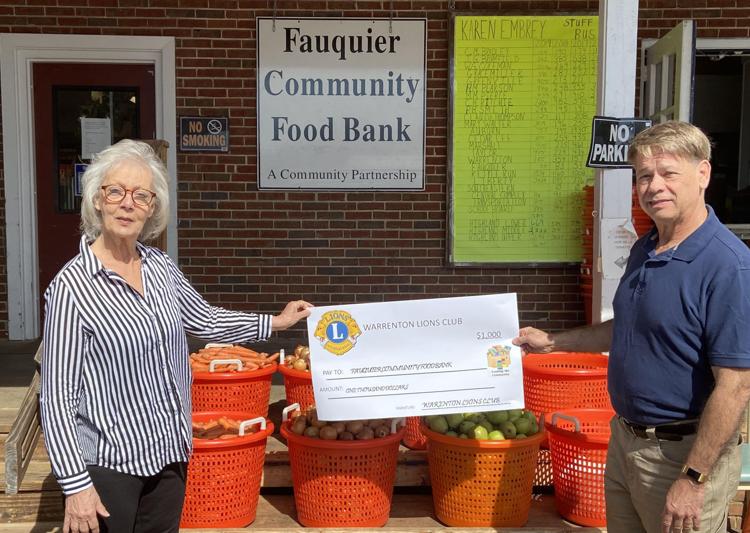 Lions Club boosts coffers of local food banks
The Warrenton Lions Club recently donated $4,000 to four Fauquier food distribution centers, $1,000 each to Fauquier Community Food Bank, Fauquier FISH, Community Touch and Fauquier County Food Distribution Coalition.
The Lions Club's Gary Carroll said that the group was motivated by a recent article in the Fauquier Times highlighting an increased need for donations due to the current coronavirus crisis. The Warrenton Lions Club has served Fauquier County since 1939 through its work, especially with children. For example, the Lions provide free hearing and eyesight testing for students at schools throughout the county. Lions have also made donations to local charities. 
Along with the recent donations, the Lions sent each organization a note of encouragement and appreciation. The Lions noted that "… we realize that you are overwhelmed providing food to those in need .... Thank you for the tireless work you do to support our community. " 
Salvation Army food pantries stocked to help
Salvation Army food pantries in Warrenton and Culpeper are stocked and ready to make sure that no one goes hungry, according to a press release from the Salvation Army.
Offices are at 62 Waterloo Street in Warrenton and at 133 E. Culpeper St. in Culpeper.
Farm Bureau creates COVID-19 informational webpage for farmers
Virginia Farm Bureau Federation has created a new resource on its website to provide farmers with current information relating to COVID-19 and its impact on their livelihoods.
Located at vafb.com/farmerresources, the page includes material related to farmers' ability to acquire supplies and transport farm products, an update on the ability of foreign laborers to acquire visas through the federal H-2A program, and information on how to contact state and federal agencies that provide agricultural support services.
It also connects visitors with resources from Virginia Cooperative Extension and provides information about U.S. Department of Agriculture farm service centers, including operating hours, closures and answers to frequently asked questions.
For families at home with school-age children, the page provides a link to educational resources created by Virginia Agriculture in the Classroom. Those include virtual farm tours, downloadable activities and a link to the Agriculture in the Classroom Facebook page, where videotaped instruction is offered three times a week.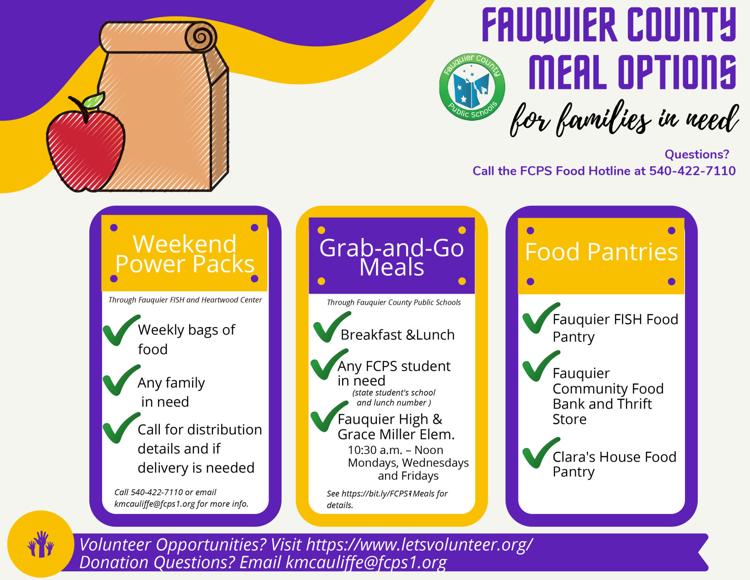 Online platform provides solution for farmers markets during social distancing
Lulus Local Food, a software platform for farmers and farmers markets to sell produce directly to the public, was launched in 2008 to create convenient online food hubs.
Lulus is a program of the nonprofit Virginia Foundation for Agriculture, Innovation and Rural Sustainability, in partnership with the Virginia Farm Bureau Federation.
The online platform is uniquely designed to connect food to consumers with limited in-person interaction. Farmers can sell to multiple markets and food hubs using one account, and customers can shop from multiple farms on one website with one payment.
Using the software, market managers build a website where farmers can apply to join and list their products. Customers create an account, log in and shop online, buying directly from producers. The market manager promotes the site via social media and arranges distribution locations––tents and parking lots where customers can pick up their orders. No crowds. No stores. No cash or cards changing hands.
Food hubs and farmers markets are responsible for establishing the customer order fulfillment, supplies and logistics. While it takes additional effort, market and food hub managers said it's worthwhile to continue connecting farms directly to customers.
Staff is available to assist in creating a site. Learn more at luluslocalfood.com.
PATH Volunteer Hub connects volunteers to organizations that need help
Lynn Lauritzen, manager of the PATH Volunteer Hub, wrote to say, "I have heard from many members of our community wishing to help in any way they can. Some of them must find things they can do from home. One way we can connect those from home with our isolated population and those caring for our isolated population, is by means of written letters and cards. It is a way for folks to share wisdom, words of encouragement and even artistic expression. 
"I am asking that any facility or organization interested in being on a list of recipients to receive this wonderful gesture of expression to contact me directly at llauritzen@pathforyou.org."
She added, "I … welcome any suggestions from any and all on more ways to connect our community of givers with the crucial needs arising from this health crisis. 
PATH Volunteer Hub has a designated page for all needs relating to COVID-19. It can be found here. Any organization that could use help from others may contact Lauritzen to discuss options.
Town Duck open and offering curbside pickup
The Town Duck has reopened on Main Street. A press release read: "While this is a far cry from the grand re-opening we imagined, here we are. We remain dedicated to serving our charming community as best we can, which will likely require more creative outreach to bring us to you. We will work diligently to find ways to connect with you at 100 Main Street.
The Town Duck will be available for phone orders at (540) 347-7237 or email (info@townduck.com (mailto:info@townduck.com) ) to deliver curbside.
The release said, "The shop is chock full of new items for home and kitchen, garden, baby and stationary… We will gladly help you select a gift over the phone, face time or send photos via text and email. Additionally, we will be launching a new website in the very near future to offer further options for sales, so please be on the lookout for that. Also follow along on our Instagram handle (@townduck) for featured items and new arrivals."
The release adds, "For now, we will plan to be open for daily curbside delivery 12 to 4 p.m. Phone orders may be received during the hours of 10 a.m. to 4 p.m. … Upon arrival for pick-up, please call and we can bring order to your car or meet you at the door."
Sheetz announces temporary raise for workers
Sheetz announced Wednesday that they are instituting a $3 per hour increase for its approximately 17,000 store workers nationwide.
A press release read, "The increase will be active through April 23, but the duration will be re-evaluated as the situation surrounding COVID-19 continues to rapidly evolve. Sheetz also has more than 1,300 active job openings for anyone who is looking for a job."
On March 23, Sheetz also announced the following changes to in-store operations:
Self-serve coffee: Self-serve coffee is now suspended. Anyone who would like to purchase a cup of coffee should use the touch-screen order points or ask an employee for assistance who will serve coffee to customers.

Self-service beverages: Sheetz has temporarily suspended all self-service beverages including fountain beverages, fresh brewed tea, frozen drinks and F'Real milkshakes.

Bakery items: Sheetz has temporarily discontinued availability of self-serve bakery items such as doughnuts and muffins.
Meditations by conference call
Gerry Eitner of Communities of Peace, reached out to say, "I'll be doing these Monday evening Lenten meditations by conference call.  Those interested may contact her at communitiesofpeace@gmail.com. 
Online addiction recovery meetings available for those at risk from COVID-19
The coronavirus pandemic will be disrupting everyday life in untold ways. For those who depend on Alcoholics Anonymous or Narcotics Anonymous gatherings, online meetings are available. The website to find online support is at http://aa-intergroup.org/directory.php.