One of the region's best known equine veterinarians, Dr. Paul Diehl, retired at the end of the year following nearly four decades serving at two of the region's biggest practices.  
Diehl counts among past clients a first lady and an Olympic champion, and literally thousands of area horse owners, treating international sporthorses as well as backyard pet ponies. 
He worked from 2003 to Dec. 31, 2020, at Piedmont Equine Practice in Marshall, and from 1984 to 2003 out of Mayo and Rofe Equine in Middleburg.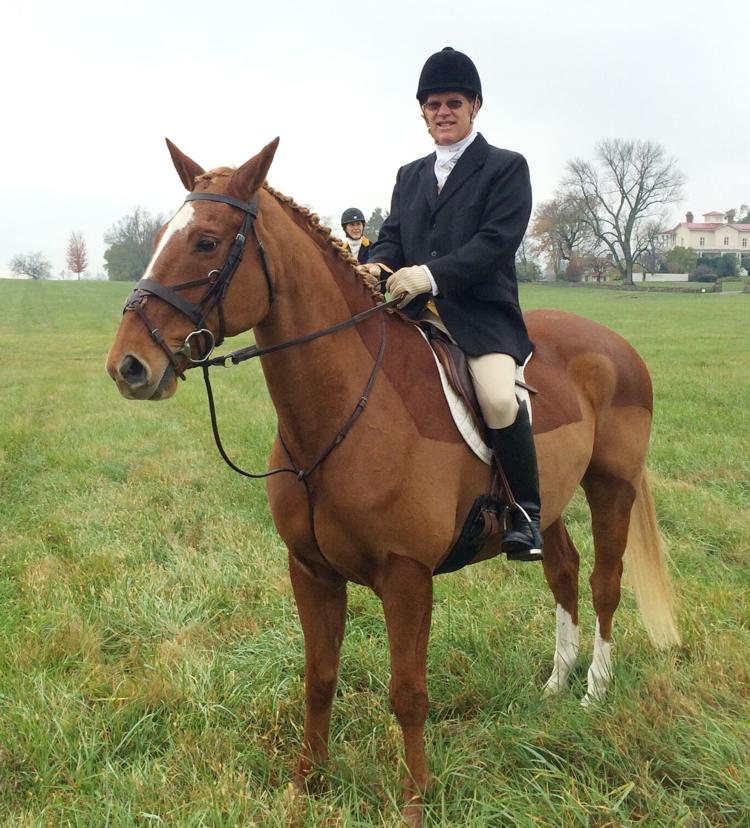 "I'm going to miss it," Diehl said, noting that as much as he loved his profession, he also loved his clientele – human as well as equine. "Especially in our area, there are so many top professionals, so many great horses," he said. "That's what will be hard to leave."  
Diehl grew up in Strasburg. His family moved to Loudoun County when he was a teen, and that's been home ever since. He currently lives in Unison with his wife, a dog and five horses.  
He studied biology at Virginia Tech, turning his freshman year Christmas break into a career driver.  
"I didn't really know what I wanted to do (with my future)," Diehl said. "I'd worked at a dentist's office, and no, thank you. Staying indoors all the time looking in people's mouths? Nope.  
"But the first day I rode around with Dr. Jack Howard (an equine vet with an ambulatory practice in Leesburg), a light went off. You're working at these gorgeous farms in this gorgeous area for these wonderful people on these fabulous horses.  
"What's not to like?" 
Howard, Auburn University class of 1943, was integral to getting him to go to Auburn, Diehl said. Auburn has long been considered among the nation's top vet schools. He graduated in 1983.  
Having already had nearly 20 years at Mayo and Rofe, Diehl remembers being considered "the old man on board" at Dr. Joe Davis and Dr. John Nolan's Piedmont Equine. This was when the expanding practice was located in cramped quarters in downtown Marshall, before Piedmont's horse hospital opened east of town. 
"Being part of a big practice has big benefits," sort of a veterinary brain trust, Diehl said. "You can consult with the other vets, ask for other opinions. The young associates coming on board have years of experience to draw from, and the older vets got the latest science from new team members."  
Piedmont founding partner, Davis said Diehl was admired by clients and colleagues alike. "Dr. Diehl has been greatly valued as a colleague, veterinarian, mentor and friend by Piedmont Equine veterinarians, staff and clients (for almost 20 years.)" 
Like most equine veterinarians, Diehl developed a wide range of skills – from lameness and pre-purchase exams to sporthorse medicine and routine wellness care. He had many memorable cases through the years, but one that really stands out was during his time at Mayo and Rofe. An emergency call came in to treat a medical colic case at Paul Mellon's Rokeby Farm.  
It was former first lady Jackie Kennedy's hunt horse. 
It was a high-pressure situation, colic always is, but after Diehl's careful ministrations, nasogastric intubation and some medication, the horse was fine.  
Diehl said his "favorite part of veterinary medicine" was reproduction work. Back in the 1980s and '90s, thoroughbred breeding was a huge part of Virginia's equine economy, he said, with dozens of big breeding operations and several outstanding regional stallions at stud.    
Diehl managed literally thousands of births, from start to finish, treating multiple generations of horses. He clearly remembers the emerging science in what had long been considered something of a veterinary art. "Ultrasound first got traction in the early '80s," he said, noting that the new application was groundbreaking because of the narrow desirable birthing season, and an even narrower breeding window for each individual mare. "It was a huge help," he said.  
"There is so much to say about Paul, and, quite frankly, it's hard imagining not having him around all the time," said Stonehall Farm's Sue Clarke. "Paul has been an integral part of our team, our family, for over 25 years. We have been through so much together, from welcoming foals into the world to saying goodbye to our Olympic champions, and everything that comes in between those two extremes.  
"He's a kind, compassionate and understanding man for both humans and equines alike. He's been a great educator and contributed so much to the farm. 
"I wish him all the best for a very fulfilling retirement." 
A former foxhunter, triathlete and Iron Man competitor, these days Diehl is an avid fly-fisherman and golfer. He has two grandchildren already, another due in March, and said he "looks forward to more time with them."