This story was updated Tuesday, Sept. 28 with new information.

Two teenagers suffered "life threatening" injuries in a traffic crash Tuesday, Sept. 21, at the intersection of U.S. 17 and Old Tavern Road about 3 miles south of Marshall. Another person sustained "minor" injuries, according to the Virginia State Police.
The two severely injured teenagers include 17-year-old Josue Salamanca, who was driving a 1995 Saturn sedan, and a 16-year-old girl who was a passenger in the same car.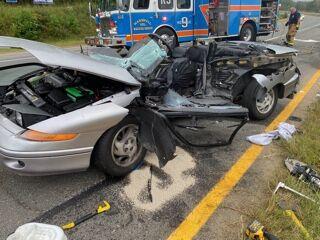 After stopping at the stop sign on Old Tavern Road, the sedan attempted to make a left onto U.S. 17 south, according to the state police. A northbound 2004 Volkswagen station wagon on U.S. 17 then collided with the Saturn, hitting the car's driver's side.
One of the teenagers was trapped in the vehicle and had to be extricated, according to a synopsis of the incident provided by the Fauquier County Department of Fire, Rescue and Emergency Management. The other teenager had been removed from the car by bystanders before paramedics arrived.
Both teenagers were transported to the trauma center at INOVA Fairfax Hospital. The driver of the Volkswagen, a 40-year-old man from Front Royal, sustained "minor" injuries and was transported to Haymarket Medical Center for treatment, according to the state police.
Salamanca, a junior at Fauquier High School and a sprinter for the track team, immediately underwent two surgeries following the crash and received a blood transfusion for severe internal bleeding, according to an online fundraiser started by his parents. He also suffered a hip fracture, a collapsed lung and brain swelling and was not able to breathe on his own in the days after the incident.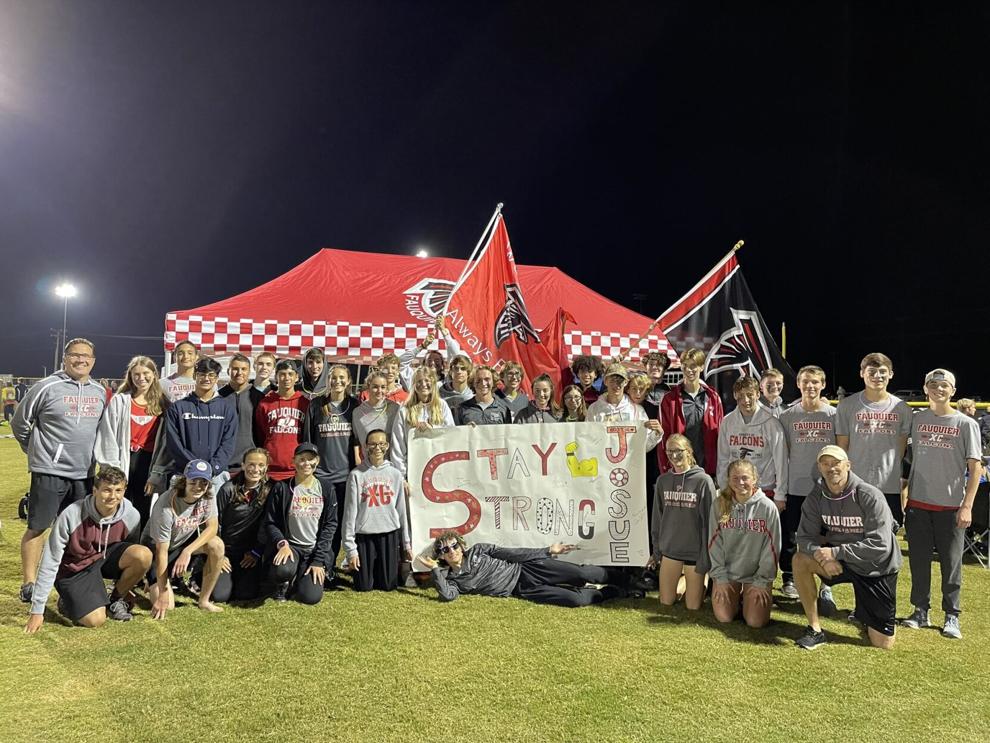 By Monday, he had begun to show some signs of improvement and had begun to try to sit up and move around, according to his parents. He underwent a surgery on his hip late Monday.
The identities of the 16-year-old girl and the 40-year-old man have not been released by the police. A fundraiser has been set up to help with medical expenses for the other teenage victim of the crash, however; it can be found here.
The state police was investigating the incident after the crash, and an agency representative said Monday that there were no updates on the status of the investigation. No charges have been filed.
Renewed calls to improve intersection
Fauquier County Supervisor Holder Trumbo, whose magisterial district includes Old Tavern Road and borders U.S. 17, has expressed concern about the intersection for years, he said last week. Earlier this year, he asked the Virginia Department of Transportation to conduct a safety review of the intersection and the state agency published a study July 28.
After the Sept. 21 crash, Trumbo brought up the intersection again with county and VDOT officials. "We just flew two more victims of this intersection out yesterday," he said in an email Sept. 22. "Local residents cannot understand why more is not being done to address it. Can we please ask VDOT to take another look? I'm not at all convinced that tree trimming and maintenance are adequate solutions."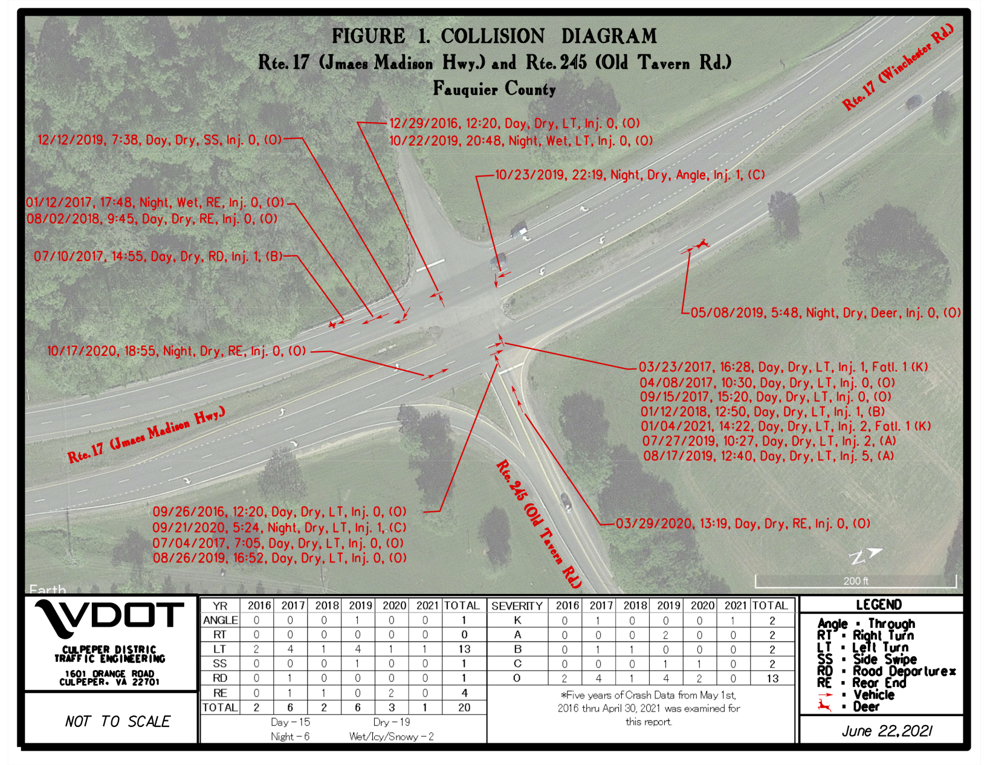 Still, he acknowledged to the Fauquier Times that VDOT has limited resources and has to prioritize using funds in a way that would help the most people. The U.S. 17/Old Tavern Road intersection is 66th on the list of priorities for potential safety improvements in the Culpeper District, the VDOT planning region that encompasses nine counties and one city. "They only have so many resources, but the public is getting impatient," said Trumbo.
The July 28 report recommended adding a "median U-turn," which would force all traffic from Old Tavern Road to turn right onto U.S. 17 north; those who wished to travel south would have to make a U-turn further up the highway. Most of the serious traffic crashes at the intersection have resulted from a vehicle crossing the highway from Old Tavern Road to travel south on U.S. 17, much like what happened Sept. 21.
"The crash analysis revealed that the left-turning traffic from [Old Tavern Road] was involved in the majority of crashes of the intersection," the report summarized. "However, the available intersection sight distance is more than the minimum required and these crashes are unlikely to be mitigated by any low-cost countermeasures such as signing and pavement markings." The study also ruled out the need for a traffic signal.
The study found that there were 21 traffic crashes at the intersection in a five-year period starting in 2016, including two that resulted in a fatality and six that resulted in at least one injury. Most of the crashes involved a vehicle crossing the highway from Old Tavern Road and colliding with a vehicle traveling north on U.S. 17 (11 crashes) or south on U.S. 17 (two crashes).
There were no significant traffic crashes involving vehicles turning right from Old Tavern Road onto U.S. 17, nor were there any crashes involving vehicles turning in either direction from Enon Church Road, which is directly opposite the highway from Old Tavern Road. Roughly 21,000 vehicles use this stretch of U.S. 17 each day, with another 3,100 traveling on Old Tavern Road and 120 on Enon Church Road.
Trumbo said Sept. 23, that the most likely way to fund an improvement to the intersection would be through the state's Smart Scale program, which allows counties and cities to submit a list of road improvement projects for potential funding. The next opportunity for localities to submit applications to the program is next summer.
VDOT Resident Engineer for Warrenton, Daniel Nesbitt, agreed. "The long-term fix which would be an alternative intersection such as median U-turn or R-CUT (restricted crossing U-turn) would have to be funded by Smart Scale or some other funding source," he said in an email to the Fauquier Times Sept. 23.
Even if improvements to the Old Tavern Road/U.S. 17 intersection were ultimately approved for funding through Smart Scale, however, it would be years before that money was actually allocated. Smart Scale operates on a six-year cycle, meaning that projects submitted next year for consideration would be started no earlier than the late 2020s if approved.
In addition to adding a median U-turn, the report recommended trimming or removing some trees around the intersection to improve visibility and repairing a pothole in the median. Nesbit said those items should be completed this week.