Piedmont Urgent Care has sent out 689 swabs for COVID-19 testing as of April 27. Of the individuals tested, 59 have tested positive for the disease caused by the novel coronavirus.
The criteria for being tested have been significantly relaxed since the program began, said Dr. Steven von Elten, a physician at Piedmont Family Practice who is heading up the program.
The ability to test more people "is all driven by the number of swabs," von Elten said, adding that, as of April 24, the program currently has about 600 testing swabs available. "We're in a good position," he said.
After being screened by a primary care physician or, alternatively, at the urgent care facility itself, "clinical suspicion alone" is now sufficient criteria for being tested through a private lab, von Elten said. He summarized: "Essentially, if you think you might have it, we can get you tested."
The testing site, located on Blackwell Road in Warrenton, is open from 8 a.m. to 7 p.m. every day, including weekends.
According to a listing on the VDH website, the PUC testing site is the only one of its kind in Fauquier County. The nearest testing sites to Warrenton are in Culpeper, Front Royal, Fairfax, Woodbridge and Stafford.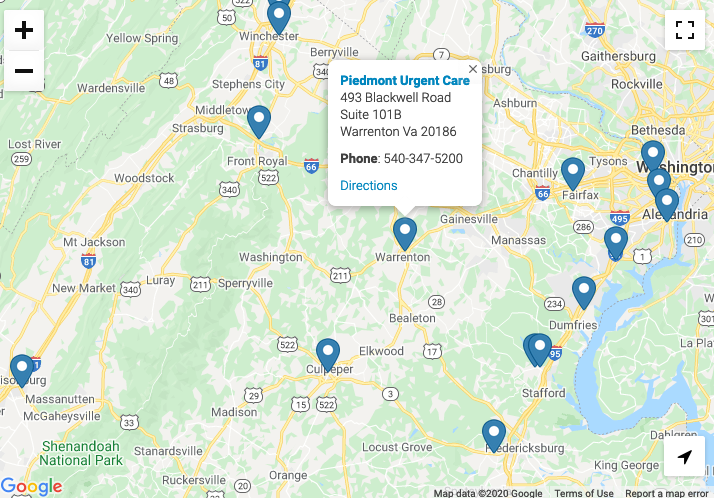 Of the tests conducted so far, 92% have been conducted at one of three private labs - Sunrise Medical Labs, LabCorp and Quest Diagnostics. Private labs have more leeway than state-run labs in the patients they can to test.
The remaining 8% of samples have been sent to a Virginia Department of Health lab in Richmond; patients, who have until now been mostly health workers, must meet a much stricter set of criteria for their samples to be tested there.
After an individual's sample is collected at PUC, the turnaround for test results is currently two to five days for samples being testing at private labs, down from up to eight days when the PUC curbside program began, von Elten said. Results from the VDH lab are usually returned in one to two days.
The PUC curbside testing program is a result of cooperation among the Rappahannock-Rapidan Health District of the Virginia Department of Health, Fauquier Hospital, Fauquier County and Warrenton governments, the PATH Foundation and local physicians. The group is collectively dubbed the Coronavirus Community Task Force.
"The credit really goes to the Rappahannock-Rapidan VDH epidemiologist April Achter and Regional Medical Director Dr. Wade Kartchner for spearheading this initiative," von Elten said in an April 8 interview.
While the number of confirmed cases and hospitalizations in the local health district remains relatively low, Achter said in an April 23 phone call that the number of new cases is accelerating in the Rapphannock-Rapidan Health District, which includes Fauquier, Culpeper, Rappahannock, Madison and Orange counties.
Confirmed cases in the district rose 85% from April 15 to April 22, she said, and she does not yet see the increase in confirmed cases slowing down. "We are reinforcing all of our recommendations," in regard to public health guidance meant to prevent the spread of the virus, she said. As of April 23, there were a cumulative total of 185 COVID-19 cases in the health district, including 19 hospitalizations and two deaths, according to the VDH.
Achter said that while some limited studies of the presence of COVID-19 antibodies are currently taking place, testing for the disease itself – like that being facilitated by programs like the one taking place at PUC - is the best approach from a public health perspective. Most of the antibody studies being conducted now are research driven and not necessarily useful for acute care, she said.
Antibodies can take up to four weeks after infection to be detectable by the kinds of tests most available currently, Achter said. In any case, she added, "we just don't know yet" whether the presence of antibodies in an individual mean that person is immune to contracting the disease a second time.