This story has been updated with a reaction from the Fauquier Education Association. See box, left.
Fauquier High School's cafeteria exploded with applause Wednesday night after the school board voted to commence on Nov. 9 a hybrid instruction model that will include some in-person teaching. Fauquier County schools opened Aug. 24 with an all-virtual learning model due to the COVID-19 pandemic.
The 40 or so people in the audience Wednesday, some wearing "Go for the Green" shirts proclaiming their desire for in-person instruction, seemed pleased with the proposed move away from 100% virtual learning.
Katie Ralls, who was one of more than 20 parents and students who spoke during Citizens Time at the Sept. 14 school board meeting, said "I'm tickled pink."
Fauquier County School Board members heard from 24 parents and students Monday night about h…
Donna Rosamond was all smiles after Wednesday's vote. "I'm very happy," she beamed. She was one of the organizers of last week's rally calling for the school board to reverse course.
At the beginning of last week's meeting, School Board member Donna Grove (Cedar Run District) asked that staff come up with a plan by Sept. 23 to bring children back into schools earlier than January. She was especially concerned about elementary school students. "We would like a specific plan to bring back our little guys as soon as possible," she said.
Superintendent of Schools David Jeck said Wednesday that administrators responded with a proposal that was "more aggressive" than the school board requested. "We asked ourselves, if we can bring back K-2 or K-5 students, what is the reason we can't bring back K-12? We didn't have a good answer."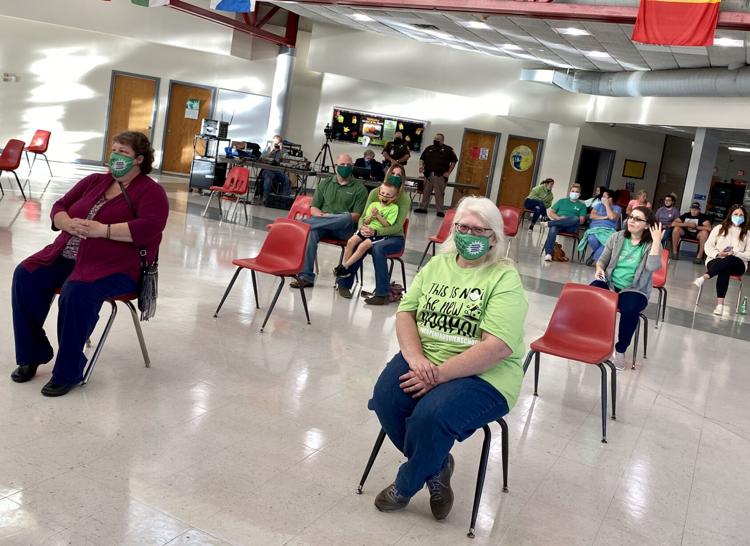 The proposal revealed Wednesday gives all students the option of returning to school. The key to the plan is 900 desktop cameras that will allow in-classroom teachers to livestream lessons to children who choose to continue virtual learning. The cameras ($100 each) and wireless mics ($35 each) will cost the school district $118,000. Director of Technology Services Louis McDonald is optimistic that he can secure the cameras and mics and train teachers on how to use them before Nov. 9.
The cameras plug into the teachers' laptops so the video feed can go out to homebound students. The microphones have 6-hour lithium batteries. McDonald said he tried out the video feed during Wednesday's school board meeting and was pleased with the quality.
The cameras would be focused on the teacher at his or her desk, to preserve privacy for the students in the classroom. If a teacher leaves her desk to help individual students, virtual students would be given work to do while their teacher is off-camera.
In the hybrid model explained by Jeck, half of students who choose in-person learning would attend school Monday and Tuesday. The other half would receive in-person instruction Thursday and Friday. On the days students are not in the classroom, they would have assignments to complete. Wednesdays would be reserved for teacher planning and training and instructors would also offer office hours.
A new look at July's reopening plan
It's a plan that is largely the same one school administrators proposed in July. That framework  was declared unworkable because of "insurmountable" workforce shortages. There were not enough dedicated virtual learning instructors, bus drivers, school nurses and substitute teachers to make it work.
The difference this time is that instead of having to utilize separate virtual-only teachers, students learning at home would receive their synchronistic lessons directly from their teachers, via livestream, at the same time their in-person classmates are learning.
Spotty or non-existent internet service will continue to be a barrier for some learning at home, Deputy Superintendent for Instruction Major Warner acknowledged. But he pointed out that virtual students would have two opportunities each week to catch their teachers on livestream, since the same lessons would be taught Monday and Tuesday, and again on Thursday and Friday.
"It's not perfect," he said, but administrators will continue to work to improve the model.
For anyone who had read the Fauquier County Public School's dense 88-page Path to Reopening …
Jeck said that the new approach solves an important aspect of the workforce shortage. He pointed out that the district is still lacking bus drivers, but because 25% of parents have said (in a survey earlier this summer) they would be willing to drive their children to school, he believes it can work.
Jeck said that another short survey will be sent out to parents, asking whether their child will be coming to school and if can they provide transportation for their child.
"If 4% of parents say they can transport to school, we are going to have a problem. If 25% of parents can bring their kids to school, we'll be OK," said Jeck.
The school nurse shortage has been solved, said Jeck; every school will have a nurse. The big issue that remains, he said, is substitute teachers. Even though the school board voted to raise the daily pay for substitutes to $100 or $150 (for experienced certified teachers), Fauquier County has fewer than 100 substitutes on the rolls. Jeck said that about 15 substitutes are ready to graduate from "substitute school," but "when it comes to manpower worries, substitutes are at the top of the list."
Jeck said, "We are really going to need substitutes. The problem is not insurmountable. If we had 50 or 60 more people, we'd be in good shape."
Before the end of the meeting, school board member Duke Bland (Marshall District) addressed anyone in the audience who might be able to work as a substitute. "Folks, we are in desperate need of substitutes. Help us out."
In order to prevent the spread of the coronavirus once schools begin welcoming students, everyone will be required to wear masks on buses and in school buildings. Classrooms will have fewer desks and every attempt will be made to keep everyone 6 feet apart.
Parents will be asked to screen their children every morning before school to make sure they seem healthy. April Achter, public health epidemiologist for the Rappahannock-Rapidan Health District, pointed out when parents note a child's congestion or cough, they should consider whether the symptoms are unusual for the child. If a child has allergies, for instance, congestion might be typical for that child and not a potential symptom of COVID. If there are new symptoms, those would be immediate exclusions, said Achter.
She said that in the health district, four of five counties have schools that are offering in-person instruction. "We have had great success so far mitigating effects."
Neither health experts from the Virginia Department of Health nor school administrators have illusions about the risks of opening schools to students. Achter and Jeck both said that they expect to see cases, they expect to see outbreaks, and there could be closures.
When cases arise, said Achter, each situation will be evaluated carefully to consider the best course of action. Achter explained that if a teacher and a student both presented with COVID-19 symptoms on the first day of school, it would be obvious that the exposure could not have happened in school. If the same situation were to arise after a couple weeks of school, the approach might be very different. A combination of contract tracing, an evaluation of who the infected individuals spent time with, quarantining and/or testing would be undertaken depending on each situation.
In some cases, a few children might have to be quarantined, in others, a whole class or bus route might have to be isolated. "It's not the answer you want," said Achter, "but it all depends."
School Board member Stephanie Litter-Reber (Lee District) said that although she was pleased that children could begin attending school again, she was concerned about safety for teachers and students. "I just would like to be sure that safety considerations are at the top of everyone's priority list."
A COVID-19 dashboard will be launched soon on the school division's website, said Jeck. It will provide up-to-date information about positive confirmed cases in school facilities in real time.
Click here to see a copy of the latest reopening plan, including notification protocols for positive cases.
Bland said he was concerned when he had heard that the hybrid model could start at the end of October. "I didn't see how we could do that, but starting after Election Day seemed like a better idea." He pointed out that after three or so weeks, the Thanksgiving holiday would allow for a short break to evaluate how the system is working.  After a few more weeks, the Christmas holiday would provide another break to make adjustments. "I am very comfortable with the timing of this," he said.