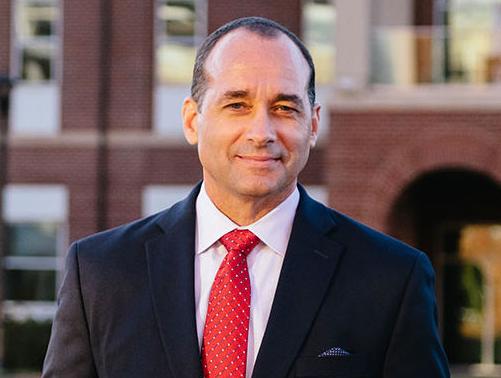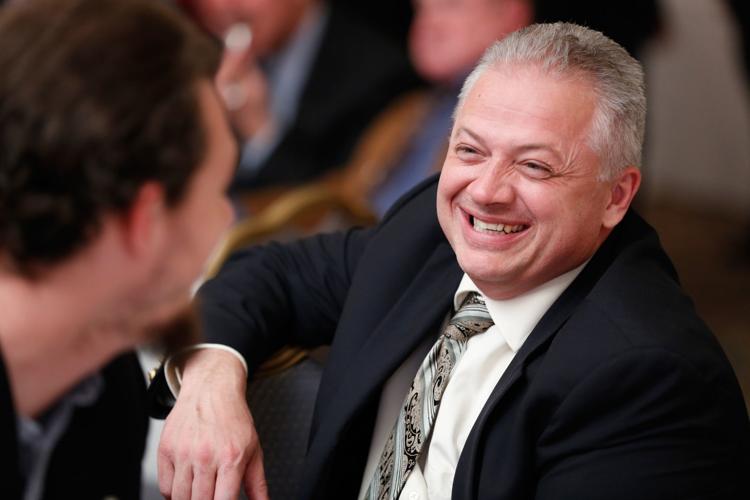 UPDATE: Despite a challenge from Rep. Denver Riggleman's campaign, an "unassembled convention" – essentially, a one-day period in which delegates can cast their ballots from their vehicles – will take place on June 13 at Tree of Life Ministries, a Lynchburg church, to choose the Republican Party's nominee for the 5th Congressional District seat.
Riggleman, the first-term incumbent, is being challenged for the nomination by Bob Good, a former Campbell County supervisor and Liberty University fundraising director. In November, the Republican candidate will face the winner of a June 23 open primary that will elect the democratic nominee for the seat.
On May 11, the members of the 5th District Republican Committee voted 18 to 17 to hold the unassembled convention at Tree of Life church on June 13.
The next day, the Riggleman campaign submitted an appeal to the committee, claiming that the convention site would unduly benefit Good and that, in violation of party rules, three paid members of the Good campaign had not recused themselves from the May 11 vote, thereby changing the outcome of the vote.
The document was accompanied by 68 signatures, including those of Warrenton Town Councilman Sean Polster (at-large) and Warrenton Town Attorney Whit Robinson.
The appeal asked the committee to reject Tree of Life church as the convention site, claiming it "was clearly chosen to benefit a particular candidate," as Good lives near the church and "draws the base of his support" from the area. "As people will be only driving to the location to vote, those closest to the location will certainly have an easier time to attend and vote," the document said.
The document from the Riggleman campaign also claimed that the participation of Good-associated committee members "has made a mockery of the Republican nomination process and is being used as campaign fodder by the Democrats."
On May 18, committee members rejected the appeal by a vote of 24 to 10. According to Fauquier County Republican Committee Chairman Greg Schumacher, the three committee members whose impartiality was questioned by the Riggleman campaign were among those voting on May 18.
ORIGINAL STORY: The 5th Congressional District Republican Committee is set to use a convention to nominate a candidate for the district congressional seat currently occupied by Rep. Denver Riggleman. The convention's date is still uncertain as the committee deliberates on how to hold a convention amid a public health crisis.  
Riggleman was first elected to the 5th District seat in 2018; he had previously campaigned briefly for the 2017 Republican nomination for governor. An Air Force veteran and former intelligence officer, Riggleman owns a distillery outside of Charlottesville. 
Bob Good, of Campbell County, is challenging Riggleman for the nomination. Good was an athletics and fundraising official at Liberty University until last year, when he stepped down to focus on his campaign. He also served on the Campbell County Board of Supervisors for four years, until Jan. 1. Good filed with the Federal Elections Committee in October 2019 and formally announced his candidacy the next month.  
Good represents a challenge from the religious conservative wing of the party to Riggleman's libertarian-leaning policy outlook. Good said he initially supported Riggleman and even participated in his general-election campaign in 2018 but has since lost faith in the congressman's commitment to conservative principles. 
"As I begin to observe his votes and positions in office, they were clearly out of touch with me as a conservative," Good said of Riggleman in an April 17 phone interview.  
In July 2019, Riggleman officiated a wedding between two men who had volunteered for his campaign, infuriating some within the Republican Party in Virginia and leading to an official censure from at least one county Republican committee.  
Good, an outspoken Evangelical, denied that Riggleman's decision to officiate the wedding was the primary reason for his challenge for the nomination. "[Riggleman] is a disaster for American jobs, for American workers. There are many reasons," he said.  
However, Good said that Riggleman's role in the wedding "demonstrated how out of step Denver is with the Republican Party," claiming Riggleman officiated the wedding only for "political reasons" and that the congressman "expressed contempt and vitriol for the conservatives who disagree with him." 
Riggleman brushed off the criticism, maintaining in an April 17 interview that he did not regret his decision to officiate the wedding of "two friends" who worked on his behalf. 
 "I think that's exactly what we should be as conservatives – individual liberties are at the forefront of what it means to be a conservative," Riggleman said.  
Good said that Riggleman's voting history shows the congressman is insufficiently conservative, especially on issues of immigration and government spending.  
"Time and again, he voted to increase the number of foreign workers that can come in and take American jobs," he said of Riggleman.  
The congressman disputed this characterization of his immigration policy stance, maintaining his support for limited, legal immigration – especially guest worker programs – were in line with the needs of businesses and farmers and supported by President Donald Trump.  "Bob Good is against President Trump's merit-based immigration policies," he argued.  
Good criticized Riggleman's February 2019 vote for a resolution that included seven annual appropriations bills; the legislation was signed into law hours before the federal government was due to exhaust its appropriations, which would have led to the second partial government shutdown in a month.  
Good called the legislation "a massive compromise spending bill that included a reduction in border wall funding."  
The bill in question, House Joint Resolution 31 included $1.4 billion for the construction of fencing along a small portion of the U.S. border with Mexico and $725 million for the acquisition and deployment of border security technologies and trade and travel assets. 
The Trump administration had requested $5.7 billion for the construction of new physical barriers on the border with Mexico, but eventually backed down. The bill did not reduce previously-approved appropriations for any border-security project.  
The final version of the bill passed the House 300 to 128. Riggleman joined 86 other Republicans in supporting the bill. Riggleman called Good's characterization of the bill "flatly untrue," adding that the bill was needed to prevent a government shutdown and that it was ultimately signed by the president.  
Most of the candidates' differences on policy follow a similar pattern: Good calls Riggleman insufficiently conservative, and Riggleman responds that Good does not understand the process, and it is Good who is straying from conservative positions.  
Good, for instance, criticized Riggleman for his participation in the House Climate Solutions Caucus, calling it "an extreme environmental group dominated by Democrats." 
Riggleman called that characterization "hilarious," adding that "Republicans should be leading the movement to protect the environment, we just want to use the free market."  
He cited President Theodore Roosevelt as an example of a Republican conservationist and explained his membership in the caucus – which is made up of 23 Republicans and 41 Democrats – as an opportunity to advocate for "free market solutions to environmental challenges." 
"Bob doesn't understand this is actually a caucus, a forum for debate," said Riggleman. "Bob doesn't understand Congress." 
Good also criticized $2.2 trillion CARES Act stimulus package passed in March in response to the economic impacts of the coronavirus epidemic. While he agreed with the need for a stimulus bill in theory, he said the legislation had a "shotgun nature to it," adding that relief programs should have been more specifically targeted to those who lost their jobs as a result of the pandemic.  
He expressed concern that the bill had the potential to incentive laid-off workers to remain unemployed and criticized the fact that the bill was passed by voice vote, instead of by roll call.  
"I have not heard any of those issues raised by our congressman," Good said.  
Riggleman responded later: "I'm very proud of the CARES Act, it's not a shotgun approach," adding that "obviously no bill is perfect, but all the other Republicans voted for it, and thank goodness we did it."  
Ultimately, Riggleman and Good each claim to be more loyal to President Trump, the Republican Party and conservative politics more generally.   
"This is a district that in large part is aligned with Freedom Caucus, bright-red conservative values," said Good. "Republicans lose when we run purple, we win when we run bright red." 
Riggleman is, however, a member of the House Freedom Caucus. The Caucus' political action committee, the House Freedom Fund, has made several donations to his campaign. 
The Heritage Foundation, a conservative thinktank, gives Riggleman a 100% "lifetime score" for his voting record. Good countered this by pointing to several right-wing websites that give Riggleman a much lower score.  
Good said that Riggleman was insufficiently supportive of President Trump. "He's never been a strong Trump supporter … until this challenge. He's now become the biggest Trump supporter ever," Good said of Riggleman.  
Good criticized a 2016 tweet from Riggleman that indicated that Riggleman would not vote for Trump in that year's election; the tweet, since deleted, also called the future president a "buffoon."  
Riggleman confirmed the content of the tweet and said of his characterization of Trump: "He's called me worse." In response to Good's criticism, Riggleman called Good a "Never-Trumper from the beginning," and said: "I think what you need to ask is why Bob has so many issues with the president." 
Riggleman was endorsed by Trump in December 2019, after Good had announced his challenge for nomination. Good's former boss and ardent Trump supporter, Liberty University President Jerry Falwell Jr., also endorsed Riggleman after Good announced his candidacy.  
Good has the endorsement of a former Republican 5th District congressman, Virgil Goode, and conservative religious figures including Jerry Boykin, of the Family Research Council, E.W. Jackson, a socially conservative pastor and political candidate, and Jerry Falwell Jr.'s brother, Jonathan Falwell, who is a Baptist pastor in Lynchburg.  
Controversy over nominating convention
Originally scheduled for April 25, the Republican convention to nominate a candidate for the 5th District House seat has been postponed until at least late May due to the ongoing public health crisis.  
In November 2019 the district committee chose the convention model, which means that party members from throughout the district will gather and choose – among other positions – a nominee for the 5th District congressional seat.  
Bob Good said that he strongly supports the convention model, which he said would "level the playing field so that the challenger would have more of an opportunity," adding that the model "reduces the financial impact [of a primary campaign] and the tremendous advantage [Denver Riggleman] has as an incumbent." 
Riggleman said that, in light of the pandemic, the committee should have explored the possibility of a primary, which he said would give more district Republicans a chance to weigh in, especially through absentee balloting by mail. 
Riggleman claimed he asked the district committee to join a lawsuit against the Virginia Election Commission to give the party the option of a primary.  
Good said that Riggleman threatened legal action against the committee itself to "force" a primary. Riggleman denied threatening to sue the committee.  
Delegates who support Good's candidacy were listed as plaintiffs on a draft lawsuit sent to several known Riggleman supporters on April 12.  
The draft document, the existence of which was confirmed by Good, Riggleman and Fauquier County Republican Chair Greg Schumacher, threatened legal action if the district committee voted to cancel the convention in favor of another nominating method.  
Schumacher, who emphasized that he was speaking personally and not on behalf of the county committee, said that his name was among those listed as potential defendants, calling the threatened lawsuit "a very vile action that has no place in our democratic process."  
Good said he had heard about the document after the fact, and that he and his campaign had no involvement in drafting the document. "That said, I absolutely understand why some delegates would say, 'If you're going to take away our rights as delegates, we're going to sue to protect those rights,'" he added.  
"How hypocritical is it for [the Riggleman campaign] to feign outrage … when Riggleman set out initially to sue the committee to force a primary," Good said.