Heather Sutphin is running for a Ward 1 seat on the Warrenton Town Council, but she – like others trying to make their case to voters before the May elections – is dealing with a new barrier between herself and potential voters: COVID-19.
"I have these beautiful door hangers to give out," she said. "But I can't go door to door. We would be touching every flyer and leaving it for people. That's not safe."
For now, Sutphin is reaching out to voters through her Friends of Heather Sutphin Facebook page. "I have live feed discussions every week," she said.
Sutphin has more reason than most to be cautious.
Her husband Wendall, 62, had a lung transplant in October 2019; that puts him in the high-risk category if he were to be infected with the novel coronavirus. The disease has nearly 800 confirmed cases in Virginia so far (as of Saturday). Six of those cases have been confirmed in Fauquier County.
The precautions that Sutphin is taking now are reminiscent of when her husband first returned from the hospital after his transplant. "I disinfected everything," she remembered.
She has been working from home for weeks now. Sutphin works at Peak Roofing Contractors in Warrenton, where she handles marketing and advertising. Fortunately, her work can be done remotely. "My boss, Dawn Riggleman Smith, told us we were all family and she wanted us to be safe."
Sutphin reported that only about five employees are going into the office right now. "It's a big building and everyone is in a different part of the building. Everything has been cleaned," she said, and added that clients are being taken care of over the phone.
Limited exposure
Sutphin said she is severely restricting her interactions with other people. "I only go out when I really need to," she said.
When she does venture out for groceries, she wears a mask – left over from when her husband came home from the hospital after his transplant – a hat and gloves. "The first time I did that everyone looked at me funny." Now, now so much. "The last time I went to the store I saw an old friend and he was concerned. 'Are you all right?' he wanted to know. I told him, 'I'm fine. I'm protecting myself. I'm protecting my husband.'"
When she returns from getting provisions, she takes her shoes off and leaves them on the porch. "I've read you can bring the virus in on your shoes, where it can live for a certain amount of time," she said.
Then she brings her groceries to the sink, throws out packaging she doesn't need and washes off the groceries.
She admitted, "It's a scary, very real thing."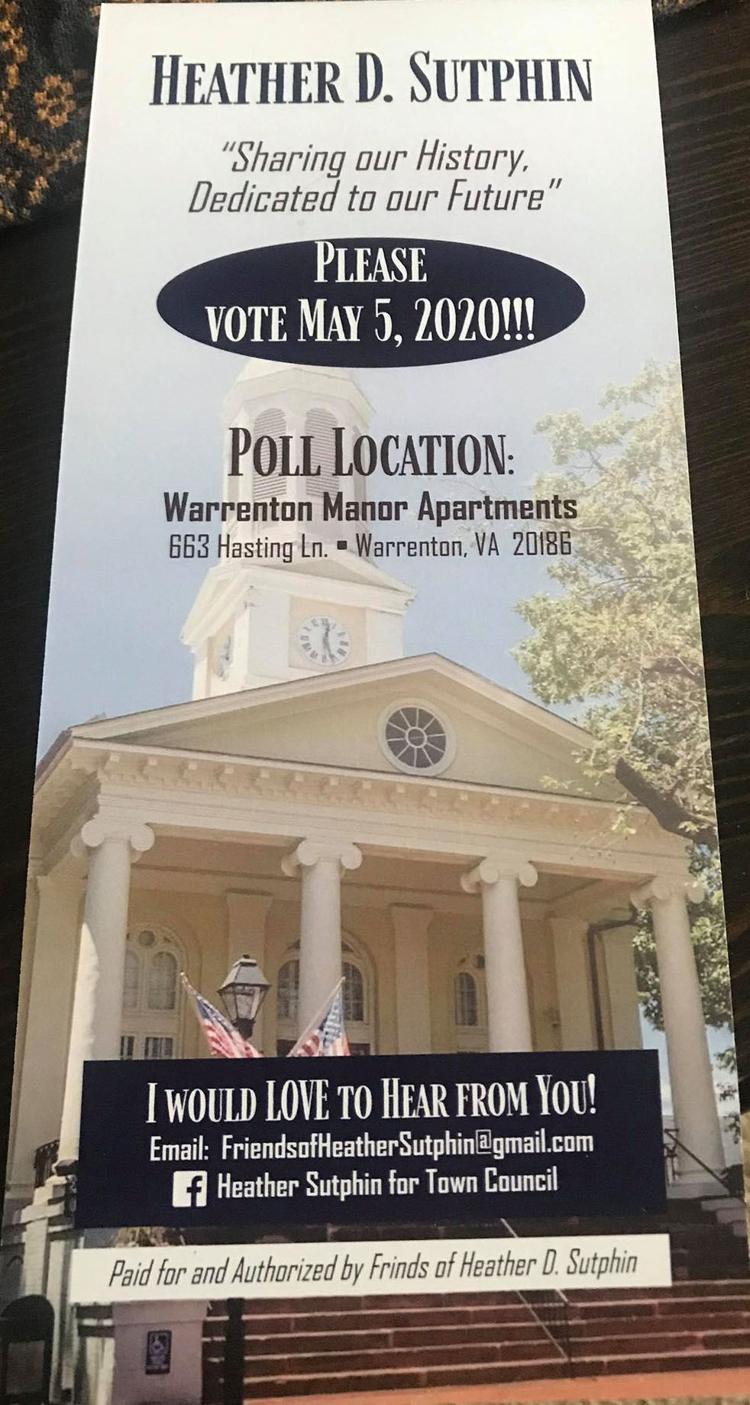 Sutphin said she believes a lot of people haven't taken the COVID-19 crisis as seriously as they should, but now that Fauquier County has several cases, perhaps that will change.
She said she thinks the schools are doing a great job, but she feels bad for the children who did not get to say goodbye to their teachers and classmates when schools suddenly were shut. "It's very tough on the students, but I applaud the schools. They are talking about trying to have some kind of graduation ceremony, to return to some sense of normalcy when this is over."
She added that she feels bad for the college students who had to leave school and come home  suddenly.
And of course, "This is affecting businesses, too. I have a friend who is in the DJ business. Everyone is canceling or postponing weddings and parties. There are a multitude of people this is affecting."
Sutphin said that the isolation is difficult for her. "My husband stays home a lot anyway, but I'm the social butterfly," she said, and added that daily walks keep her sane. "There are a few people out walking their dogs, but mostly, no one is out" in her neighborhood.
She puts her considerable pent-up energy to work completing projects around the house. "I pulled out all the furniture in the living room and painted. I pulled down the curtains, cleaned the windows, the windowsills and the baseboards. Just like my grandmother used to do every spring and fall."
She admitted, though, she may be running out of projects.
Sutphin said that COVID-19 is something "our generation has never seen before. My granddaughter will be reading about this time in her history books, years from now."
Reach Robin Earl at rearl@fauquier.com