The Warrenton Town Council unanimously approved a resolution Tuesday night that would allow businesses to expand their footprint out onto certain streets and sidewalks. The plan would allow customers to maintain social distancing as the region takes its first tentative steps toward reopening businesses. Gov. Ralph Northam is relaxing some COVID-19 restrictions on businesses beginning Friday, May 15.
To allow businesses the flexibility to open safely, the town council's resolution relaxes certain zoning and sign ordinances.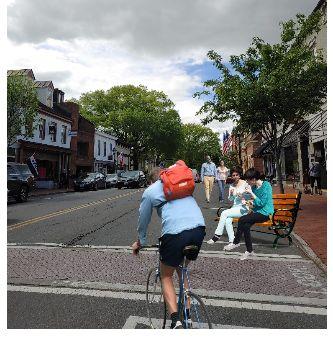 The presentation on "Roll Out Warrenton" read, "The fundamental basis of this program is to promote businesses to move outside and create additional space for their customers (provide greater opportunity for social distancing); provide opportunities for additional temporary signage; and enhance the sense of community by encouraging a walking atmosphere."
Town Manager Brandie Schaeffer said that for instance, the town could close off part of Culpeper Street – between Hotel Street and Main Street – creating a space for nearby restaurants to have outside seating for their customers. 1st or 2nd streets, between Main Street and the municipal lots behind, are other locations that could work.
Schaeffer said that businesses on Broadview Avenue could be allowed to expand into parking lots, on sidewalks and into open spaces that are within their property lines. Businesses will be permitted additional signage as well, on a temporary basis.
She said that decisions would have to be made on a case by case basis with individual business owners. She said the town was eager to allow business owners "the best opportunity to be creative."
Schaeffer said the plan would also help businesses obtain the resources they need as they consider options. The town could assist by providing temporary traffic-blocking devices, which the department of Public Works already has. Schaeffer said the town could also help with marketing through social media and the town website. Community Development Director Frank Cassidy can be tapped as a resource as well, said Schaeffer.
The last part of the plan is to "monitor and be flexible!"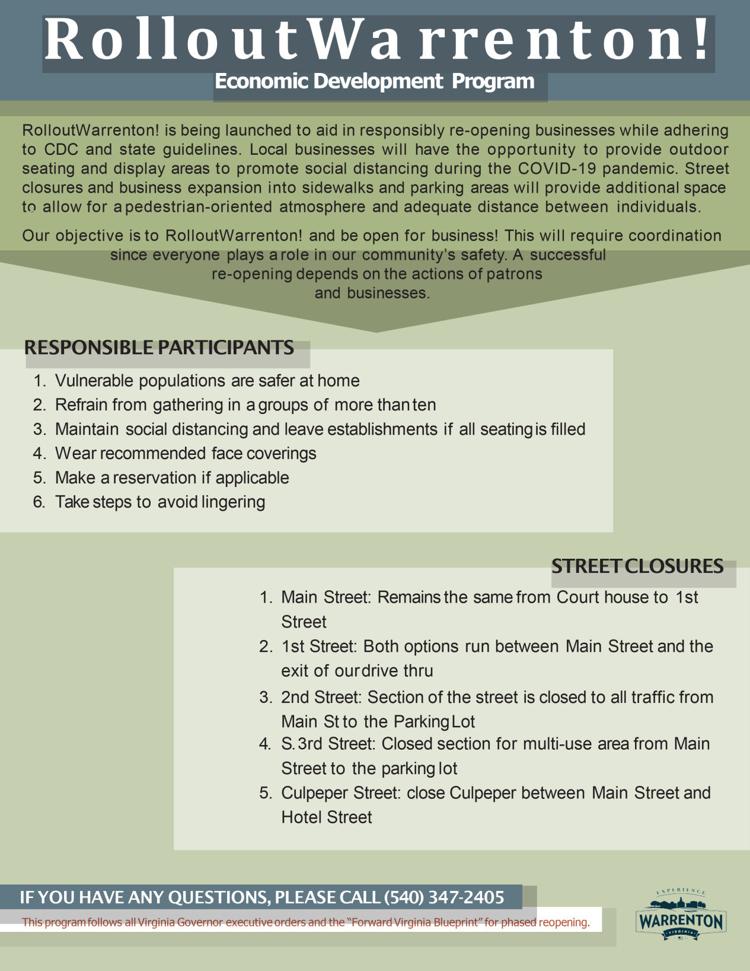 She said that the business owners that she has spoken to about the idea are enthusiastic. "It's been well received by the business community." Some businesses are not quite ready to reopen, she said, but others are "ready to open in ways that are safe."
Answering a question from Town Councilman Jerry Wood (Ward 1) about associated costs to the town, Schaeffer said that only staff time will be needed; there will be no other costs.
Mayor Carter Nevill said that the Roll Out Warrenton concept is the least costly of anything that has been discussed. "It's the fastest, quickest, cheapest." He also said that a representative of a church on Main Street said they might be willing to allow their courtyard to be set up for outdoor dining.
Town Council member Renard Carlos (at large) said he has spoken to business owners about the plan. "I applaud the outside-the-box thinking. Just to try something new; it's a great idea. Business owners are ecstatic."
Schaeffer admitted that "For most of the town, there will be straightforward solutions. Main Street will be more complicated. At this time, we feel we can make it work. I will be heavily involved, as will [Mike Kochis, Warrenton Police] the chief and Frank [Cassidy].
"Safety is always our first priority. Questions are being worked through, details are being discussed. We're looking at it on a case by case basis."
She encouraged business owners, "If you are interested in doing something like this, give us a call."