"Awesome" is how Siri Gisselquist of Broad Run described a visit from Duncan, a chocolate Labrador, who Amy Fuentes brought to the Lord Fairfax Community College campus in Warrenton to mingle with students and staff recently.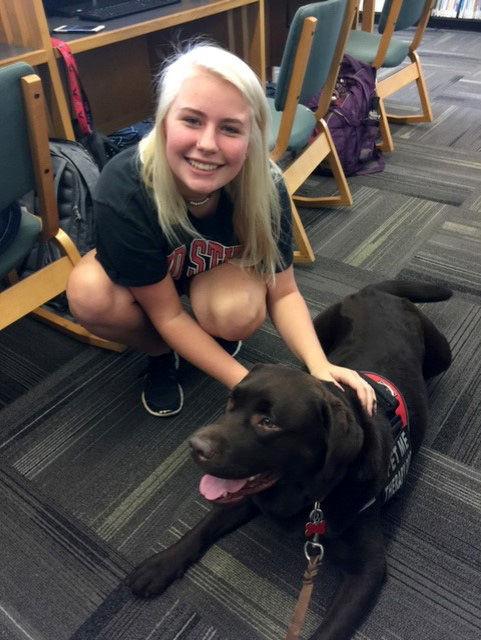 Her sister Lisa said "I really like it. If nothing else, it's 30 seconds of pure joy instead of stressing over homework. It's a fun break."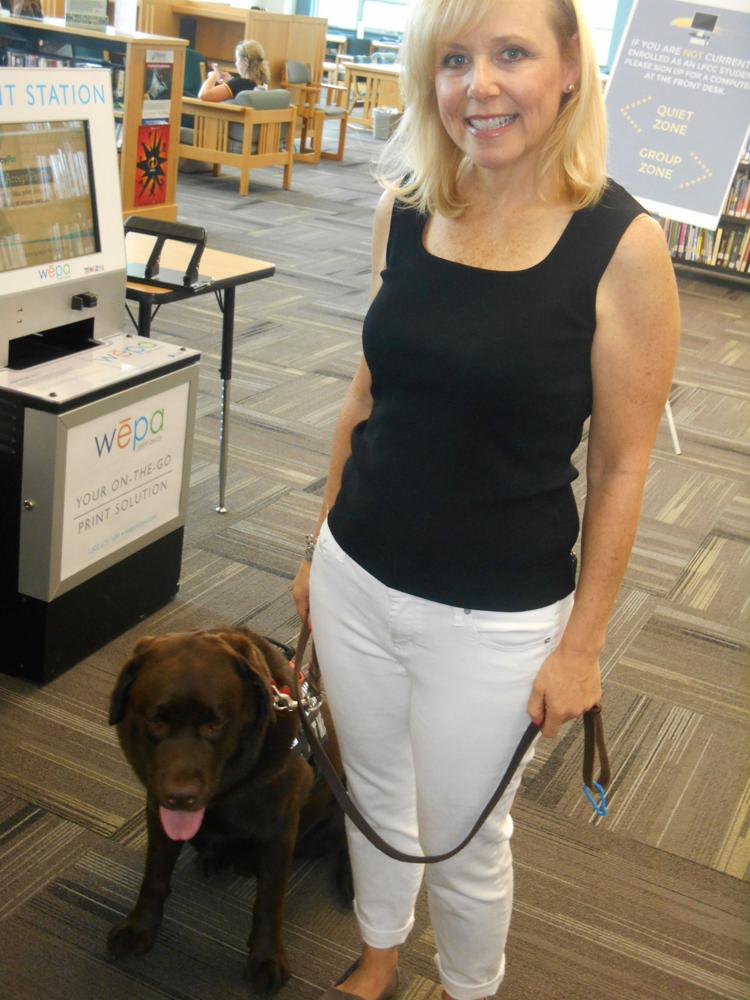 The sisters have two dogs and nine rabbits at home. They were eating lunch at a table in the student center when Duncan and Fuentes stopped at their table. Fuentes led him from table to table so that anyone who wanted to could pet him. She also took him to the library and the main lobby, where he rolled over at one point so that he could get a belly scratch from a passerby.
Therapy dogs are brought to the campus by volunteer handlers several times each month. The idea is to brighten the day of the people the dogs visit and relieve stress. It's an initiative of the college's student life office.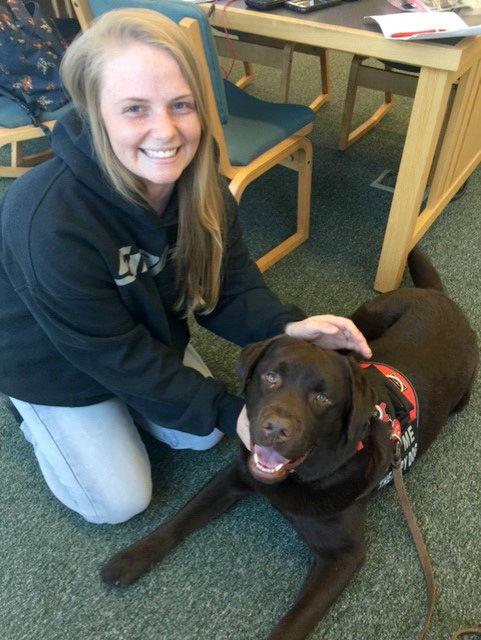 "Duncan really likes interacting with people," said Fuentes, who's also taken Duncan for visits to Warrenton firefighters at their station. "It's great to see people smile and I can't help but smile myself when I see him with them."
Duncan went through behavioral training so that he would obey commands and not jump or bark at people, nip them or grab food during visits. Fuentes is a member of the Alliance of Therapy Dogs, a nonprofit that tests and certifies therapy dogs for people in hospitals, hospice care, nursing homes, schools and libraries.
The training to be a therapy dog doesn't involve learning tricks, but Fuentes is training Duncan to close doors behind him at home.
At 80 pounds, Duncan is a big dog, so he isn't taken to nursing homes.
"He's so big he wouldn't be allowed on a bed," Fuentes said.
Fuentes learned about the opportunity to bring Duncan to the college through someone she knows who works there.
Duncan, 3 and a half years old, is always on a leash held by Fuentes when she takes him to the college monthly. He wears a vest that says "Therapy Dog, Pet Me."
"My payment is seeing the smiles on people's faces when they see and pet Duncan," she said.
Reach James Ivancic at jivancic@fauquier.com