As part of the Vietnam War Veterans Recognition Act of 2017, March 29 was designated as National Vietnam Veterans Memorial Day; veterans groups across the country are conducting events to honor those who served in Vietnam.  
Locally, on Saturday, March 30, a "welcome home" prayer, 5K race, and other family-oriented activities will be held in Remington to show appreciation for Vietnam veterans (visit www.herosbridge.org for details).  
According to the 2017 act, 9 million men and women served on active duty in U.S. Armed Forces from Nov. 1, 1955, to May 15, 1975. This number includes "veterans who served in-country, in-theater or were stationed elsewhere during those 20 years." 
Hundreds of men and women from Fauquier County served during that time. Some returned wounded and two soldiers died there.  
Those who lived through those times – and especially those who served – know that the Vietnam War was controversial and unpopular. Their honorable service and sacrifices were not acknowledged until years after the war, with the dedication of the Vietnam Veterans Memorial in Washington, D.C. on Nov. 13, 1982. 
Even before work on the memorial started, there was controversy over the unconventional design of the memorial. The design competition, which garnered more than 2,000 entries, was won by Maya Yin Ling. Some felt that "The Wall" designed by Ling – consisting of two long, black granite walls listing the names of 58,320 service personnel who died in Vietnam – was not a sufficient tribute. 
A compromise was reached by commissioning a sculpture by Frederick E. "Rick" Hart (1943-1999), who had placed third in the original design competition. On Oct. 13, 1982, Hart's realistic sculpture of three soldiers, originally cast in clay, was approved by the U.S. Commission of Fine Arts for placement at the memorial. Hart immediately set to work to complete the work in bronze; it is known simply as "The Three Soldiers."  
The statue depicts the men as European American, African American and Hispanic – an honest representation of those who served. They appear to interact with each other, and with the wall. The statue was dedicated on Veterans Day 1984.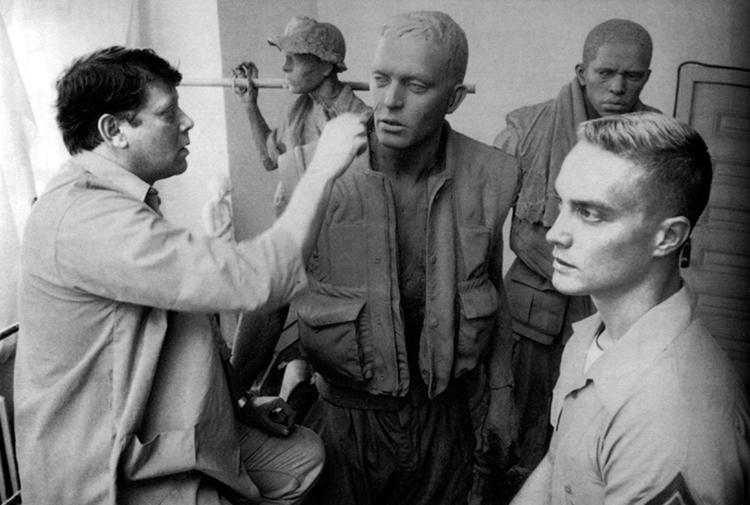 "I see the wall as a kind of ocean, a sea of sacrifice that is overwhelming and nearly incomprehensible in its sweep of names," Hart explained at the dedication ceremony. "I place these figures upon the shore of that sea, gazing upon it, standing vigil before it, reflecting the human face of it, the human heart." 
The wall is a memorial to those who died in Vietnam; "The Three Soldiers" honors those who returned. In 1993, a second statue was placed there – the Vietnam Women's Memorial, depicting three nurses caring for a wounded soldier, by sculptor Glenna Goodacre. 
The dedication of the Vietnam Veterans Memorial was a turning point – the first time people paid homage to those who fought in Vietnam. The healing had begun. 
Rick Hart came to the Washington, D.C. area as a child, and after studying at the University of South Carolina, the Corcoran School of Art and American University, he started his artistic career as a young apprentice to the master stonecutters who were working on the National Cathedral in Washington, D.C.  
In 1971, he was on his way to becoming a master stone carver, and entered a competition to design and create the west façade of the cathedral. He was selected, he and would spend the next three years developing the concept. For his work at the cathedral over 13 years, and other work commissioned, Hart achieved international recognition.  
In January 1987, Rick Hart and his wife, Lindy, purchased 135 acres off Hume Road in northern Fauquier. There they built Rick's studio and later "Chelsey," a large Georgian-style mansion. The broker handling the sale of the property was Chris Anthon of Rixeyville, a Vietnam veteran who had served as a Navy medic.  
The Fauquier Veterans Memorial 
Hart and Anthon became close friends, and it was Anthon who introduced Hart to the Fauquier Veterans Memorial Committee, formed in 1988 to build a memorial honoring all veterans from the county.  
Hart was more than willing to help with the project, and in addition to planning and fundraising, he donated the design and execution of the bronze railing that graces the front of the memorial on Hospital Hill in Warrenton. Inspiration for the design was a photograph he had seen in Time magazine depicting a line of soldiers marching in route-step in Iraq during Operation Desert Storm. 
Hart did not serve in the military, but he said that working with veterans on "The Three Soldiers" and the Fauquier Veterans Memorial was a moving experience. "Getting to know Vietnam veterans – and to understand the severity of their experience and the enormity of the sacrifice they made voluntarily – was just a colossal revelation to me," said Hart in "The Legacy of Frederick Hart." 
"The single most important thing was the brotherhood and love they shared with each other in a combat zone," Hart added. "They went into the war thinking they were fighting for their country, but they ended up fighting for each other." 
In July 1999 Hart came down with pneumonia, and two days before his death on Aug. 13, he was diagnosed with lung cancer that had spread throughout his body. Although not a military veteran himself, he will long be remembered by those who served in Vietnam as a brother-in-arms who understood what they had endured.