Given a choice, all football coaches would say they'd rather be a good second half football team, even if that comes with throwing in a lousy first half sometimes.
Kettle Run won that way last Friday night.
The Cougars' offense was about as messy as a child's scribble in the first half, bungling numerous plays before turning in an almost transcendent second half in beating Brentsville, 35-14.
"Some teams are first half teams. Some are no half teams. Some are both half teams. We want to start to get that to a whole game," said Kettle Run coach Charlie Porterfield.
Down 14-7 at halftime, the Cougars overcame their two horrible first half turnovers and a monumental defensive lapse with a glorious 28-0 performance to turn a close game into a comfortable win over one of their closest rivals.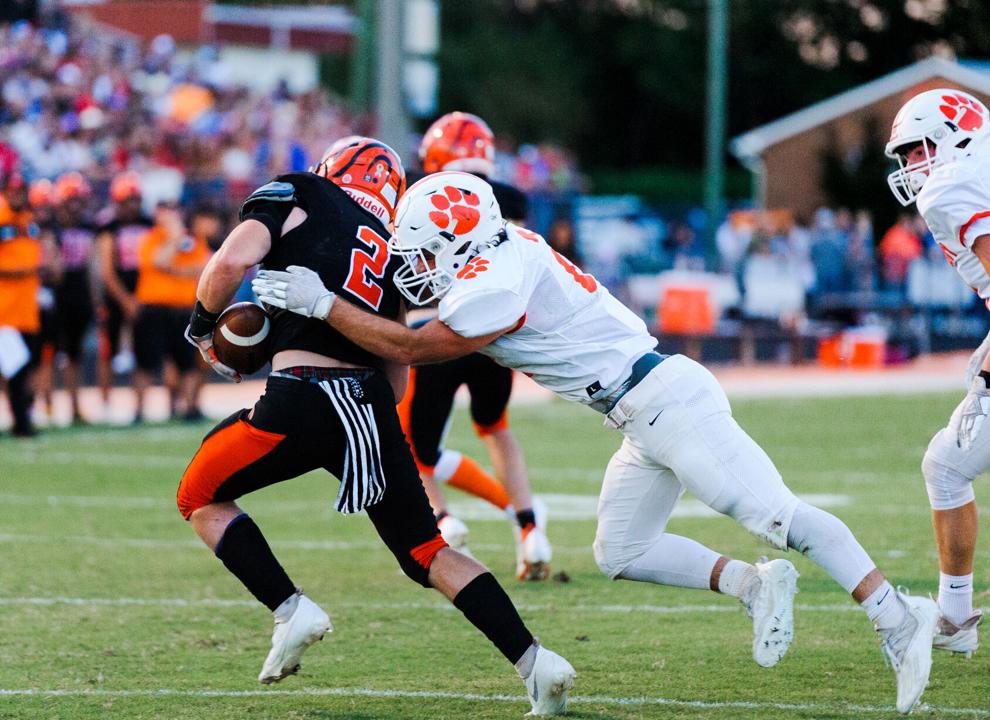 Kettle Run quarterback Beau Lang was at the forefront of his team's highs and lows, with two painful turnovers as he returned to play at the school he transferred from. Lang had the attention of the crowd. One student displayed a sign that said "Beau Lang Sleeps With a Night Light."
"It was a big game for him being back at Brentsville. It was nice to be able to shrug off two big mistakes. He showed a ton of leadership and poise and maturity," said Porterfield
Lang completed 8-of-18 for 145 yards and three touchdowns, and ran 36 yards for a TD.
The game began with both teams hammering away at each other with hard defense and trading early turnovers. Abram Chumley recovered a fumble for Kettle Run to end Brentsville's first series and create great field position on the Tigers' 35. 
But on third down Lang's pass in the left flat was picked off by William Johnson and returned almost 70 yards to the Kettle Run 10. 
"We're still working out some timing things," Porterfield said about that passing mistake.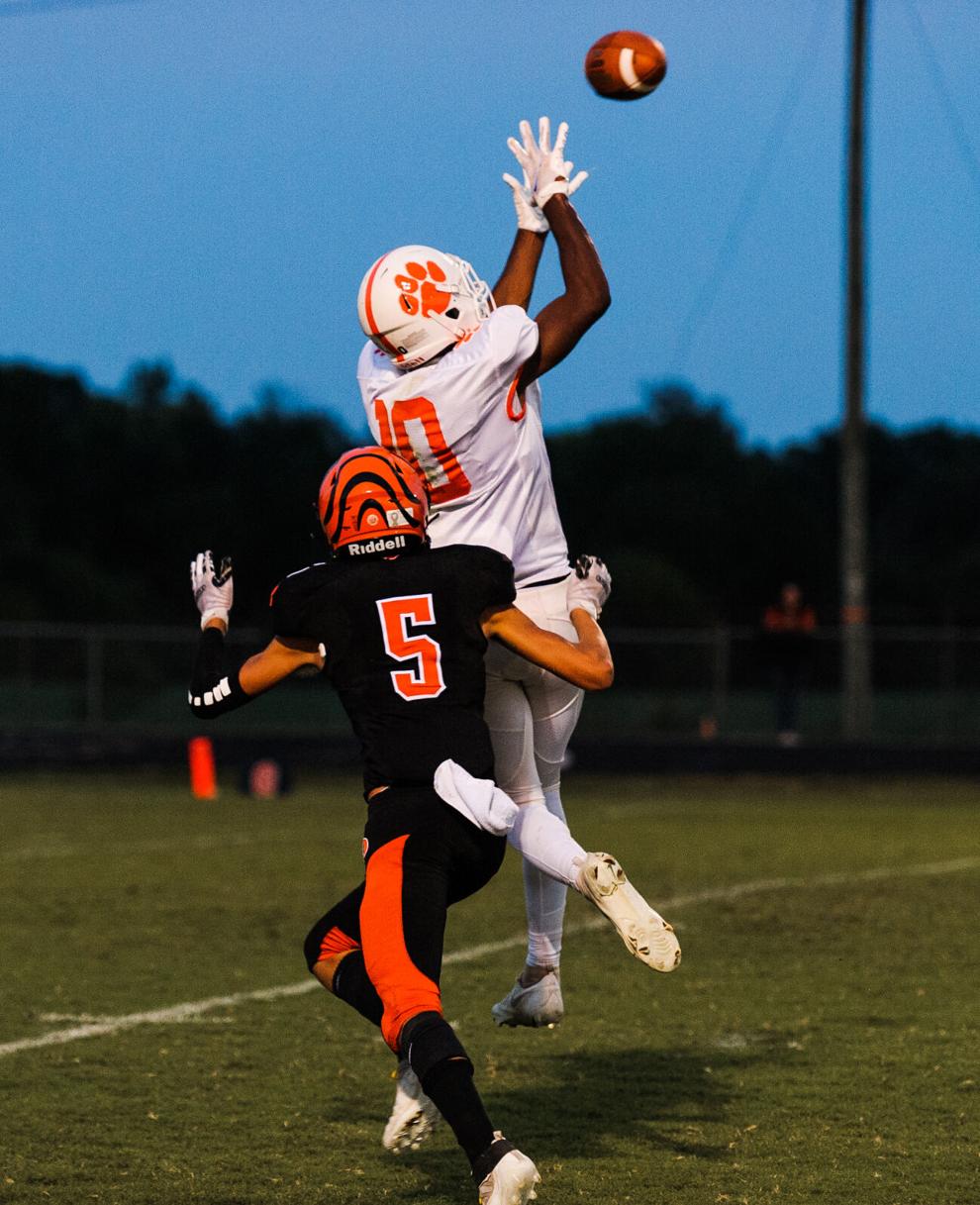 Consecutive runs by Bryce Johnson pushed the ball back to the 9, before Alexander reached the 1-yard line on a 8-yard run. On fourth down, the Tigers scored on Jackson's 1-yard run to make it 6-0 with 7:08 after the kick was blocked.
Kettle Run responded with a five-play 52-yard drive to take a 7-6 lead on Lang's 28-yard pass to Andrew Strickland. The play was set up as a tailback screen and Strickland found a seam in the left flat and rolled in untouched.
Early in the second quarter, the Cougars reached Brentsville's 1 thanks to a 35-yard pass from Lang to Jacob Robinson. Lang almost scored on a first down run, then fumbled on second down, with Brentsville taking over at the 5.
After a late Kettle Run drive failed, Brentsville took over on its own 29 with 52 seconds left and promptly burned the Cougars with a 71-yard TD pass from Alexander to Jackson Schnetzler on a short crossing route. Jackson's two-point conversion run gave the Tigers a 14-7 halftime lead.
The second half was all about redemption, as the Cougars took control and snatched a winnable game from the talented Tigers.
After a 49-yard TD pass from Lang to Jordan Tapscott was nullified by a penalty, the Cougars eventually punted. With the Kettle Run defense stepping up, the Cougars got the ball back and scored quickly as Lang hit Peyton Mehaffey out of the backfield for an 11-yard TD pass, with Ella Slevin's kick tying it at 14-14 with 5:18 left in the third.
In the blink of an eye the Cougars stormed ahead as Brentsville quarterback Alexander fumbled in the open field on the first play of the ensuing drive off a hit by Sam Rodgers, with the ball scooped up by Mehaffey, who raced 27 yards for the go-ahead score. Slevin's kick put the Cougars up 21-14 with 5:01 left in the third.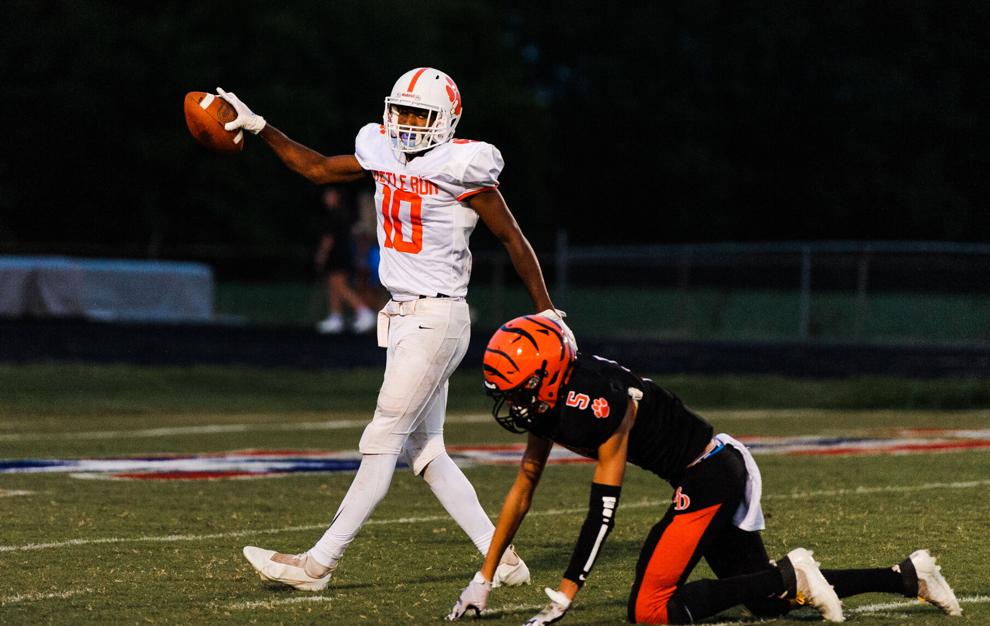 Kettle Run quickly forced another Brentsville three-and-out and made it 28-14 as Lang ran 35 yards for a TD around the left side.
Rodgers intercepted a pass on Brentsville's next possession. Although the ensuing drive ended with a Cougar fumble, Kettle Run scored on its first possession of the fourth quarter as Lang used excellent protection to hold the ball in the pocket and eventually find a wide-open Tapscott cutting across the front of the end zone for a 27-yard TD to make it 35-14.
The game ended without a traditional handshake between teams, which Porterfield said was school policy this year due to COVID. But the team sure enjoyed some fellowship of their own with a postgame roar.
"That was me congratulating the kids on how to respond," said Porterfield. "In my mind that was a make-or-break  moment in the season. Depending on how the game shook out, it determines how the rest of the season could go. Our challenge was find a way to win that game."
Porterfield was once again proud of his defense. "The defense plays well all the time. We misaligned one step in the wrong direction on their long TD and their kid was past. But after that they were not able to produce at all. Our defense knows they will wear you out," said Porterfield.
Offensively, Lang ran 13 times for 73 yards, Strickland gained 47 yards on seven carries and Mehaffey had 38 yards on 12 carries. Tapscott ran once for 22 yards on an end around and Logan Branham added 19 yards on six carries.
Jacob Robinson caught three passes for 63 yards; Tapscott caught two for 33 yards.