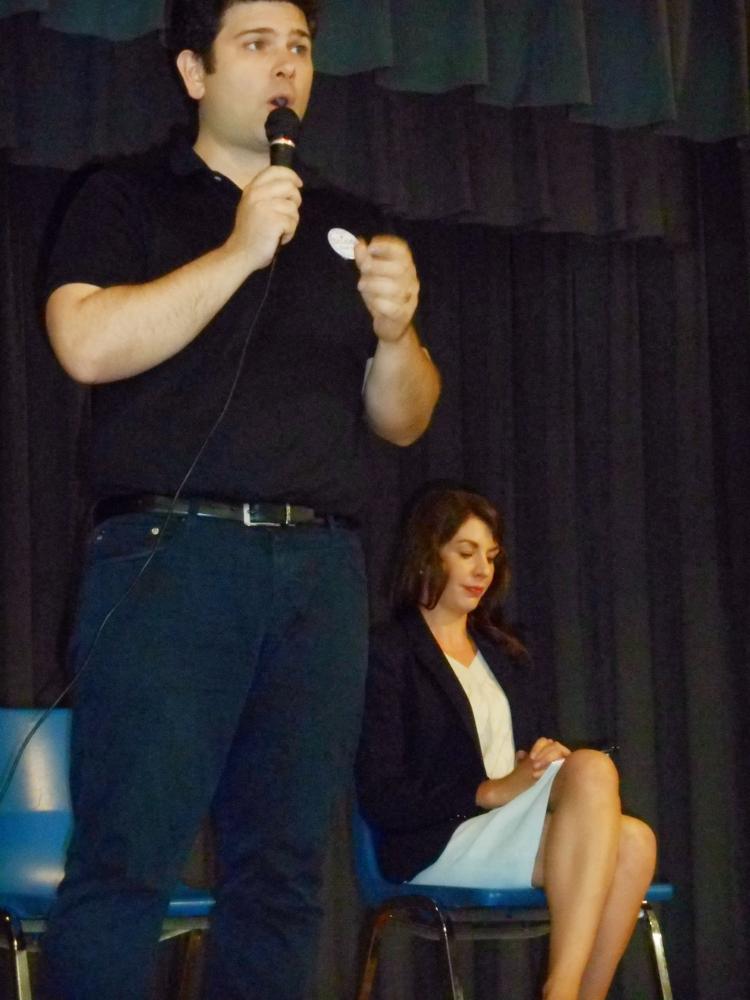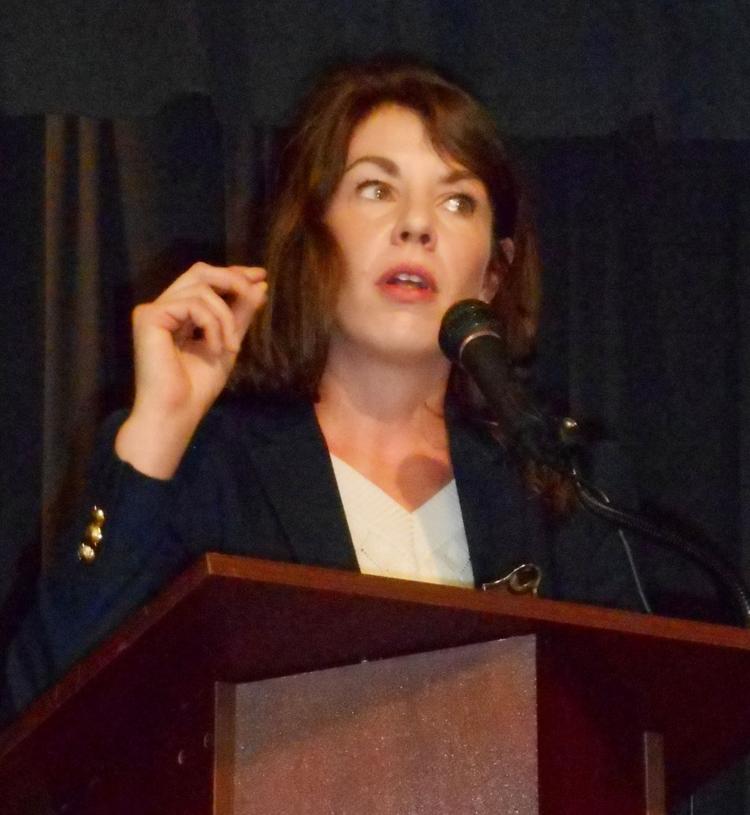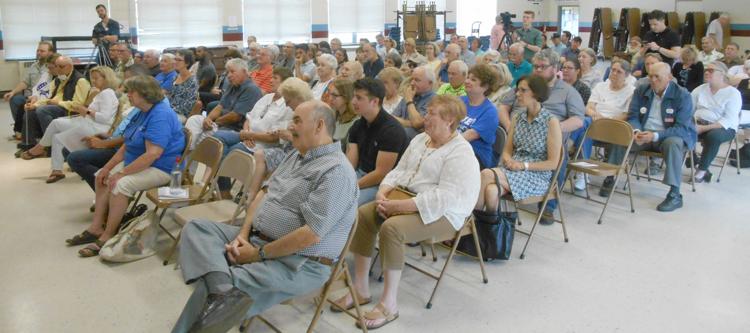 In Laura Galante and Tristan Shields, the Democratic Party has "two intelligent, warm-hearted, involved candidates" running for the 18th District Virginia House of Delegates seat, said Barbara Amster of Warrenton.
Amster was in the audience of about 90 people at the Warrenton Community Center on Saturday morning to hear the candidates field questions about their views.
Voters in the Democratic Primary on June 11 will decide who advances to the Nov. 5 general election against incumbent Michael Webert, a Republican.
The 18th District includes parts of Fauquier, Culpeper, and Warren counties and all of Rappahannock County. Webert is unopposed for the Republican nomination. He was first elected in 2011.
Shields is a media producer from Rixeyville who lost to Webert in 2017. Galante is a cybersecurity expert and resident of Marshall.
While Amster said both candidates impressed her, "I thought Laura Galante had more facts, figures and statistics. She's given a great deal of thought to the issues."
Amster said she thought Galante would be "well placed to take on and further" the issues of improved access to health care, better broadband access, and boosting the rural economy that she talked about.
Pat Reilly of Marshall thought the forum was "excellent." She was "leaning toward" Galante before Saturday but hearing her "convinced me. She was so well prepared. Tristan is also a good candidate. He is more emotional in his approach to issues."
Dave Goetz of Warrenton said, "I thought it was a good debate. The questions were relevant, and I thought the candidates represented themselves well."
The candidates were asked questions from Democratic Party members from the counties in the 18th District. Elizabeth Guzman, 31st District delegate, served as moderator and read the questions to the candidates. Guzman represents parts of Fauquier and Prince William counties.
Shields said pay inequities for public school teachers in smaller counties, transportation problems, and police and fire and rescue staffs currently "stretched thin" need to be addressed.
Democrats need to be "innovative, creative and strategic" to beat Republicans, whose campaigns are better funded, Shields asserted. "I can do that. I earned more votes than any Democratic candidate before in the 18th and I had a Green Party candidate running on my left" in 2017.
He painted the Republican Party as a party that gives tax breaks to the rich "and uses the working man as a piggy bank [to pay] for basic services."
Shields called for a focus on solving the district's transportation issues, such as addressing the safety issue at the Freemans Ford Road intersection with U.S. 29 in Remington and public transportation availability for non-drivers in retirement communities and elsewhere.
"We can have both innovation and preservation at the same time," without sacrificing either in addressing the district's needs, Shields said.
Galante referred to the shootings in Virginia Beach on Friday that left 12 people dead. The suspected shooter was killed after engaging police officers in a gun battle.
The incident "reminds us of what's at stake," she said.
Galante said farmers need help marketing what they produce and broadening their customer base. Galante noted that as a former 4-H member she's dedicating her "head, heart, hands and health" to public service.
Galante called for expansion of telemedicine to address the shortage of medical professionals in some rural counties. That would be aided by better broadband coverage, which would help students working on assignments at home and business people.
Shields said solving the broadband access problem is a matter of "political will" and failure to invest in infrastructure.
Galante said there's been a "technology agnostic" attitude in Richmond that believes "if there's satellite service then the job is done." The goal should be broader and better service by providers aside from big players such as Verizon and Comcast, she said. That would be enabled by more fiber in the ground to bring service closer.
Asked about abortion rights, Galante noted that she is both a mother and a Catholic. She called for education, greater access to contraceptives and making it easier to adopt children.
Shields said he expects the Roe v. Wade Supreme Court decision enabling abortion will be overturned.
"Those of us in Richmond will be deciding whether it should be legal in Virginia," Shields said, placing himself among the decision makers in the state legislature.
He said that deciding whether or not to have an abortion was a horrible choice for anyone to have to make.
One of the questions posed to both candidates was how they'd address an expected Republican effort to tar all Democratic candidates with the scandals involving Gov. Ralph Northam, Lt. Gov. Justin Fairfax and Attorney General Mark Herring – all Democrats -- this year. Northam and Herring became embroiled in a blackface controversy while Fairfax was accused of sexual assault, which he's denied.
Galante said she will "keep the district the focus" and the issues of importance to its citizens. Shields said he stands by his earlier call for Northam to resign, even though a recent independent investigation couldn't determine just who was wearing blackface and in a Ku Klux Klan robe in photos on his medical school yearbook page.
Shields said Northam "missed an opportunity to address systemic racism in a real way" since January when he first apologized for the photos, then backtracked.
In answer to a question about how to address the opioid addiction issue, Shields said there's a need for more affordable treatment centers. While more should be done to curb abuse of opioids, any crackdown shouldn't make it difficult for legitimate use of opioids by those in pain, he added.
Galante applauded governmental lawsuits against opioid manufacturers. She said something also needs to be done to stop "the school to jail pipeline" involving young people caught up in drugs and then prosecuted. Decriminalizing marijuana possession is one option, she said. Galante also called for examining the "corporate prison system" – jails run by private companies with a profit motive.
The focus should be on putting fewer in prison rather than putting more in, Galante said.
Shields called for a return to pre-2008 Great Recession funding of education by the state in order to increase teacher pay and stem the number of teachers moving to better paying districts.
Galante said state lottery proceeds aren't fully going toward education and they should be.