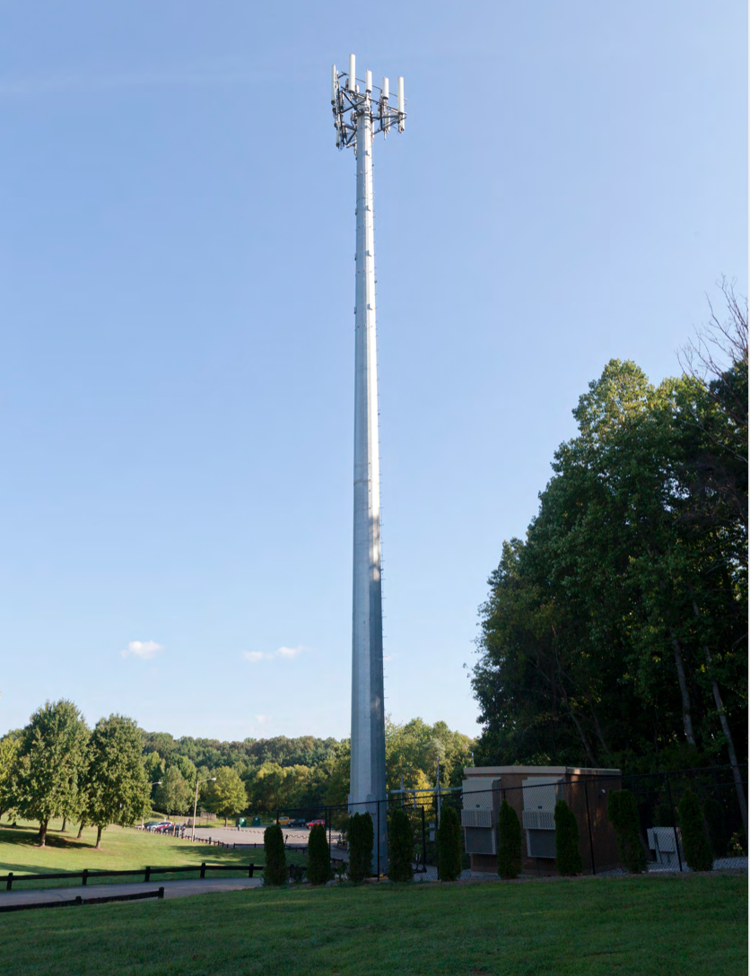 The Warrenton Town Council voted unanimously at its Tuesday evening meeting to allow Milestone Tower Limited Partnership to move ahead with the construction of a 115-foot monopole telecommunications tower at the corner of a baseball field at Fauquier High School, 705 Waterloo Road. The tower will be between baseball field fencing and an existing stand of trees. The council decision followed a thumbs up from the town planning commission last month.
Matthew Pennington, director of development of Milestone said that the next step is a site development plan and building permit review with the town, which can take between three and four months. He said, "Once we have all necessary approvals and permits, we'd coordinate a construction schedule with the school system. Assuming review timeframe holds and the schedule works for school system, we'd likely be looking at building the site in March and April, 2021."
The tower – which will use a "low-profile triangular mount" -- will house T-Mobile telecommunications equipment and could accommodate up to three other carriers. One of those spaces will be reserved for the town of Warrenton or Fauquier County emergency services.
Milestone Tower Limited Partnership will rent the space at FHS for a one-time fee of $25,000, which will be paid to the Fauquier County School Division, owner of the property. Pennington said, "We share 40% of every dollar we collect from carriers (i.e., the rent) with FCPS. We also pay a one-time $5,000 fee every time a new carrier collocates on the tower."
Milestone will pay a $20,000 security deposit to the school division before construction starts, in case the company abandons the tower and it needs to be removed.
There will be no lights on the tower, and it will be enclosed with an 8-foot fence with privacy slats to serve as a deterrent to climbing.
On Aug. 15, Milestone held a balloon test to visually represent how high the tower would be. (The balloon floated at 130 feet, since that was the applicant's original request.) On Aug. 20, the applicant held a virtual town hall, where members from the neighboring community raised concerns over the visual impact and potential harmful health impacts of the tower being located on school grounds. Similar comments were made during a public hearing before the town's planning commission.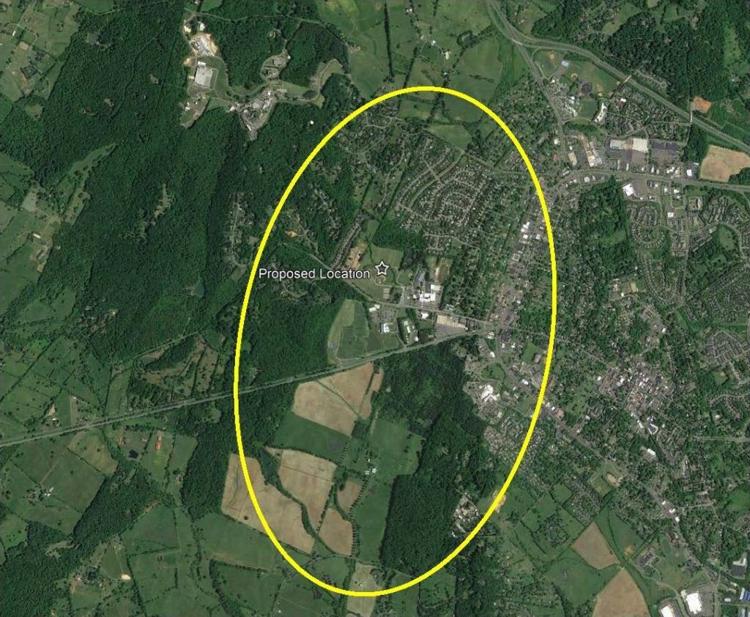 T-Mobile currently broadcasts a cellular signal from two locations near Fauquier High School; one tower is on Viewtree Mountain and a signal is also broadcast from the Warrenton water tower, according to the crowd-sourced cellular tower and coverage mapping service CellMapper. Verizon and AT&T also broadcast a signal from those two locations.
Pennington said the new tower "will definitely improve coverage for the houses behind and around Fauquier High, as well as at the WARF and residents along Waterloo."