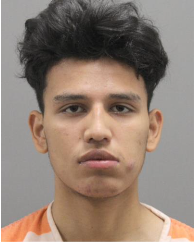 On Wednesday, May 26, Warrenton Police Department detectives made an arrest in the May 14 burglary at Drum & Strum Music at 102 Main Street, according to Officer Chai Fuller of the WPD.
Kevin Enrique Valle, 19, of Oxon Hill, Maryland, has been charged with destruction of property, conspiracy to commit a felony, burglary and grand larceny. Valle is currently being held without bond. Additional charges are pending further investigation.
When officers arrived at Drum & Strum in the early morning hours of May 14, they found that the front door glass had been shattered with a large rock. Fuller said that upon further investigation, it was confirmed that a gray, square cash box was taken.
Sgt. Steven Lewis of the Fauquier County Sheriff's Office added that in addition to cash, a banjo and a laptop were also taken from Drum & Strum.
The investigation is continuing. Anyone with any information or surveillance footage is asked to contact Det. Matt Hays at 540-347-1107, ext. 245, or mhays@warrentonva.gov.