The Fauquier County Board of Supervisors will convene Thursday, Oct. 14 for its monthly work session and regular meeting at the Warren Green Building in Warrenton. The work session begins at 11 a.m. and the regular meeting begins at 6:30 p.m.
Members of the public may address the board at the evening meeting during citizen's time or at one of the five public hearings scheduled for specific agenda items. The supervisors' full agenda can be found at agenda.fauquiercounty.gov.
Cigarette tax
Last year, the Virginia General Assembly expanded counties' ability to impose admission, meals and cigarette taxes. While cities and towns could implement these taxes previously through their governing bodies, counties previously were required to conduct a referendum.
On Thursday's agenda is a resolution that, if approved by supervisors, will impose a local tax of 40 cents per pack on the sale of cigarettes in the county beginning Jan. 1, 2022. The tax would be 2 cents per cigarette for packs of less than 20.
Earlier this year, County Administrator Paul McCulla recommended using revenue from the tax for "one-time needs or pay-as-you-go capital costs." Tentative projections from the county budget office estimate imposing the tax would create about $450,000 in net yearly tax revenue. A public hearing on the issue will be held Thursday evening.
Pay raises for county employees
This summer, supervisors approved a 5% pay raise for employees of the school division and a 3% raise for other county employees. At the time, supervisors promised to give those remaining county employees an additional 2% raise on Jan. 1, 2022. That second pay raise could now come more than two months early.
On Thursday's agenda is a resolution to grant that additional 2% pay raises for non-school county employees as of Oct. 16. The raises would cost $717,000 during the current fiscal year and be funded completely with funds left over from last year's budget.
The proposal comes as school division officials are confident that enrollment in public schools has rebounded significantly this year after its pandemic slump, according to a budget office report. The increased enrollment means that state funding for the school division, based in part on the number of students enrolled, will not suffer significantly this year compared to pre-pandemic levels. That, in turn, decreases the local burden on school funding, leaving more funds available to fund increased salaries for firefighters, EMTs, sheriff's deputies and other county employees.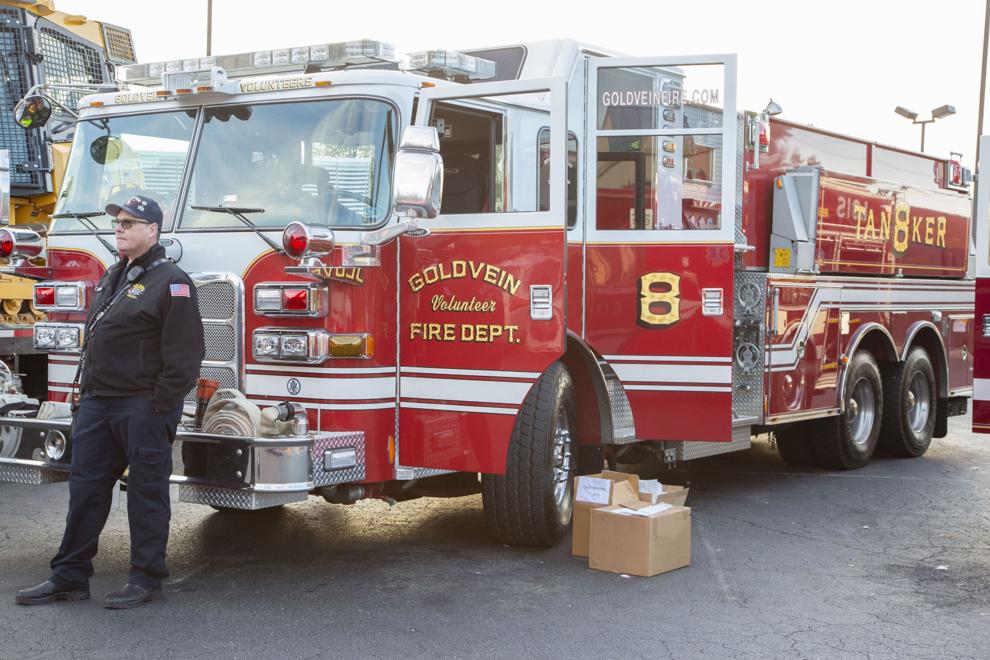 County wins federal fire and rescue grant
Last month, the Federal Emergency Management Agency awarded a $4.7 million grant to Fauquier County to hire 15 additional full-time fire and rescue technicians to staff the southern areas of the county. The additional personnel will enable 24/7 professional staffing at the Goldvein Volunteer Fire Department, according to a memo from the county budget office.
For southern Fauquier as a whole, which is served primarily by the Goldvein, Lois, Remington and Catlett stations, the new personnel will increase daytime coverage from one professional firefighter per 23 square miles to one per 19 square miles. Nighttime coverage will be even more greatly increased, from one professional per 38 square miles to one per 23 square miles.
The federal grant will cover the salaries and most other expenses for the 15 new staffers for three years. Beginning in fiscal year 2026, the new positions will come at a cost of $1.7 million per year to the county budget. A work session will be held Thursday to discuss in more detail current staffing needs and how the federal grant funds should be used.
Supervisors will also discuss a request from the Warrenton Volunteer Fire Company for the county to provide county-employed firefighters at the station. Warrenton currently has two firefighters employed by the town of Warrenton but is otherwise an all-volunteer company led by administrators elected by its volunteer members.
Zoning amendment for places of worship
After delaying a vote on the matter last month, supervisors will again consider Thursday a proposed amendment to the county's zoning ordinance addressing the approval process for "places of worship" of more than 10,000 square feet. Supervisors have said that the proposal is an effort to ensure the potential impacts of larger religious facilities on traffic, water and sewer resources, and neighboring properties are vetted in the same manner as non-religious facilities of the same scale.
Supervisors delayed voting last month after several Christian religious leaders spoke in opposition to the amendment, claiming the proposal was meant to "drive churches out of Fauquier County." County officials said that the opposition was based on misunderstandings about the proposal's intentions and vowed to reach out to local religious leaders before voting on the amendment.
Currently, "places of worship" – regardless of scale — constructed in the county must obtain a special zoning permit, which is reviewed and either approved or denied by a vote of the Fauquier County Board of Zoning Appeals. Members of that board are appointed by a circuit court judge and are not accountable to any elected officials. The zoning board has little latitude to impose conditions on an application beyond what is specifically laid out in the county's existing zoning laws or its comprehensive plan.
The proposed zoning amendment would keep that approval process the same for "places of worship" applications of a smaller scale. But for religious venues exceeding 10,000 square feet or 300 seats, the amendment would require applicants to obtain a special exception permit, which must undergo a review and vote by the Fauquier County Planning Commission (whose members are appointed by the board of supervisors) and county supervisors themselves.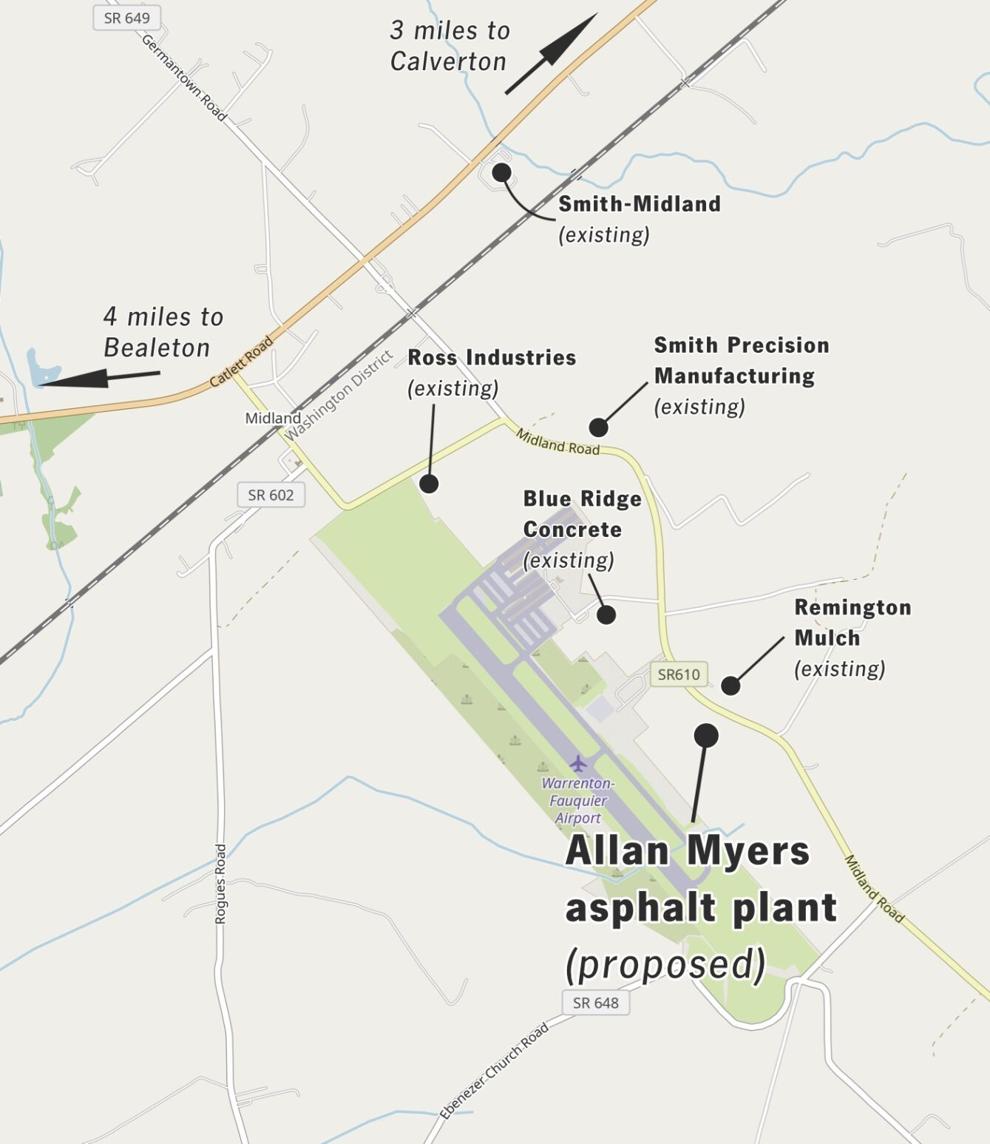 Asphalt plant in Midland
Last month, supervisors also voted to defer a decision on a proposed asphalt plant on an industrial-zoned property in the Midland Service District next to the Warrenton-Fauquier Airport.
The proposed plant has faced growing opposition from area residents over concerns that such a development would negatively impact the environment, depress property values and produce dangerous levels of truck traffic.
Although the site is already zoned for industrial use, the proposal by Allan Myers, a Pennsylvania-based paving company, still requires a special exception permit from county supervisors because the plant would involve manufacturing. A public hearing will be held Thursday evening on the issue.