The five members of the Fauquier County Board of Supervisors each named a 'citizen of the year' Dec. 9 at the board's last regular meeting of 2021.
---
John and Mary Beth Waldeck
During the pandemic, the community garden has provided food to anyone who needs it. John Waldeck told the story of a woman who said that the gift of food allowed her to afford her medications and groceries each month. "That's why we do this. That's why the community does this," said Waldeck. "Remington is a great community. They care for one another."
---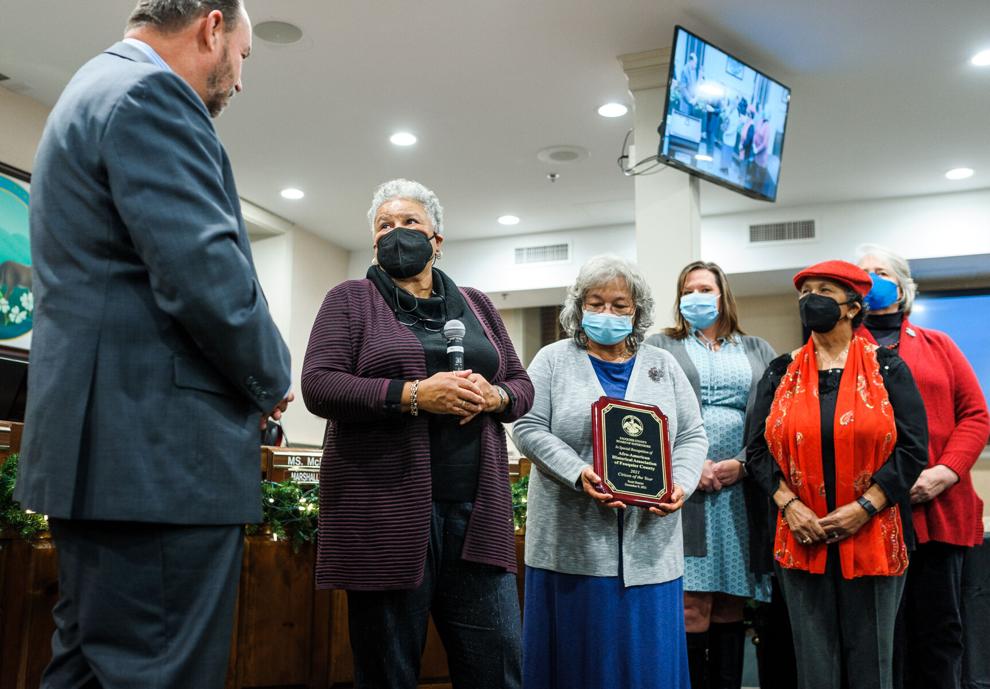 Afro-American Historical Association of Fauquier County
Scott District Supervisor Holder Trumbo chose the Afro-American Historical Association of Fauquier County, based in The Plains, as his district's citizen of the year. "You all really do preserve an amazing aspect of our community that might get lost otherwise," Trumbo told the organization's leaders.
The organization maintains a museum in The Plains dedicated to telling the stories of African Americans living in Fauquier County. The association also dedicates resources to researching and mapping family trees and property records along with sponsoring programs to help people understand and reconcile with their families' history.
The stories of Black people are an essential part of the community's shared history, said Karen White, the association's executive director. Documenting and sharing that history "is an opportunity to heal," she said. She noted, for instance, how the organization's research has spurred dialogues between descendants of slaveholders and the descendants of people enslaved in Fauquier County.
"I love this night, because it's all about recognizing what's good in our community," said Trumbo. "And as far as I'm concerned, you're a big part of what's good in our community."
---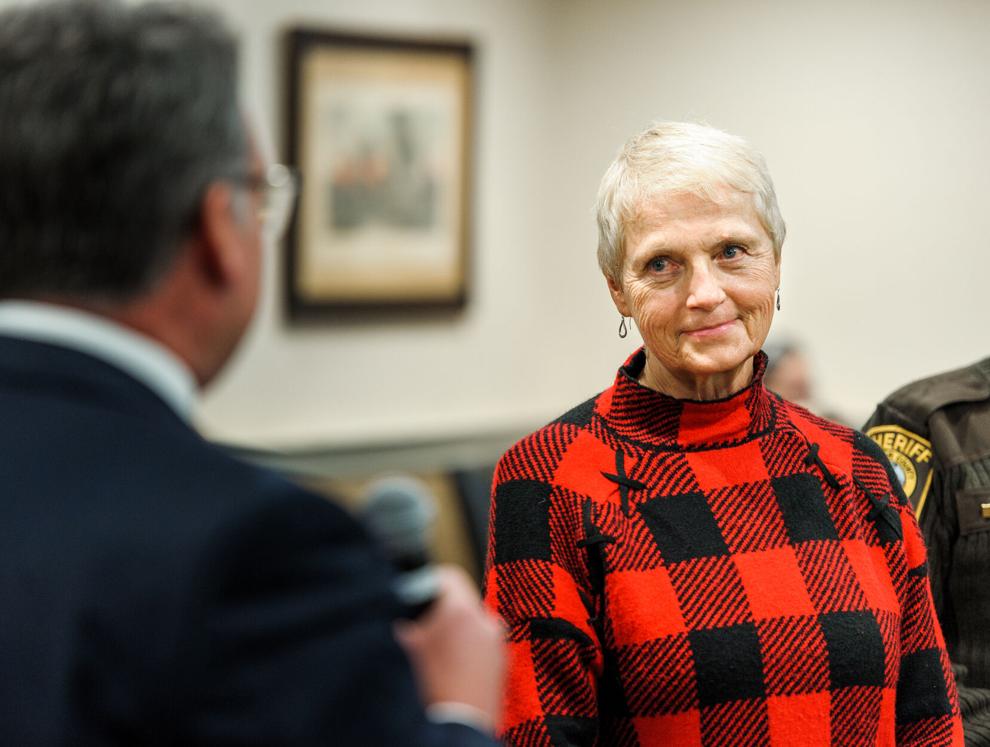 Betty Compton
Center District Supervisor Chris Granger chose Betty Compton, the Warrenton Police Department's volunteer coordinator, to receive his district's honor for her work "building bridges between our law enforcement community and our citizens."
Compton, for instance, helped write curriculum for the first Warrenton Community Police Academy held earlier this year. She also serves on the department's citizens' advisory committee formed last year and helps run graduation ceremonies, promotion ceremonies and coordinates volunteers who support police officers.
"I can't keep up with her," Warrenton Police Chief Mike Kochis smiled. "We bring something up that we're thinking about and next thing you know it's getting done. I can't thank you enough for everything you do."
---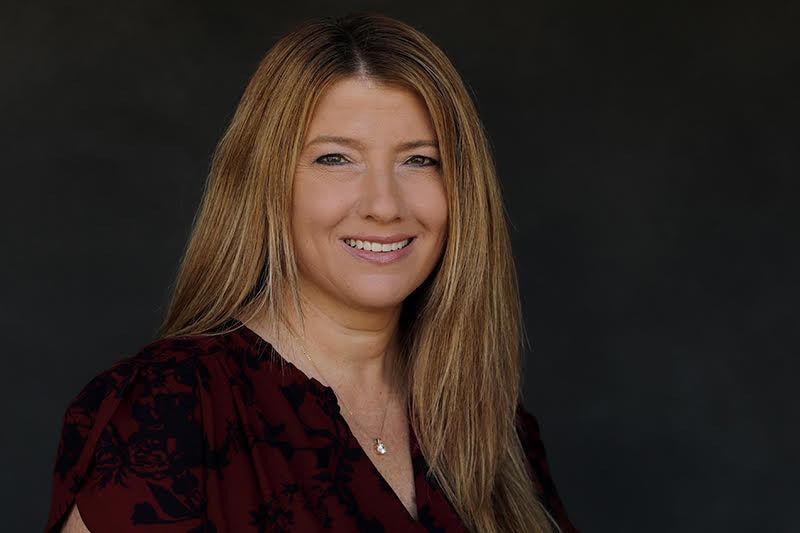 Molly Brooks
Molly Brooks, founder of the Hero's Bridge nonprofit, was Cedar Run District Supervisor Rick Gerhardt's choice for the honor. "She's done a remarkable job with this organization and she's helped so many elderly veterans in times of need," he said.
The organization works to provide services like home repairs, assistance with applying to government programs and mental health support to local military veterans. Recently, the organization announced it was coordinating government agencies and other nonprofits to fund construction of a "village" of "tiny homes" for low-income veterans.
"Looking back on the last five years and all the progress we have made in caring for our older veterans, it is clear to me that I was in the right place to start this movement," said Brooks, who could not be present at the board meeting but issued a written statement. "I believe a community can be judged by how it treats its children and elderly and Mr. Gerhardt and the entire board of supervisors have been so very supportive since day one."
---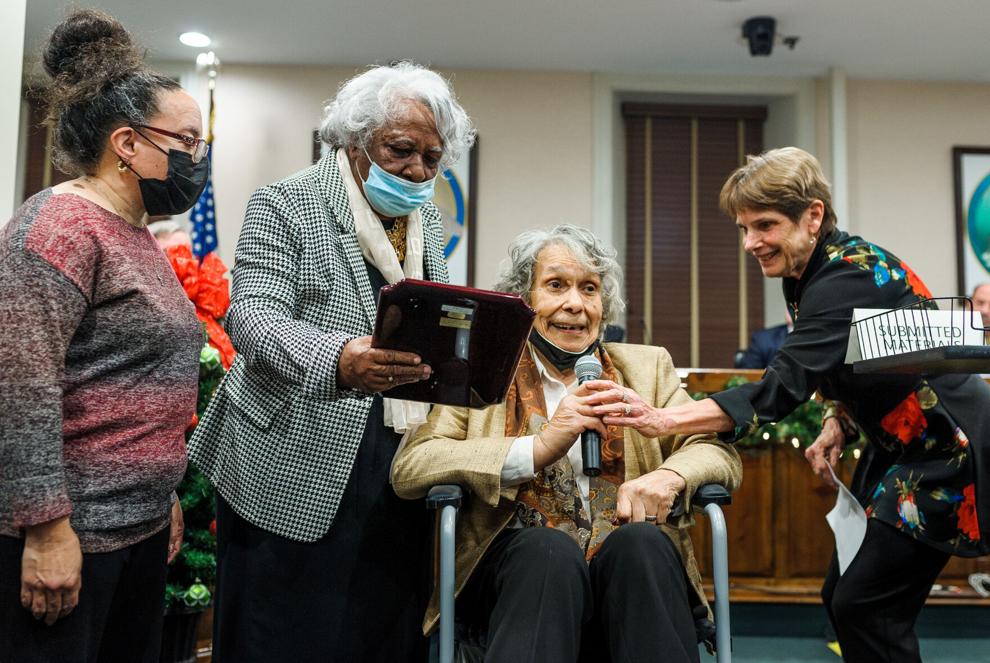 Franklin Sanker, Rachel Stevens and Adelean Harris
Three longtime leaders of Waterloo Baptist Church were given the honor by Marshall District Supervisors Mary Leigh McDaniel.
Franklin William Sanker, 95, Rachel Randolph Stevens, 89 and Adeline Coram Harris, 88, have each been involved in various leadership roles for decades. McDaniel praised their service to the community over the years and particularly the church's efforts to distribute meals during the pandemic.
Stevens, McDaniel noted with a smile, "is also an ace card player and makes the world's best caramel cake." Stevens responded, "I hope to continue another 89 years."