Sheryl Thorpe, a resident of the historic village of Bristersburg, was one of several speakers on Thursday to decry a proposal to build a 485-acre utility-scale solar energy facility on a farm just outside the village. "It feels like our southern Fauquier village is being exploited for an uncertain revenue stream," she told county supervisors.
At the urging of Supervisor Rick Gerhardt (Cedar Run District), Fauquier County supervisors chose to table the proposal for three months to address residents' concerns. "I take your words to heart and understand your positions," Gerhardt said at the conclusion of the public hearing, offering to speak to each of the concerned residents one-on-one.
Some speakers expressed concerns about the environmental impacts of such a large installation, especially its potential to increase runoff into the Chesapeake Bay watershed. Others opposed letting hundreds of acres of actively farmed land go out of production for 40 years, the estimated lifespan of the solar project.
Orlean resident Ben Cooper, for instance, spoke on behalf of the Fauquier County Farm Bureau. "Fauquier is trying to ensure a different and very rural future than our neighboring counties," said Cooper. "Keeping as much land in farming as possible is a central premise." Cooper explained that the organization was not opposed to solar energy. But, he said, "We want to make sure, if you're going to put in solar, you're not going to put it on farmland."
But there was a common thread through most speakers' comments: a feeling that this type of energy facility would never be entertained in more affluent parts of the county. "We want to stop southern Fauquier from becoming a dumping ground for what other people don't want in their backyards," said Forest Morgan, whose home backs up to the proposed installation.
"This is really … hard on the surrounding people," said another neighbor, Greg Morgan. "If this was your property, what would you do? I just ask you to vote your conscience. Please vote 'no.'"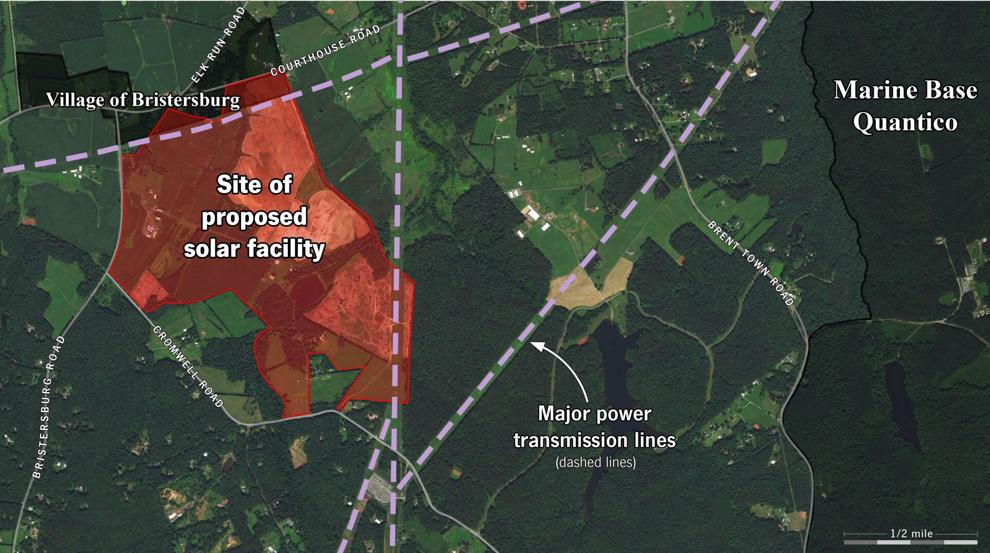 The proposed facility is the largest ever to be considered by supervisors. Just one utility-scale solar energy facility, a 20-megawatt installation located on 125 acres outside Remington, has been built in Fauquier County. The Bristersburg installation could generate up to 80 megawatts, according to the applicant's estimates.
The application is unique in two ways. First, it is the first proposal in Fauquier to be negotiated as a "solar siting agreement," a mechanism created by the General Assembly in 2020 to allow solar energy companies to offer additional payments to the county in addition to real estate and property taxes. As part of the agreement, the applicant company has signaled it is willing to give up development rights on the land after the solar panels are removed, meaning that the land could never be further developed or subdivided.
The applicant, Charlottesville-based Torch Clean Energy, estimates that the facility would generate about $8.2 million in property and real estate taxes over its lifespan. As part of the "solar siting agreement," the company also offered additional "capital payments" that it estimates would total $3.5 million over 40 years.
"We want to make a meaningful contribution to the county and show upfront what we're starting with," Torch representative Sam Gulland said at Thursday's public hearing.
But a report prepared by county planning staffers cautioned that the additional payments, which would be based on the actual output of the facility, may end up being less than predicted. The report said that more open space than initially estimated may be needed for drainage and stormwater management, meaning that site might feasibly host fewer panels — and therefore produce less electricity and less additional revenue for the county.
Even if supervisors had approved the "siting agreement" Thursday, supervisors must still grant a special exception permit — which requires more detailed site plans and engineering work — for the project to become a reality. Gerhardt explained Thursday that he wants to consider the "siting agreement" and the special exception application as a package. That way, he said, supervisors will have more complete information on which to base their ultimate decision.
Gullard told the Fauquier Times after the hearing that the company plans to move forward with the application. "We do plan to apply for a special exception on the project, and we're going to work with the county on the proper sequence. In the meantime, we will continue to reach out to project neighbors as we refine our plan," he said.