A proposed zoning amendment that would change the approval process for constructing larger religious venues is on hold for now after county supervisors postponed a vote until next month.
That decision has immediate implications for the regional Assemblies of God governing body; its proposal to build a 31,000-square-foot "multi-purpose worship center" will avoid scrutiny by the planning commission and board of supervisors. The church group had threatened to sue if the pending zoning language was applied to its application.
Fauquier supervisors faced an organized wall of opposition to the amendment at a public hearing Thursday evening, as local pastors took turns at the microphone to decry what they claimed is an effort to "chase out all the churches." About a dozen other pastors and their supporters cheered the speakers from a packed meeting room and from overflow spaces throughout the Warren Green Building.
In response, supervisors tried to lower the temperature of the debate, explaining the proposed language is an effort to ensure proposals of large religious venues are reviewed sufficiently to ensure those venues won't have an overly adverse impact on the safety and welfare of churchgoers or on the surrounding area – especially traffic safety. The proposed language is also less restrictive than that of some surrounding jurisdictions, they pointed out.
Currently, "places of worship" – regardless of scale — constructed in the county must obtain a special zoning permit, which is reviewed and either approved or denied by a vote of the Fauquier County Board of Zoning Appeals. Members of that board are appointed by a circuit court judge and are not accountable to any elected officials. The zoning board has little latitude to impose conditions on an application beyond what is specifically laid out in the county's existing zoning laws or its comprehensive plan.
The proposed zoning amendment would keep that approval process the same for "places of worship" applications of a smaller scale. But for religious venues exceeding 10,000 square feet or 300 seats, the amendment would require applicants to obtain a special exception permit, which must undergo a review and vote by the Fauquier County Planning Commission (whose members are appointed by the board of supervisors) and county supervisors themselves.
The Assemblies of God application to build a facility outside Warrenton is currently before the zoning appeals board. Supervisors emphasized Thursday that, even if they pass the new zoning language, they will exempt the current Assemblies of God application from the new requirements. The church group's representatives have said they feel "targeted" by the proposed zoning amendment.
The fate of the Assemblies of God application is scheduled to be decided Oct. 7 after zoning board members voted to defer a decision on the church group's special permit application until next month. Two of the board's four members voted to deny the application outright at their Sept. 2 meeting, citing what they described as "deficiencies" in the application as it pertains to land use, but that motion failed on a tie vote.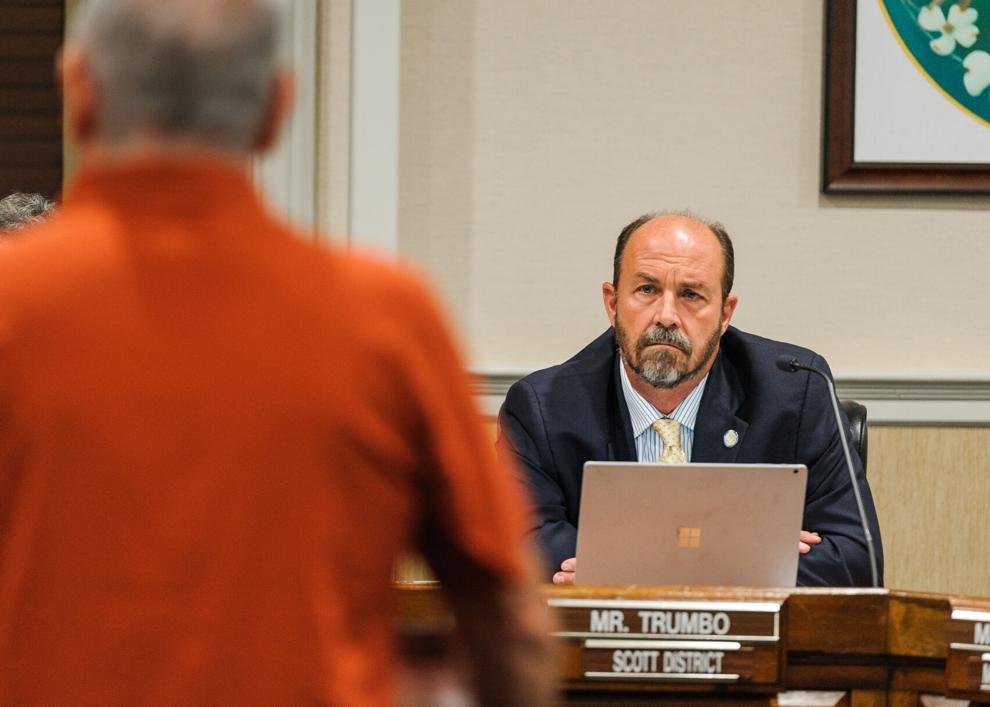 Supervisors strike conciliatory tone
Seven local Christian religious leaders spoke in opposition to the proposed amendment at the Sept. 9 public hearing. They cited fears circulating in emails among themselves recently that the supervisors were trying to "drive churches out [of Fauquier County]," as one Assemblies of God pastor told the board.
The pastors argued they should be exempt from a more rigorous zoning review process because they believe the process would be prohibitively expensive, taking money away from charitable work. "There are services that the churches provide that the county is obviously not providing," in the words of Pastor Dennis Di Mauro of Trinity Lutheran Church in Warrenton.
"Fauquier County Social Services calls us, they call me," he continued. "They say, 'Do you have some help for some guy, he's stuck in a hotel room and he needs to stay overnight.' I guess my question is: Who are they going to call now, if they chase out all the churches?"
The organized show of opposition stood in stark contrast to an Aug. 19 public hearing on the text amendment, when no one showed up to speak. After that hearing, planning commissioners voted unanimously to recommend that the board of supervisors approve the new zoning language.
Supervisors were visibly moved by the pastors' testimony and collectively decided after the Sept. 9 public hearing to postpone voting on the matter until they could talk about the issue with the concerned parties.
"It would make sense for some of us to sit down with some of the pastors and talk about it," said Supervisor Holder Trumbo (Scott District) at the conclusion of the public hearing, "and explain why we see a need [for a new zoning review process] and hear from them how it would impact them and see if we can come up with something that maybe works better for everyone involved here." He asked the pastors in the room to reach out to him directly.
Board Chairman Chris Granger (Center District), who is sponsoring the zoning amendment, agreed to postpone the vote but urged the public to consider the facts about how the zoning review process works in the county – and the purpose of that process.
"To clear the air – and again, I'm willing to talk to anybody out here about these concerns – the characterization that the special exception process is 24 months long and that it's astronomically expensive is factually incorrect," he said, addressing claims made by some of the pastors.
"The difference between the special permit process and the special exception process is – for a church – the application fee is $0 for a special permit, it's $0 for a special expectation because you're a nonprofit," he explained.
"About what's been insinuated tonight about the special exception process: When the special exception process doesn't work well is when a round peg shows up to go through a square hole," he said, referencing as an example an unsuccessful application to build a data center in a residential neighborhood.
"What special exception processes do is, when the application comes in, there's actually a planning commissioner and a supervisor who represent where that church – in this case — where that church is going to be located. The [board of zoning appeals] is an unelected body that is appointed by a circuit court judge. And they don't necessarily live in that magisterial district," emphasizing what he said is the importance of having local representation in deciding land-use matters.
Granger said the idea that there is "big difference between the two processes is simply not accurate." A special exception process for larger religious venues "would just make sure what this board and the planning commission is charged with – health, safety and welfare — and that that box is checked more rigorously than it is at the [zoning appeals board]."
He emphasized that supervisors are not accusing any past religious-venue applicant of any wrongdoing, adding that the problem was with the county's existing approval processes.
Supervisor Mary Leigh McDaniel (Marshall District) echoed Granger's statements. "I think there's a misconception here from the public about what we're trying to accomplish," she said. "It's primarily for safety." She cited as an example Bridge Community Church's need to hire sheriff's deputies on Sundays to direct traffic on U.S. 15/17/29 because there is an insufficient turn lane at the facility.
"The last thing any of us want is for anyone going to church to get injured, to get in an accident at church," McDaniel continued. "… That's our primary goal, here. [It] is: How can we enhance public safety?" She said that the supervisors simply don't feel that the zoning board's review process is robust enough to review potential impacts to public safety, especially for larger religious venues.
"I think at the end of the day, we can come up with something that everyone will be happy with."