A proposal for an asphalt plant in the Midland Service District remains in limbo after the Fauquier County Board of Supervisors decided Sept. 9 to defer a final vote until next month.
The proposed plant has faced growing opposition from area residents over concerns that such a development would negatively impact the environment, depress property values and produce dangerous levels of truck traffic. Supervisors decided to delay the vote to address some of these concerns.
Although the site is already zoned for industrial use, the proposal by Allan Myers, Inc., a Pennsylvania-based paving company, still requires a special exception permit because the plant would involve manufacturing.
When the Allan Myers application went before the county planning commission last month, commissioners unanimously recommended that it be denied, singling out the plant's potential effect on traffic and road safety as a primary concern. But other than a public comment submitted by the Piedmont Environmental Council, the plant faced no public resistance then.
In the days leading up to the Sept. 9 supervisors meeting, however, county officials were flooded with more than 600 emails and mailers from residents urging supervisors to deny Allan Myers a special exception permit.
At the morning session on Sept. 9, Supervisor Chris Granger (Center District) pointed out that the public may have some misconceptions about the zoning issues at hand. "I would probably categorize at least half of what was in that letter as extremely misleading," he said, referencing the pre-printed mailer that many residents sent in. The notion that the land was not properly zoned for an asphalt plant, he said, was particularly misleading. "That entire [Midland Road] corridor is industrially zoned land."
Scott District Supervisor Holder Trumbo said, "This is tough because we do want to be business-friendly and encourage growth in our service districts. But we've also had significant feedback from the public on their concerns about this — and most of them are concerns around traffic."
If constructed on the proposed Midland Road location, the asphalt plant would see trucks making hundreds of daily trips during peak season (June through October), according to a report by the Fauquier Department of Community Development. Residents have argued that area roads, particularly Midland Road and U.S. 28, wouldn't be able to support that much additional traffic.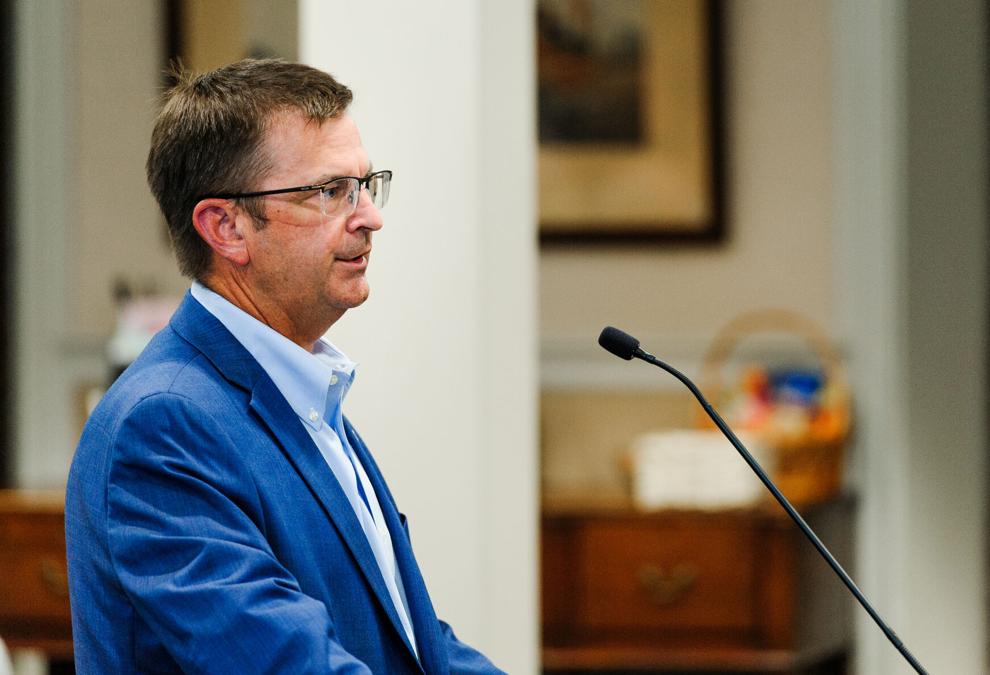 While expressing similar concerns, supervisors pointed out that the county has invested in an industrially zoned service district in Midland specifically to attract new businesses to the area. Instead of denying Allan Myers outright, they argued, the county should take some responsibility for the traffic situation.
"If we have any hope of this becoming an industrial park, that intersection has to be improved," Granger said, "Do we tell [Allan Myers] 'no,' then improve the intersection and put the welcome sign out?"
Granger specifically mentioned a potential improvement to the intersection of U.S. 28 and Germantown Road.
Greg Ashwell, a local attorney who is representing Allan Myers in the permitting process, said, "We would like to work with the county to ameliorate the traffic issue."
Before deciding to defer the vote, Trumbo addressed meeting attendees: "Change is inevitable to a certain extent; the question is how we manage that. This is not just farmland that can be farmland forever. Because it's zoned industrial, it's going to be [developed] at some point, and I hope folks just consider that."
 Supervisor Rick Gerhardt (Cedar Run District), whose district includes the proposed site, recused himself from the vote because he is on the board of Smith-Midland, Corp., which does business with Allan Myers.