The Fauquier County Board of Supervisors on Thursday, July 11, approved an amendment to the Rural Lands chapter of the county's comprehensive plan that had the broadest expressed public support.
But not everyone was on board with the rewrite. After a public hearing, Supervisors Mary Leigh McDaniel (Marshall), Rick Gerhardt (Cedar Run), and Holder Trumbo (Scott) voted in favor of "version A." Supervisors Chris Granger (Center) and Chris Butler (Lee) voted against it; they preferred "version B."
The chapter – last approved in the 1990s -- guides county officials in implementing the goals of managing growth, conservation, farmland preservation and quality of life. Both versions of the chapter rewrite also address ways to expand the agricultural economy.
Some who spoke during a public hearing before the vote expressed alarm; they saw either version – with language about nighttime lighting restrictions and county oversight of wells -- as an attempt to infringe on property rights. Similar concerns were also expressed on social media before the meeting.
"This is what happens when folks listen to misinformed media and special interest groups," said Granger.
"Folks who say we're cutting into something here don't understand the process," said Trumbo. "The world is not going to end tonight. These are guides, not regulations. They don't take anybody's rights away. Nobody is saying we're going to take your property."
The rewritten chapter does address groundwater protection. The county doesn't have a reservoir and is dependent on wells, many on privately owned land.
"When we have a well, we probably need to protect it. That's what this plan guides us to do," Trumbo said.
Supervisor Chairman Chris Butler (Lee) anticipated the wave of opposition and met it head-on.
Butler was passionate in defending his bona fides as a strong supporter of agriculture. Clearly irritated that anyone would accuse him of being unsympathetic to farmers, he said, "For years, I milked cows on our farm in southern Fauquier. The idea that I would do anything to hurt farmers is ridiculous… The sky is not falling."
He blamed social media for creating a needless panic and emphasized that county staff had been working for two years – in a transparent process – to provide the board with sensible options that would support agribusiness. He cited Messick's Farm Market in Bealeton and Moo Thru in Remington, claiming those businesses have allowed their owners to prosper.
In a brief conversation Saturday, Moo Thru owner Ken Smith said, "If it wasn't for this [ice cream shop and food truck], I wouldn't still be in dairy farming."
Version B of the rewritten plan, Butler said, makes these kinds of ventures easier to develop.
The case for rejecting a chapter rewrite
Attorney Chap Petersen, of Fairfax, who said he was representing a newly formed (within the previous 24 hours) group called Save Fauquier LLC, said there were "10 pages of restrictions on agricultural businesses" in the new language.
Petersen is a state senator who represents Fairfax County in the 34th District. He was one of 13 speakers during the public hearing.
Mary Elizabeth Wilkerson of Delaplane said the existing chapter on rural lands "has been successful" and felt that either of the new versions would "make drastic changes to the nature of our rural lands."
Mary Wilkerson of the Marshall District presented a petition to the board that she said had 19 signatures from people asking that no vote be taken. A separate online petition, which had been started at 4 p.m. Thursday, had 44 signatures by the time of the meeting, she said.
In favor of version A
Most of the speakers Thursday night said the board should enact version A.
Julie Bolthouse, the Piedmont Environmental Council's Fauquier field representative, agreed that the plan created in the 1990s needs updating. "The statistics are seriously out of date," she said. But, she added, version B "inserts a level of skepticism regarding our conservation program," whereas version A represents a "doubling down" of that effort; she urged supervisors to approve that one.
Pat Hupp of Midland was in favor of version A as well. She spoke of the need to control non-agricultural fill activities that she said threaten water supplies.
"We need to be fair and be good neighbors to each other," Hupp added.
Her neighbor, Jennifer Rainwater, said she saw the county's update as an attempt "to protect farmers who are doing the right things" while curbing the activities of those who don't.
Carter Wiley of The Plains said he saw version B as "an erosion of our rights" and said version A was in the best interest of the county.
Hope Porter, who said she believes she has the only true working farm left in the Center District, also urged passage of version A.
Version B had changes in wording such as:
Adding "and evaluate" land use taxation
"Develop standards for" rather than "consider" standards for wayside stands
Replacing "limit" with "evaluate limiting" food and beverages produced off-site in a section dealing with agritourism business items.
Removing a passage reading, "Conflicts that occur between the tourism and tourism uses should be settled in favor of the primary uses."
Supervisors weigh in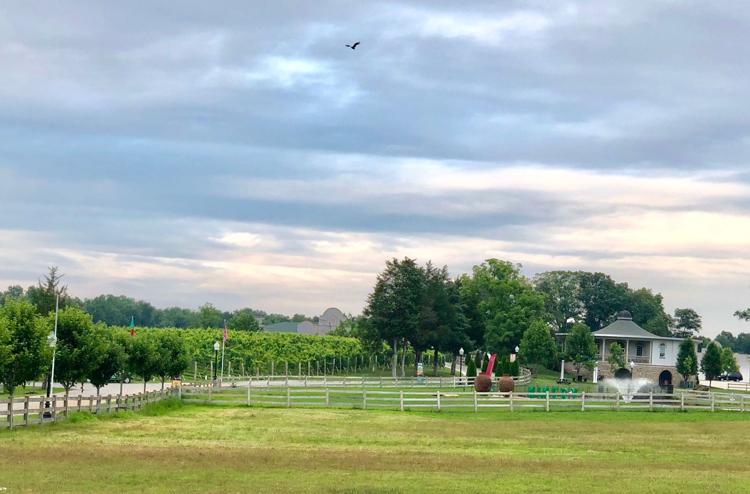 Before Granger voted in a favor of version B, he said that while he is "1,000 percent in favor of agriculture, we've got to figure out how to separate out true agriculture from large-lot living." The latter is enjoyed by those who live in a rural area and get tax breaks through conservation easements but aren't producing agricultural products, he said.
"As more property is moved into easements, it's hurting the economy of the county. It's damaging to the public schools, public safety and, quite frankly, our tax base," Granger said.
He said the state legislature needs to change its "local composite index" formula, which is used to determine state funding for public school divisions based on localities' relative wealth.
The formula uses the true value of real property, adjusted gross income and sales tax income. Granger's argument is that Fauquier comes out on the short end when it comes to state support under that formula.
Granger also said he is an advocate of sales by farmers, of their own goods and of products produced by fellow farmers.
"Farm sales is a big deal. We've made provisions in some of our zoning ordinances, but I don't think we've gone far enough," Granger said.
He said he thought there should be stronger language supporting farm sales than what was in version A. "We have to adapt to the existing environment. Plan A says 'we'll consider it;' Plan B says 'let's have a plan so you can do it.' "
Although McDaniel, Trumbo and Gerhardt said they did not disagree with anything that was said by their fellow supervisors, they voted for version A, in support of the greatest number of speakers and written comments.
Andrew Hopewell, assistant chief of planning for the county's community development department, said that 52 written comments received by the department favored version A. Another four were opposed to either version. One didn't indicate a preference.
Reach James Ivancic at jivancic@fauquier.com