The safe inside and the time capsule outside are still there, but other signs that the Snake Oak Farm Store was once the town hall of Remington are gone.
Dr. Erika Warner, a chiropractor, and her husband, Christian, renovated the space themselves with the help of extended family to create a gift shop stocked with handmade items in the front area and a chiropractic treatment room in the rear. Office space separates the two.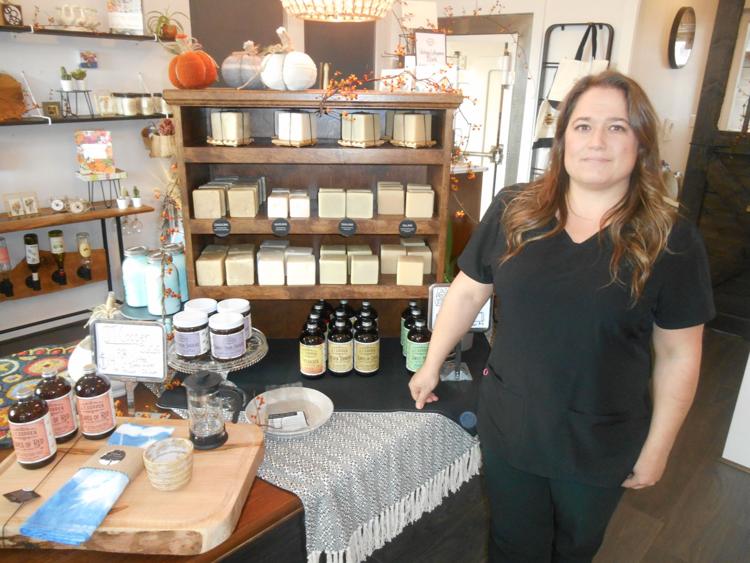 Warner said she wanted to sell items that shoppers typically wouldn't find somewhere else. So, on her shelves and tables are such things as vegan soap – made without lard – and oil-based salve that's good as an anti-itch treatment. 
Snake Oak also carries regionally produced items such as Old Rag Mountain candles; candleholders, wine racks, cutting boards and other woodworking items made by Doug Linton; knitting items made by Warner's mother and copper bracelets and rings made by her dad, and Erin's Elderberry Syrup made in Floyd, Virginia.
Also sold are beeswax candles, handmade washcloths, lip balm and Warner's own goose egg soap. The latter uses the eggs of geese on the Warner farm. The eggs are emptied, sanitized then filled with a handmade soap. To use it, crack the egg and peel to reveal the soap inside. 
"We're trying to keep it very Virginia but also local," Warner said.
A product list and photos can be seen on the website at snakeoakfarm.com and also on the Instagram account at @snakeoakfarm.
Christian Warner also churns out gift cards and note cards using an 1890 printing press that he acquired and set up in what used to be the town jail that sits just outside their business's back door.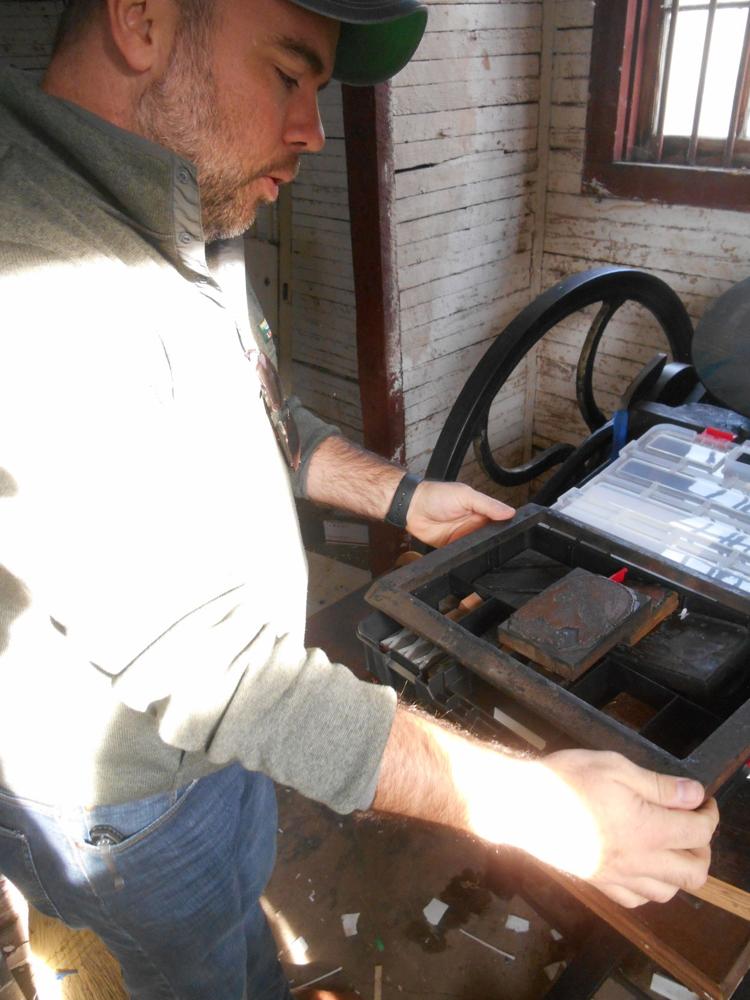 The Warners bought the former town hall building at 203 E. Main St. last spring for $115,000 and spent another $18,000 on renovations that included fresh paint and a dropped ceiling.
The building was formerly a bank – which explains the walk-in safe – before town government used it. Town offices are in a new building shared with a DMV Select service a few doors away at 105 E. Main St.  
"We were going by and saw that the building was for sale. We had been in here before," said Warner. Seeing the "For Sale" sign got them to thinking. She had been considering opening a chiropractic office. The old town hall space was big enough for her to both have an office and a retail shop.
The Warners had been selling flowers, seasonal herbs, soap and salves at a farmers market in Culpeper. 
Opening a shop in Remington also make it possible to "invest in Remington. We've lived here for six years and have really fallen in love with the town," Warner said.
"We both talked about starting a business, but it wasn't until the building came up for sale that we started the groundwork" to make it happen, Christian Warner said.
"We were already doing things that we are good at," Warner said, she in chiropractic medicine and together they have business experience. Christian is a business consultant for 7-Eleven stores.
"We like to be involved in multiple things," Warner explained. She plans to offer flower arranging workshops at the shop in the spring. The Warners grow flowers at their farm outside Remington and sell them for weddings and local events.
At the farm store, Christian Warner "helps out where needed and makes sure I don't spend too much money," said Warner.
Her mom also helps out at the store, often working behind the counter tallying up purchases.
"A lady came in saying 'I'm not buying anything' and waving her hands but left with $200 of purchases," said Melissa Janssen, Warner's mother.
Even though the farm store is only open from 8:30 to 11:30 a.m. and 1 to 4 p.m. Monday and Wednesday, business has been good, Warner said.
"We were really packed the first day," which was Oct. 12, the day of the Remington Fall Festival, Warner said. "We've had repeat customers twice since then and townspeople are trickling in."
She's also gotten several new chiropractic patients through word of mouth.
The Warners hope they are part of a revival of downtown Remington,  which still has some empty storefronts.
What's in a name
The name Snake Oak, by the way, came about after the Warners discovered that a big oak tree in the front yard of their farm was full of black snakes. "So many they would leave their skins hanging from the tree branches like tinsel," said Warner.
Reach James Ivancic at jivancic@fauquier.com