Jill Vogel won re-election Tuesday as state senator for the 27th District, according to unofficial returns from the Virginia Department of Elections. 
Vogel said "I am extremely grateful for all of the support and I look forward to continuing to serve this very special community.
Ross said that "I've already called Jill and conceded. One of the things we were talking about was that were we happy we ran positive campaigns. It shows you can work really hard but do it positively."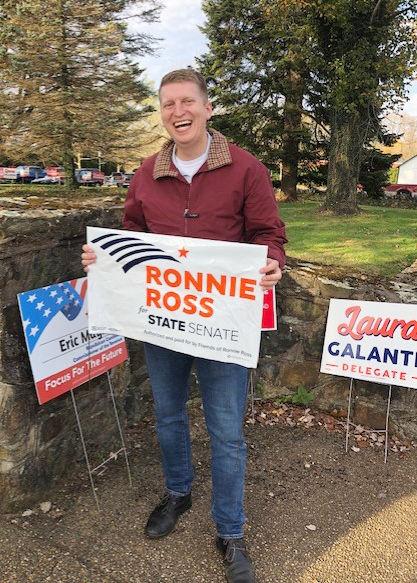 Ross, a teacher at Highland School in Warrenton, took on an incumbent in trying to win an office that covers Fauquier, Frederick and Clarke counties, the city of Winchester and parts of Loudoun, Stafford and Culpeper counties. 
"One of the things democracy demands is to give voters a choice," Ross said of the challenge he faced. 
"I'm proud of the campaign I ran, proud of staff and volunteers. They gave everything they could," he said.  
"There are other ways to give back to the community and I'll be around," Ross said. 
Vogel took just over 64 percent of the vote in Fauquier County to Ross's 35 percent in Fauquier, according to the returns available. Overall, Vogel won 64 percent of the district-wide vote to Ross's 35 percent. Vogel received 15,048 votes in Fauquier County to 8,294 for Ross.
Districtwide, Vogel received 43,399 votes to Ross's 24,122, according to the unofficial election results. Ross won Winchester City and was 93 votes behind Vogel in the portion of the district in Loudoun County.
Ross sought support from those tired of politics as usual and what he termed the bitter partisan divide. 
Vogel, an attorney seeking her fourth four-year term, said during a campaign forum that she supports the use of medical marijuana and reducing penalties for recreational use, though not for decriminalization. She noted she introduced a cannabis oil bill.  
Vogel supported the expansion of Medicaid in Virginia. She said she has championed equality under the law, and her bill to ban child marriages passed. 
Ross said during a candidate's forum that he thought it was time to decriminalize marijuana use. Both Ross and Vogel during a candidate's forum in October that they support the creation of drug courts – courts that direct defendants to treatment programs in place of jail time. 
Both Vogel and Ross said the current manner of political redistricting needs to be changed. The current system is "unfair and a pox on the electorate" and should be replaced with one that is "fair and non-partisan," Ross said. 
Vogel said the current system often creates districts that split areas of common interest and spread out rather than compact communities. 
In the last legislative session Vogel introduced bills that would reform the Department of Elections and would allow associations to provide health plans to individual members who otherwise have no access to affordable coverage. Those weren't adopted and she said she intends to make them a priority in the next session.  
Ross said he supports expanding background checks before gun sales. He also supports waving a tax on the sale of gun safes that cost less than $1,000, to encourage people to use them. 
"I like to shoot," Ross said during a campaign appearance, explaining he target shoots. But, he said, he's tired of having to run his students through active shooter drills. 
Ross advocated expanding access to health care and making it more affordable, being a better steward of the planet, taking on big lobbies, better pay for teachers and funding for schools. 
William McDuffie, who lives near Vint Hill and votes at Vint Hill precinct at C. Hunter Ritchie Elementary School, said he voted for the Democrats on the ballot, including Ross for state senator and Elizabeth Guzman, who was running for a second term in the House of Delegates for the 31st District. 
Tim Briles, a Scott District resident voting at Ritchie School, said of Ross "I think he understands the role of teachers. I feel he and Guzman have better empathy for the people." 
Vogel raised $471,267 for the campaign and Ross raised $340,789.