When school buildings open back up on March 15 for four-day-a-week, in-person learning, students in pre-kindergarten to second grade will probably be sharing bus rides with more of their classmates -- two to a seat instead of one to a seat -- and social distancing rules may be reduced from 6 feet to 3. The changes in COVID-19 mitigation strategies are necessary because there will be more students on the buses and in school seats.
The expected changes were announced by Superintendent of Schools David Jeck in a video address Thursday evening. The presentation may be found at https://youtu.be/bizsxmiybKw.
Jeck proposed the four-day-a-week initiative at a Feb. 8 school board meeting, but fleshed out the plan in Thursday's video. Instead of children attending school Mondays and Tuesdays or Thursdays and Fridays, they would attend in person all four of those days. Wednesdays would remain an asynchronous learning day.
Surveys will go out today asking parents whether or not they want their children to attend school four days a week instead of two days under the current hybrid model. The surveys – which will remain open until Sunday, Feb. 21 -- will also give parents whose children have been learning remotely the chance to change to four-day-a-week hybrid learning. Questions about transportation needs will be a part of the survey.
Jeck said that communication will also be sent to families who have left FCPS. "We'll be providing them with an opportunity to re-enroll," he said.
Jeck said that it is possible that students in third, fourth and fifth grades will be included in the four-day-a-week plan; that decision has not been been made yet. Jeck said, "… it could be pre-K through two or pre-K through five… I don't want people to panic. We're gonna know soon, but it's going to have to happen after we do the surveying. The goal is to bring back pre-K through five… That's the goal I shared with the school board. But we've got to survey first to make sure that logistically it's possible to do that. We think it is, but I don't want to make a promise to you that I can't keep. So we need to survey first…"
Jeck cited an aggressive COVID-19 vaccination plan for staff members, low in-school transmission rates and successful mitigation strategies for the push to get students back into classrooms. The goal, he said, is to give all students – kindergarten through 12th grade – the option to come back four days a week on April 5.
Reality check
The superintendent addressed some of the details of the new plan and how it would affect students who choose to remain remote learners. He said, "We understand that there's going to be some students who choose to remain virtual. We get that. But we've got to be very honest and very realistic about what's going to happen moving forward…
"If we have the lion's share of our students returning, let's say on March 15, that's going to take much more of the teachers' time. It's going to mean more kids in the teachers' classrooms face-to-face; it's going to be much more difficult for teachers to simultaneously be providing face-to-face instruction and virtual instruction at the same time. It's very difficult now. It's perhaps the hardest thing our teachers have had to do… and it's going to be even more difficult as more and more students return.
"… While we intend to provide that virtual option, it may not be as robust as it has been, for lots of reasons logistically…. That's another reason why we want to keep Wednesdays as asynchronous days. So that … teachers whose time is going to be wrapped up Monday, Tuesday, Thursday, Friday have an opportunity on Wednesdays, to reach out to students who remain all-virtual."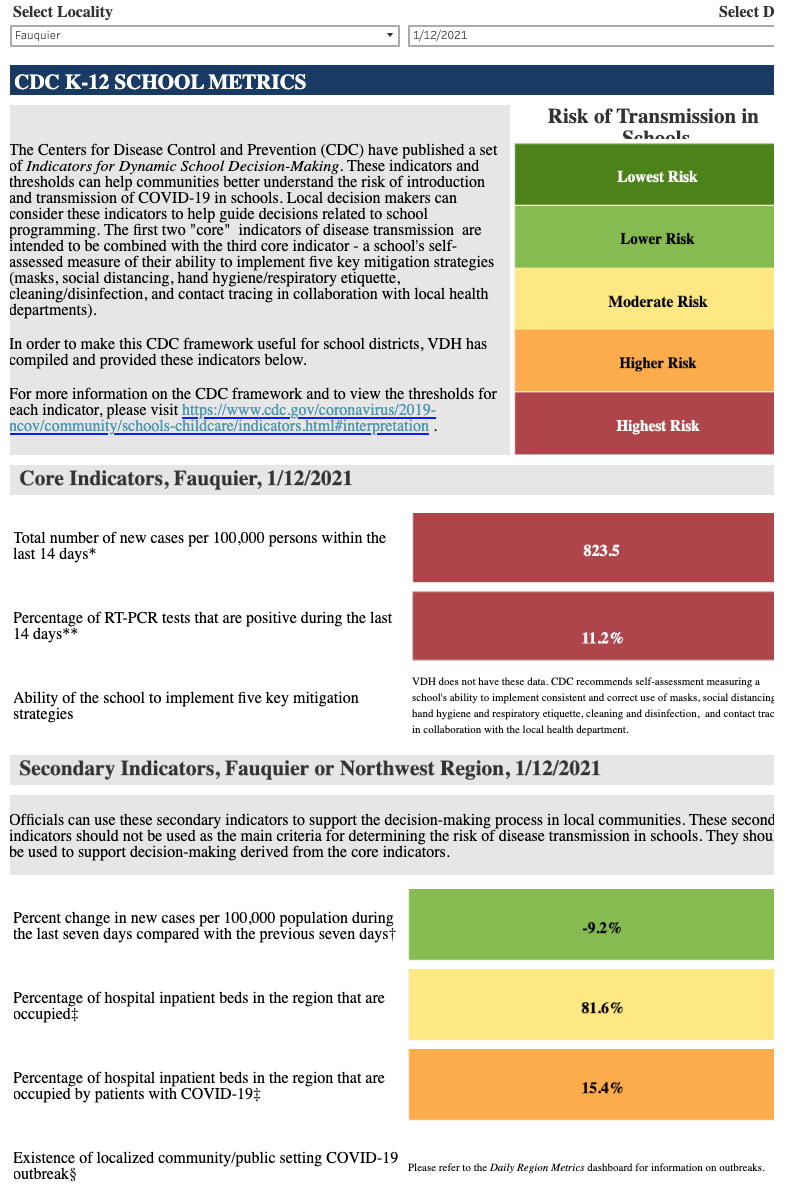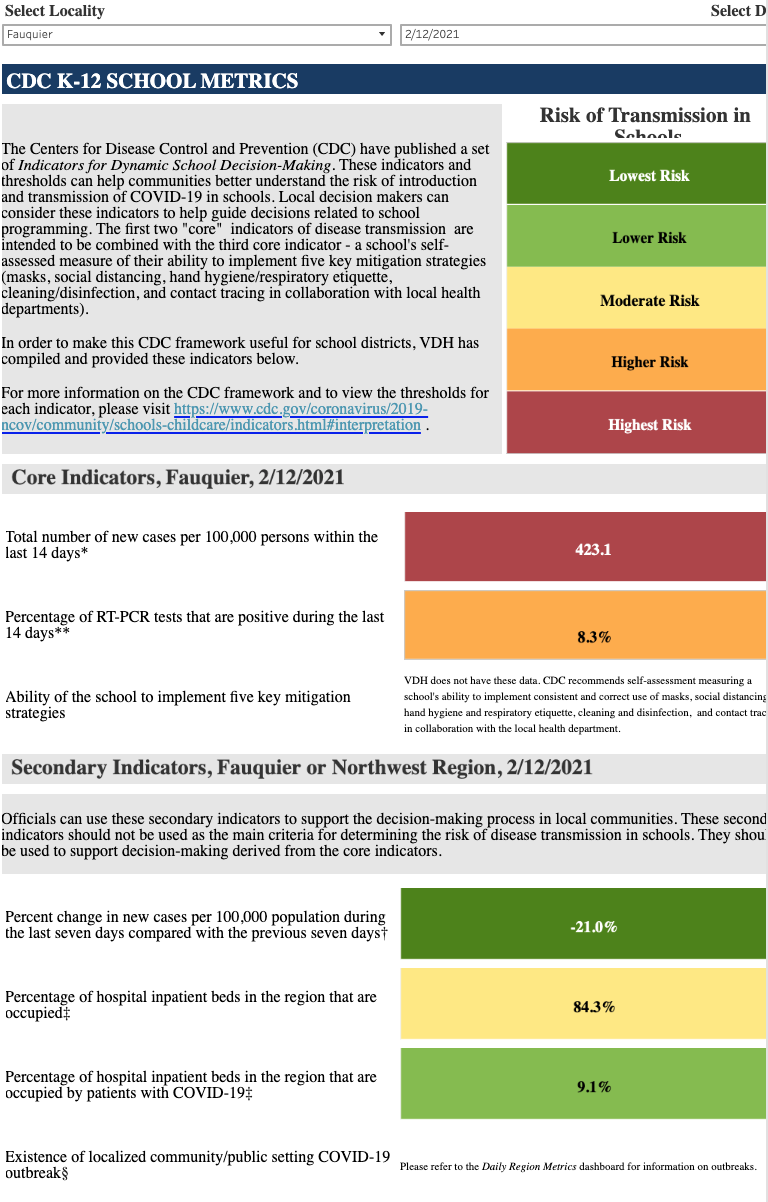 Jeck also addressed new mitigation strategies. He said, "We couldn't stick to the 6-foot gold standard mitigation strategy and still make this happen. It's just not possible. So CDC says… 6 foot is the gold standard, but 3 feet is acceptable, as long as students are wearing masks, washing hands and watching their distances… That'll impact obviously how the school is configured. It's going to mean that we will have to re-submit to the state our plan, and it'll include informing the state that we intend to put two students in a seat on buses, which again, it's the only way we're going to make this work -- require masks on the buses, two to a seat, facing forward, etc. And we're also going to be … sending out reminders and encouragement to use the symptom checkers. Parents and staff and folks who are sick stay home. None of that piece is going to change at all."
Jeck explained the motivation to get students back in the classrooms as soon as possible. He said, "We strongly encourage all students to join us for four days of in-person learning… We feel like this is incredibly important for kids. It's an opportunity for those kids to reconnect with their peers. It's an opportunity for those kids to work directly in a more robust way with our teachers. I think it ultimately will be good for student mental health.
"And a very large piece of this is it will allow us to begin the assessment of student learning loss sooner rather than later and in a more meaningful way… We need to figure out what their needs are, what learning loss occurred. We do that through assessment. And it's much more meaningful for that to occur face-to-face with students with teacher interaction… There's lots of ways to assess student learning. Some is informal, some is very formal, some is formative, some is summative, but … we need to start that as soon as possible to prepare for our summer learning program. And then potentially, for changes in our instructional program in the fall, fall of 2021… But we need to figure out what kids have lost and get them back to where they need to be."
Nine preschool children play together – apart – four days a week in each of five Head Start …